You simply cannot take a trip to California without making it to Disneyland. And if you do, you are truly missing out. Whilst Disney now has 12 theme parks and 6 resorts worldwide, California is where it all began back in 1955. The design of the park is a stroke of artistic genius and features some iconic scenes like the Sleeping Beauty Castle and Main Street that could never fail to transport visitors to a whole new world.
If you want the ultimate experience on your next visit, you've got to remember to buy a Park hopper ticket that will allow you to enjoy both Disneyland Park and Disney California Adventure Park on the same day. You might even want to spend a few days there to make sure you get the most out of your stay. In case you are pushed for time on your next visit, we've put together our top 8 must-see attractions that offer a little something for the entire family and will ensure you are not to miss a single thing!
1. Space Mountain
This attraction encompasses all the thrills and sensory entertainment you could ever expect from a ride. If the sheer speed of it doesn't get you going, the clever lighting and sound effects create a suspense unlike any other. It sends you on a rocket into the unknown, with futuristic tech to really WOW its riders with hidden solar surprises around every turn. You won't struggle to spot the impressive white structure set in Tomorrowland as it stands tall against the blue sky. Just like Buzz Lightyear, get ready to be taken 'To infinity and beyond'.
2. Rise of the Resistance
Star Wars fans will not want to miss this immersive adventure. Whilst it's the same ride as the ones you'll find in the other parks, they have certainly enhanced the experience by ramping up the excitement factor, making this the best Star Wars ride yet. It truly allows you to step into the shoes of the Jedi in a spine-tingling battle against the First Order that'll have you evading the wrath of Kylo Ren and dodging destroyer cannons, all with AT-AT walkers towering over you. A spectacular starting point if you are seeking a ride that will get the adrenaline pumping to set you up for an action-packed day.
3. Avengers Campus
The Marvel Universe has pretty much taken over our own at this point with their plethora of movies and tv series. For all those superhero enthusiasts and comic book fiends who are looking to take their devotion to the Avengers to the next level, this is the one for you. You can't miss it…literally. It takes up six acres of the park with rides so great they'll make your hair stand on end, eateries so delicious they'll leave your taste buds tantalized, and shops so big they'll have your kids swallowing your wallet whole. But don't worry dads, as you can also grab a beer to calm those nerves at their very own micro-brewery! If you only check out one ride, make sure it's WEB Slingers AKA Worldwide Engineering Brigade. This is an absolute must-do for all-round family fun. Throughout the ride, you'll get a chance to use those 'Spidey senses' and throw some webs just like Spiderman.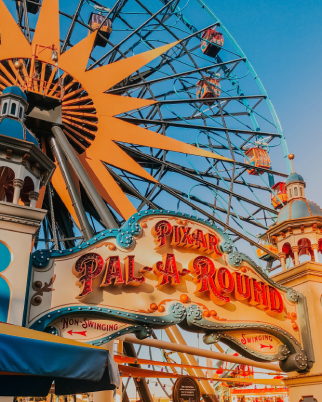 4. Showtime
Whilst the 'Magic Happens' parade is sadly on pause due to COVID-19 restrictions, don't despair as you can still meet and greet the characters for an awesome photo opportunity down at the dance-off or see the Five & Dime band perform down on Bueno Vista Street.
When the Disneyland parades and shows hopefully open back up later in the year, you'll be able to watch your favorite movies unfold before your eyes as the characters make their way around the park on some incredibly creative floats. Sing along to all the well-known tracks and enjoy extra hits created exclusively for the performances. The shows are one of a kind and will sprinkle a little additional magic onto your day (even for the big kids).
5. Splash Mountain
The legendary log flume has one of the longest drops of all the theme parks in the world! Set to be reimagined soon with all the soul of the South to represent The Princess and the Frog, the journey features classic theme-based elements and modern twists. With peaceful parts that let you float along in style and more stomach-churning shockers, it'll keep you guessing as to what's around the bend. The flume is an extremely popular choice and definitely one of the most invigorating experiences in the park. Are you ready to get squelching-ly soaked?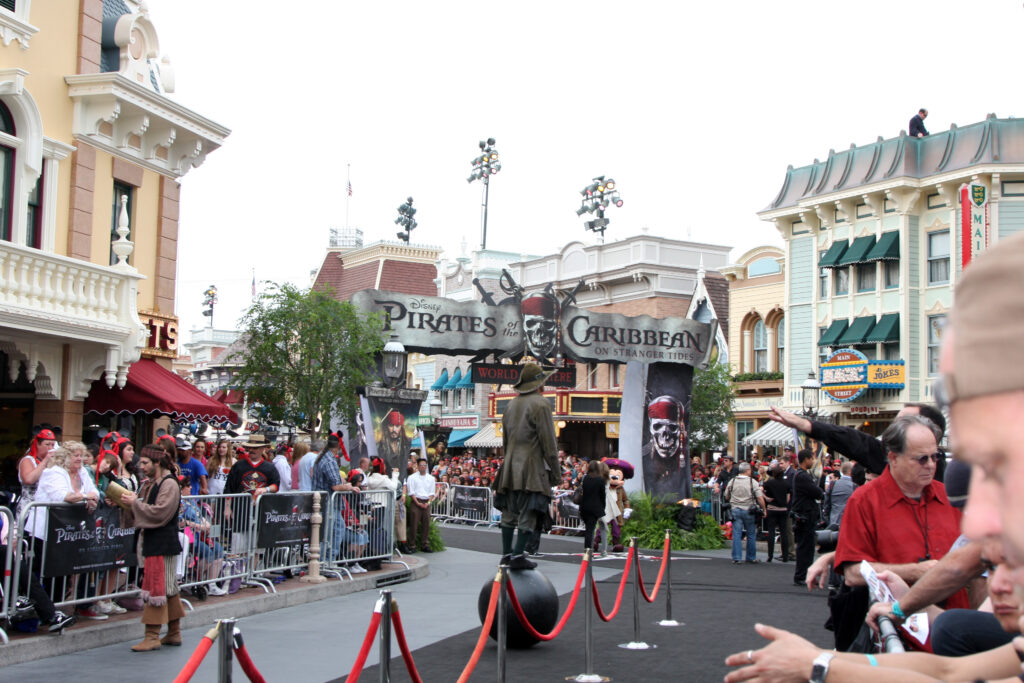 6. Mark Twain
Our next attraction you are not to miss is the Mark Twain riverboat. If you're tired of the rollercoasters and seeking something a little more relaxing, get down to Frontier Land and take a cruise down the river. It's a fantastic escape from the hustle and bustle of the park and a great way to take a break from the crowds and queues. See the park from angles you never imagined and look out for the sights around Tom Sawyer island as you ride on the water, you'll be amazed at how peaceful it is to say that it's in the middle of a theme park!
7. Food Glorious Food
After all the excitement, you'll be ready to fill your belly and earn back some of that energy that's been well spent! There are over 160 different places to eat in the park so we'll narrow it down for you by sharing some of our favorite finger-licking joints.
• Earl of Sandwich– Just fancy a quick bite? This place located in Downtown Disney offers some of the cheapest meal deals in the park and so many sandwich options you'll be spoilt for choice. It's speedy service, budget-friendly, and has the convenience of being placed right between the two parks.
• Ralph Brennan's Jazz Kitchen Express– It would be a crime not to give you an option for some fine fried chicken, and this place will not disappoint. We're not surprised it's one of the most popular restaurants as it has a beautiful historic interior surrounded by stained glass.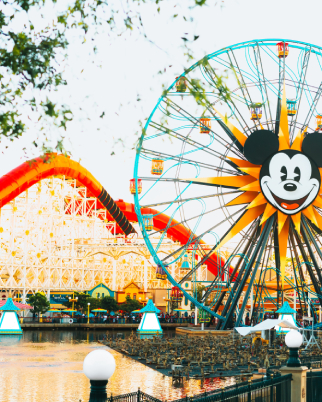 • Little Red Wagon Corn Dogs- For those that are after an on-the-go snack to munch down as you take in the sights, we highly recommend this food cart which is just outside the Plaza Inn. It's so small, you might think it's possible to walk straight by and not notice it but there is no denying that mouth-watering smell of fresh cornbread. This is definitely one you have to try!
• Mickey Bar– A trip would not be complete without taking a candid shot with a Mickey Mouse shaped ice cream in your hand whilst the sun glistens your skin and bounces off the stunning backdrop. You can find these at food carts right across the park, enticing passers-by with a sweet treat to cool things off when the heat strikes- we all know how hot it can get in 'the Sunshine State'.
• Blue Bayou Restaurant – It wouldn't be right not to offer you a full dining experience so for those that want to plan ahead. And we mean ahead. Like, 60 days ahead. Then this is the one for you. Bask in the ambiance as you sit under twinkling lanterns by the banks of the Pirates of the Caribbean ride with tasty delights like the famous Monte Cristo Sandwich or Jambalaya. Dinner and a show? Yes, please.
8. Special Events
If you're looking for something extra special, Disneyland runs some breathtaking after-dark events at the theme parks throughout the year. The fourth of July sees the return of the grand evening light shows that they're are so famous for and undoubtedly not to miss. Watch the sky light up with a stunning display of lasers, projections, and fireworks. Whilst some other events are pending, fingers-crossed they'll be back up and running for the rest of the year.
Show your support for LGBT pride on one of the unofficial Gay Days, hang out with some spooky characters at the Oogie Boogie Bash for Halloween, or watch the park transform ready for the festive season. If you're hoping to make some plans for 2022, there are a selection of events that will start your year off with a bang. Immerse yourself in another culture by celebrating the Lunar New Year with a colorful show-stopper or bring along a date for the most romantic night of the year for Sweethearts' Nite on Valentine's Day. Whichever you fancy, we advise that you get in quick as tickets for these tend to sell fast!
So, there you have it, our top 8 picks for an adventurous trip of a lifetime. We hope you are ready to make some extraordinary memories with Mickey and all his friends. Don't forget to book in advance to reserve your spot, keep track of the latest updates and grab your map of the parks to help prepare you for the most magical journey.