Are you tired of wasting time flicking through all the different apps trying to find the perfect thing to watch? Well, we have good news for you as there's a brand-new streaming experience on the scene.
Designed to bring Chromecast TV users a more streamlined television service, Google TV is changing the way we search for the next movies and tv shows to binge on.
It takes the complication out of trawling through a million options by bringing the content from top streaming services like Hulu, Netflix, HBO Max, YouTube, and Disney+ and putting them all together in one convenient place.
Searching for a good title can feel super overwhelming and sometimes feels like it's all too much effort. Gone are the days of settling for a movie you've seen a hundred times before or being disappointed by a crappy show that just didn't quite cut it.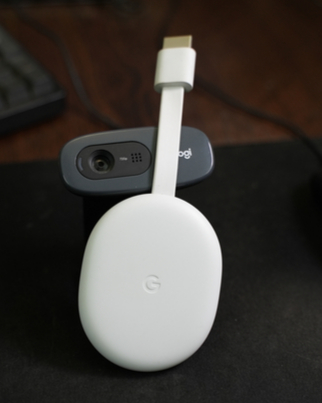 Chromecast with Google TV is going to change the way you access television with benefits including:
A clear and user-friendly interface
Accessible content all in one place
4K supported device for the best possible viewing quality
A lightweight remote with simple controls
Available in 3 gorgeous colors to match your décor
Super easy setup on compatible TV's
Let's take a look at everything you need to know before you get stuck in.
Who can use it?
OK, so this isn't something that anybody can just download or install on their TV as it's exclusive for use on Chromecast TVs and some selected Android devices and Sony TVs.
The Chromecast with Google TV service costs a one-off fee of $49.99 which will give you a remote and HDMI dongle to provide you with the new interface and some amazing 4K HDR content. Check out Google's blog for more information on what it's all about.
Is it available on mobile devices?
To make things even more accessible to the masses, Google TV is also available on Android devices with the updated Google TV app. It's essentially an update from the original Google Play Movies & TV app but delivers that same amazing new interface like the one on your TV to keep you entertained on the go.
If you have the dongle for your TV, you can add items to your 'Watchlist' via your mobile device which is perfect for those moments on your lunch break when your colleague suggests a must-see movie. You can search and add it in there and then ready to pop on when you get home.
If you don't feel the need to dish out for the TV hook-up, grab the app from the Google Play Store, where you can purchase all the latest releases or simply link up to your current subscriptions.
Why is it so great?
The new service is a bit like asking Alexa to find you a certain genre of movie, but it takes things one step further by searching across all your subscriptions to bring you titles that were otherwise hidden in the other streaming service interfaces.
The beauty of being able to ask Google to find obscure types of shows or movies and having them pop up in an instant means that you will always be able to find exactly what you're looking for.
Whether you want a dose of trash tv with a reality dating show or need some home inspiration, just search 'Find…' or 'show me…' and the relevant titles will appear before your eyes. Whichever ones you don't pick at that moment can be added straight to your 'Watchlist' for next time so that you don't miss a trick or you can even flag titles as 'Watched it' so that you don't constantly see them as a recommendation.
Don't worry if you want to stick with what you know though, as you can still access your subscription apps the old school way by going into them separately.
In addition to an incredibly organized array of content, the Chromecast with Google TV also gives you quick and easy access to the weather and the news. It's also compatible with a variety of other android apps and Google Photos so that you can showcase all kinds of entertainment on your big screen.
The only downside we see with Google TV is that it's making us all become lazier by allowing Google Assistant to do the work for us through voice control and smart home commands, but we have to say, we aren't complaining!
How does it work?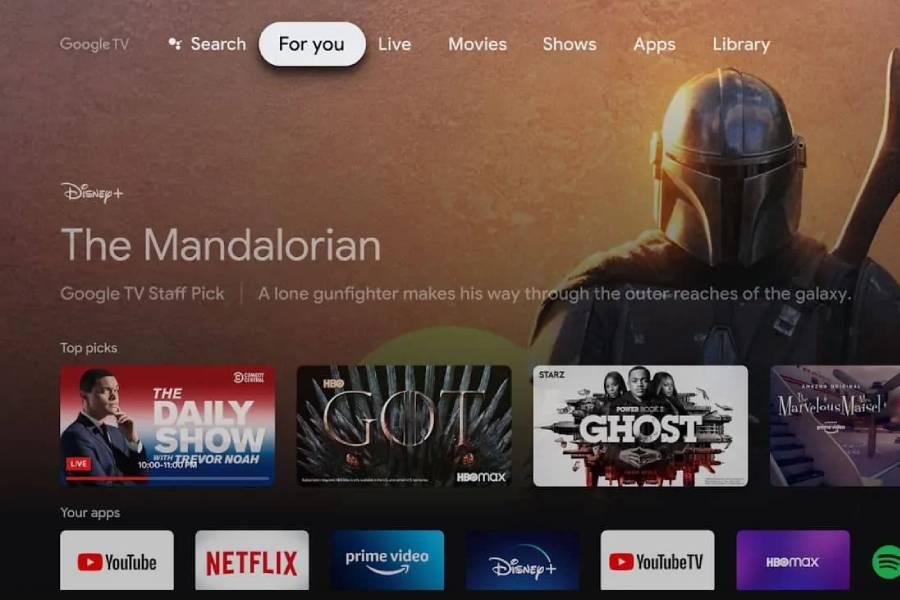 Rather than give you a home screen that you can customize, Google TV has taken out all the legwork by accumulating the content from all your apps into manageable rows for you to scroll through.
Rows include 'Trending on Google', 'Popular movies', and 'New shows' much like the categories we see on Netflix making it super handy to navigate.
For the days when using the remote becomes a game of pass with the family as no one can decide which cinematic delight to choose, there is a feature that uses your viewing habits and preferences to bring up recommendations that you might have missed. We know this feature is also going to be great for the couch potatoes who have run out of fresh content!
Unlike other interfaces, you have the choice to only view content that you are paying for already through a subscription so that suggestions made are not going to come at an additional cost.
If you prefer to use your phone to quick type when searching rather than scrolling through the keyboard onscreen with the remote, you can pair your device using the Android TV app to allow you to control everything using your mobile.
Overall, Chromecast with Google TV is certainly one of the most convenient upgrades we've seen so far, and we're excited to see what Google has in store for us next!
For those that want to skip the scrolling, it's worth every penny of the initial $49.99 and will leave you feeling like you've got the whole world of cinema at your fingertips.