We've all laughed till our bellies hurt to goofy classics like Zoolander, Blades of Glory, and Elf, but which Will Ferrell movies are really going to get the people going? He might be the King of Comedy, but you could never say that he is limited to only ever playing the same type of role.
With the recent craze over Netflix release Eurovision Song Contest: The Story of Fire Saga, we've certainly been left wondering if there is anything Will Ferrell can't do. His ability to improvise whilst on set and put on entertaining stints when appearing publicly truly shows us that his humor is limitless (and completely genuine). Simply Google his name and you'll find a collection of hilarious videos of the 53-year-old answering the 'most asked' questions about himself.
There is no denying that he has supplied the world with some of the most memorable quotes known to man and he is well-deserving of his star on the Hollywood Walk of Fame. Of course, there were times that the usual genius casting didn't quite hit the spot in movies like Holmes & Watson and Downhill, but we won't hold a grudge as the absolute wins outweigh the failures.
Because there is just so much choice, we've narrowed down our top 5 picks of Will Ferrell movies to watch when bored. So, the next time you find yourself fed up with flicking through his 79 epic titles, stick on one of these and get ready for some side-splitting scenes.
1. Anchorman: The Legend of Ron Burgundy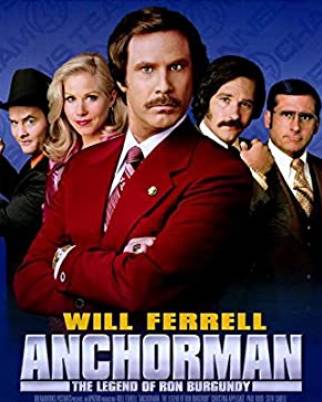 We're presented with a never-ending reel of rib-tickling moments as Will Ferrell stars alongside Steve Carell, Paul Rudd, and David Koechner to bring us the news as a San Diego Anchorman. We're transported back to the '70s to the age of misogyny, where the men had more color in their words than on their suits.
This movie is utterly ridiculous in every sense of the word but is a refreshing change to most comedies and whilst you might start out stifling a smile, you are guaranteed to be howling within 10 minutes. Will Ferrell's depiction of Ron Burgundy really brings the comic persona to life. He has this insane knack for delivering a line in a way that makes everything funny, especially when it shouldn't be!
This film brought us some quality one-liners turned memes like "Boy, that escalated quickly" and "I'm kind of a big deal", even giving us the off-script gold "I'm in a glass case of emotion". That's what makes it so hard to believe that it didn't make many box-office sales when it hit the big screens. A year after its release though, people started to jump on the bandwagon and soon realized that it was by far one of his greatest performances.
We dare you to try keeping your upper lip as stiff as his mustache as the actor spouts out some of the most shocking, politically incorrect, and downright dirty lines we've ever heard on television.
The sexually explicit references and mature content definitely make this one to watch when the kids are happily tucked away in bed. Grab yourself a good scotch and loosen up for the night as there's no pretending that you aren't enjoying this quick-witted work of art.
2. Stepbrothers
Now if there is one thing we're sure of, it's that whilst Will Ferrell is hysterical on his own, he's even better as part of a double act. Who would have thought that was possible?
This wild ride of a movie takes us on a journey of two middle-aged men who are forced to buddy up as roomies when their parents decide to tie the knot. Will Ferrell and silly sidekick John C. Reilly play a pair of complete losers. And as if it isn't bad enough that they're still living at home, we get to watch their dignity unravel further as sibling rivalry develops into an unlikely friendship.
The entire movie is built up of improvised scenes that will leave you bowled over in laughter. Watch out for the jaw-achingly good bathroom scene and the sleepwalking one which will show you exactly why you shouldn't wake a walker up. It's a true showcase of Ferrell at his finest and one that is definitely not to miss.
You can see how much fun they must have had filming this one and can even tell at times where they've clearly strayed away from the script and just styled it out. Regardless of how they came to produce such a cinematic circus, it's a movie that will keep you on your toes at every turn. You never quite know what ludicrous shenanigans are going to happen next.
3. Daddy's Home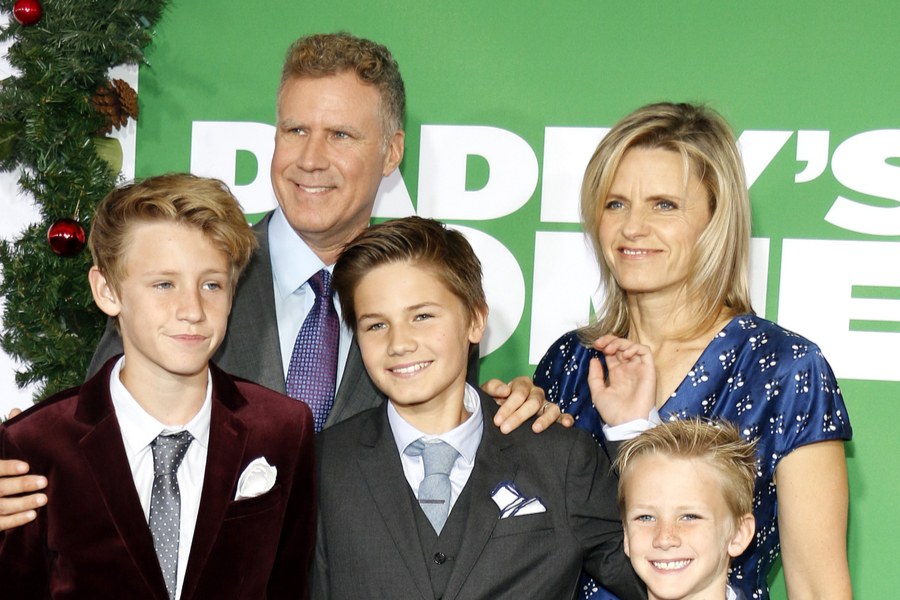 Will Ferrell plays a humble sweeter-than-pie stepdad alongside macho man biological dad Mark Wahlberg as they compete for the affection of the kids. The polar opposites fight for that No#1 Dad status with some truly cringe-worthy content that'll have you squirming in your seat. The pair knocked it out of the park with this off-the-wall yet surprisingly easy-going tale showcasing the inner workings of possibly the most dysfunctional family.
This pick for the festive season may be a bit more lighthearted, but that doesn't mean that this comedy duo don't deliver the good stuff with some slapstick bad dad jokes. It takes the stereotypes to a whole other level and will have you thanking your lucky stars that your Dads weren't quite so embarrassing.
Whilst this movie is an extreme exaggeration of all the things that can go wrong on your average day spent as a family, Ferrell's role allows us to see him in a totally different light once again which, believe it or not, makes him remarkably relatable.
You might want to rethink if you're considering settling down with the family to watch this one unless you want the kids picking up some very bad habits. It's one that the ladies might enjoy though (it's a little less crass), and if you're wanting to keep date night going a little longer, follow it up with Daddy's Home 2 for even more stupidly funny screen time.
4. The Other Guys
The Other Guys, AKA the 'Febreze Brothers' are fresh to death. We see the mismatched pair teamed up again in this action-packed comedy, but this time they play a couple of rookie cops who are working their way up to fill the big boy pants.
The movie follows the unlikely heroes as they leave their desks behind to investigate their way across New York in the attempt to prove themselves as worthy detectives. The movie has been completely underrated, much like the two characters. No one believes them as they battle to uncover a huge conspiracy and follow in the footsteps of the reckless top cops that they so badly idolize.
Having been directed by Adam McKay and with co-stars Dwayne Johnson and Samuel L. Jackson, this is undeniably one of the best Will Ferrell movies to watch when bored as it's crammed full of plot twists. There are more gags than a joke book and an epic screenplay that'll have you creasing every 5 minutes, especially in scenes like the 'lion vs tuna'. We don't know about you, but we'll never be tired of the whole good cop, bad cop sketch.
5. Get Hard
What is not to love about a movie that stars not only one comic legend, but two?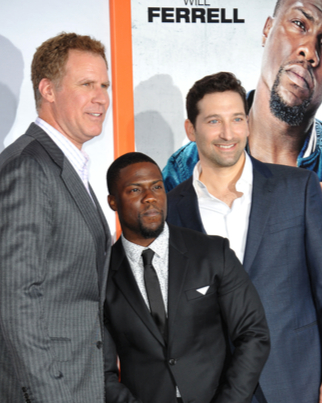 Facing a fraud conviction forces hedge fund manager Ferrell to turn to the unlikely Kevin Hart to help set him up for a stint in prison. Teaching him some basic survival skills of living the thug life by addressing all the big concerns he's having for his potential 10 years behind bars. The duo soon come to terms with the fact that neither of them have got it all worked out.
So well-known for his exaggerated facial expressions, Will Ferrell once again puts the energy into physical comedy by accentuating the comical value and not leaving anything to the imagination. This hilariously twisted representation of white privilege and tired clichés that we left behind a decade ago is another feature that'll make you question whether you should laugh or not.
You can't take the dry humor too seriously though as this alternate universe has some real risky wisecracks. Let's just say, you can either Get Hard or go home as it might have you watching through your fingers as your head hits your hands.
If you're looking for a Will Ferrell movie to watch that's going to take the entertainment factor through the roof, then look no further as inappropriate jokes aside, the reference points have got us all feeling rather nostalgic with its noughties soundtrack and wacky costumes.
Still can't decide which ones are going to suit the mood? Check out the trailers for a little taste of what you're in for: