Apple Music has become a popular service in online music. It was launched in 2015 when Spotify was the talk in the market. Nonetheless, it has grown significantly and attracted the attention of millions across the world. Besides that, it allows users to choose tracks on a device then play using internet streaming.
This streaming service is offered over the internet continuously. Users can save the music and play it while in offline mode. Apart from streaming music, Apple music has original content and new features to distinguish itself from competitors. Here are interesting things Apple Music can do.
1. Offers discounts to students
It offers three plans, including one for students. The student plan has similar features to the individual plan but has a discount. Further, you get other benefits such as Apple TV for some time. Just create the Apple TV app and watch the originals.
The price for university and college students is cut down to $4.99. If you sign up for this plan, you will use it for 48 months. Afterward, the subscription moves to an individual plan. You have to verify your student status at the end of each year.
2. Personalized music for you
Apple has a different sector called "for you" that offers new releases, albums, and recommended playlists. This feature distinguishes the service from other music service providers like Spotify and Tidal. In addition to that, the service has a playlist called "My favorites Mix" that updates on Wednesday.
It features the most played tracks in the library and organizes them to a 25- song playlist. Lastly, you can add the tunes you enjoy to your library or subscribe to the whole playlist and keep it permanently.
3. Siri meets your requests
Siri allows users to play music or podcasts and control with voice. If you have a subscription, request Siri to play anything, including accessing the library, music catalog, finding song lyrics, and adding tunes to your library.
If you don't have a membership, ask Siri to play tracks from your library and iTunes purchases. Say 'Hey Siri' and ask something like" play the song that goes…"or " play the latest album."
4. Find a song by lyrics
We often find ourselves singing lyrics but not able to remember the name of the song. You can find tunes using lyrics. Alternatively, you can ask Siri if you don't want to type. Also, you can view lyrics as you play them back.
To search for lyrics, click the search tab, put the lyric phrase, tap search, press and hold the song in the search results, then click the lyrics.
5. It offers a live radio station
Users can stream broadcast radio stations globally. The radio stations are Apple Music 1, Apple Music, country, and Apple Music Hits. Each station features shows that are hosted by popular people in music.
You can also tune in to your favorite live radio stations, including local. Furthermore, you can create personal stations from the tunes you love and save the songs on a live or custom-made radio station.
To start listening:
Open the music app
Go to the radio and scroll to the three radio stations.
Or
Go to search
Find a radio station by the name, sign, nickname, and frequency.
Tap the radio station to listen live
6. You can set the alarm using apple music song
A default alarm sound might not suit your taste. Apple is a great platform to get amusing tracks and set a new alarm sound. Thanks to the music library with more than 70 million songs, you will find tunes that suit your taste.
To set the alarm:
Open "clock app," go to the alarm button, and tap "edit."
Select the alarm you want to edit, click on "pick a song," tap the search bar on the Apple library tab.
After you find the song, tap the "+" button, the song will be selected as the tone, tap "back," and click the save button.
7. Listen to tracks without cellular data
You can listen to tunes without using internet data. This is an easy way to save data and can be done on iPhone, Windows, Android, or Mac. Generally, subscribers enjoy streaming quality at 256kbps, which consumes 115.2 MB per hour.
If you have a subscription plan and iCloud library, you can download songs, playlists, and albums to listen to offline. After downloading, you can listen to music without Wi-Fi or data.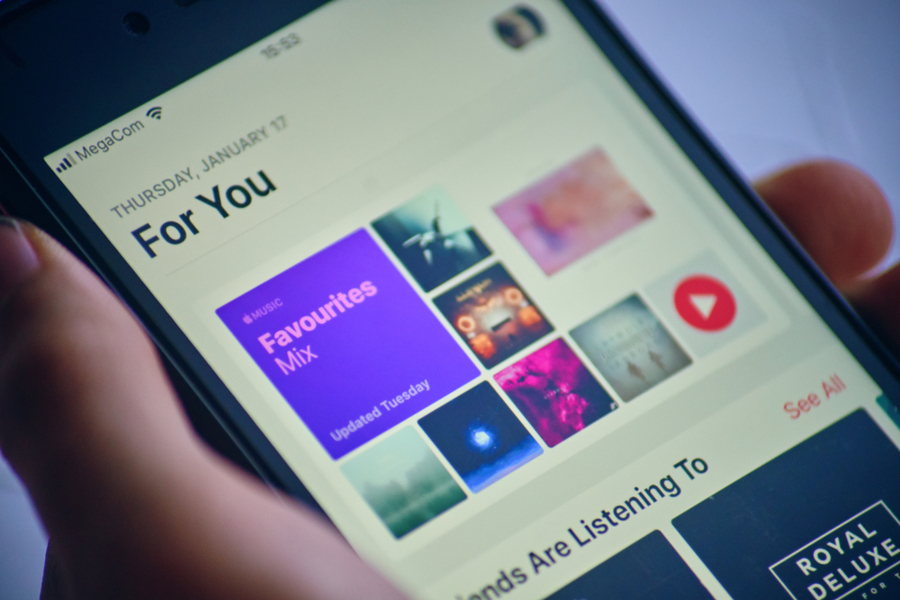 8. Watch TV and videos
It features a wide range of TV shows, films, and music videos to select. Additionally, there is the planet of the Apps that allows App creators to pitch ideas to get investment.
If you are a member, you can find this by:
open the app, click on browse, then select TV and films
Search for the show and choose an episode to watch
Click the grey arrow to download the show.
9. You can find, follow and see what friends are listening
You can explore what friends are listening to if you love their music taste.
Follow friends: click follow more friends below your profile, tap "follow next to a contact."
Search Apple music: go to the search button, enter your friend's name, click the name on search results, and click follow on top of the profile.
See what they are listening to: go to "listen now" and scroll down to what they are listening to.
10. New music mix
Apple Music offers New Music Mix every Friday. This includes 25 new songs from artists you know and brand new ones- depending on your taste and play history. Since the songs change every week, you can save your favorite ones as a new playlist. Just click the three dots, choose "add to playlist" and name.
You can access New Music Mix by:
Open the Music app
Click on the "For you" section
On the top, click the "My New Music Mix" banner or swipe left and access "My favorites Mix."
11. Three months free trial period
It offers three subscription plans, and you can start with a three months trial period. Regardless of the type of plan, you will provide credit card information. Therefore, the company can charge you a paid subscription plan when the trial expires. However, you can avoid this by canceling the trial 24 hours before the expiry date.
To try out the free trial plan;
Go to the apple music website, navigate until you reach the free trial section.
Pick a plan, click the trial free button, then select "try it free" below the banner.
If you have a new Apple ID, click sign up. Select sign in if you don't have an apple music subscription but have an Apple ID.
Click the continue button. Put your first name, last name, date of birth, and email to have an Apple ID.
Create a password, agree to terms and conditions, then click continue. You will receive an email from Apple with a six-digit verification code, enter the code and click continue.
Add payment methods like MasterCard, Visa, American Express, or Discover. Add billing address, enter a phone number, click on continue and follow the instructions to finish the process.
Final thoughts
Apple is available on Apple devices such as iPad, iPhone, Mac, and iPod touch. You can also find it on smart TVs, streaming platforms, smart speakers, Windows, and Android devices. Users can listen to over 70 million tracks and discover something new. Moreover, its exclusive features include personalized music, curated playlists, real-time lyrics, download music, and offline play.