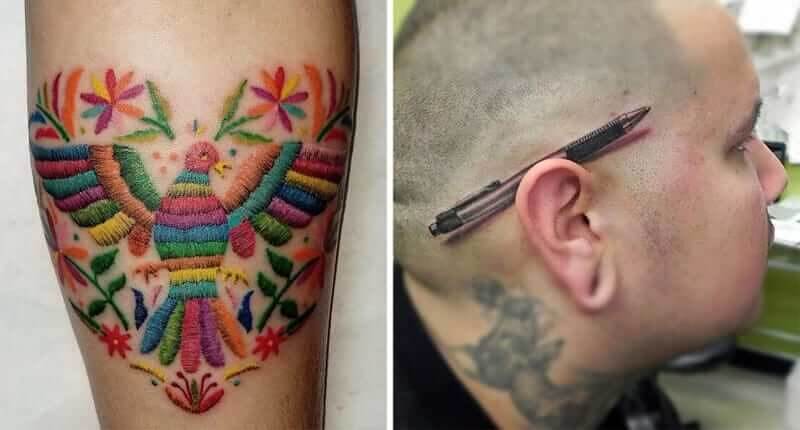 Tattoos have been around for thousands of years, serving as a way for people to express their individuality and commemorate meaningful events or people in their lives. However, with the advancement of technology, tattooing has evolved to include stunning 3D designs that bring ink to life in a whole new way. These tattoos are visually striking and trick the eye into perceiving depth, movement, and dimension on the skin. In this article, I will share some extraordinary 3D tattoo designs that will make you do a double take and admire the sheer talent and creativity of tattoo artists. From hyper-realistic portraits to mind-bending optical illusions, these tattoos will leave you in awe.
Optical Illusion Tattoo
Talk about taking optical illusion to a whole new level. This guy has a tattoo on his upper arm which makes it look like there is a hole in the person's arm. The tattoo design itself is pretty unique. It's a 3D tattoo design that will always turn heads.
– Advertisement –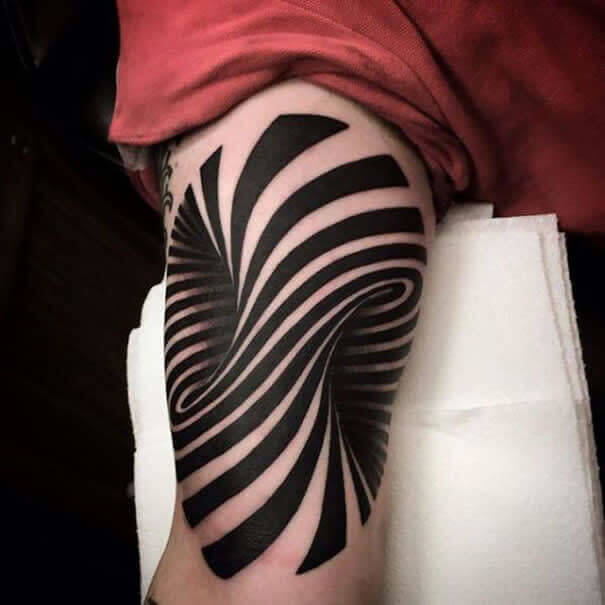 If you are looking for a similar tattoo, then it's best to go to an experienced tattoo artist because not everyone can do tattoo designs like this. The best part is that you can get this design anywhere on your arms or legs.
– Advertisement –
The Prosthetic Leg Tattoo
Very few people in this world can rock a prosthetic leg like this guy is doing. I am happy that the guy is confident and hasn't let his prosthetic leg take away his confidence. This is how one should live their life.
– Advertisement –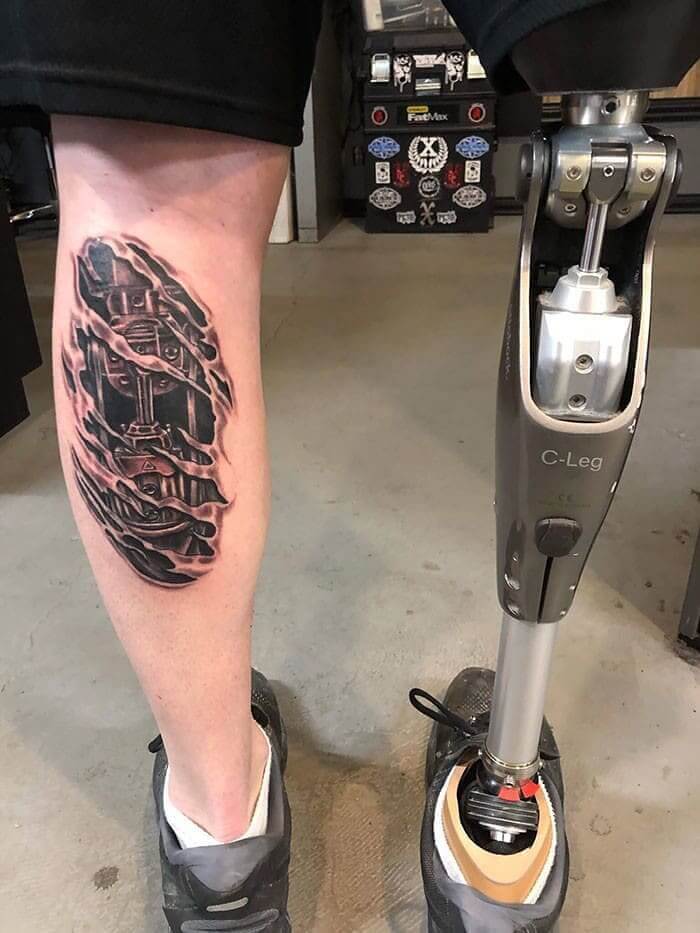 Not only does he have a prosthetic leg, but he also has an ultra-realistic tattoo of the mechanism on his other leg. The tattoo makes it look like the person is actually a robot from the Terminator movies. Once you see the tattoo; for a second, you would think that it is real.
– Advertisement –
Embroidery Tattoo
I wouldn't be surprised if you have never heard of embroidery tattoos before. The picture below looks like an embroidery design done on a canvas, but in this case, the canvas is the human body, and the embroidery design of the bird that you are seeing is actually a tattoo.
– Advertisement –
Not all tattoo artists are skilled enough to do this, so if you are looking for an embroidery tattoo, make sure you do your research to find the right tattoo artist. Depending on the size and design of the tattoo, they might cost you more than the traditional types of tattoos.
– Advertisement –
Turning Old Tattoos into New Amazing Ones
This guy had an old tattoo of planets and stars on his back, but he wanted to change things a bit. So he decided to get a tattoo on top of it. The tattoo artist did a great job covering his old tattoo.
– Advertisement –
The tattoo artist turned his old tattoo into a new 3D tattoo that resonated with the older one. That tattoo design made it seem like the person's skin was breaking down into small blocks. Anyone who sees this for the first time will feel confused, but once they come close, they will realize that it is just a masterful tattoo design.
– Advertisement –
The Burning Fingers Tattoo
When it comes to unique 3D tattoos, this one is definitely at the top of the list. I don't know if it was the tattoo artist's idea or was it the client's idea, but this tattoo design is one of the most creative ideas that I have ever seen.
– Advertisement –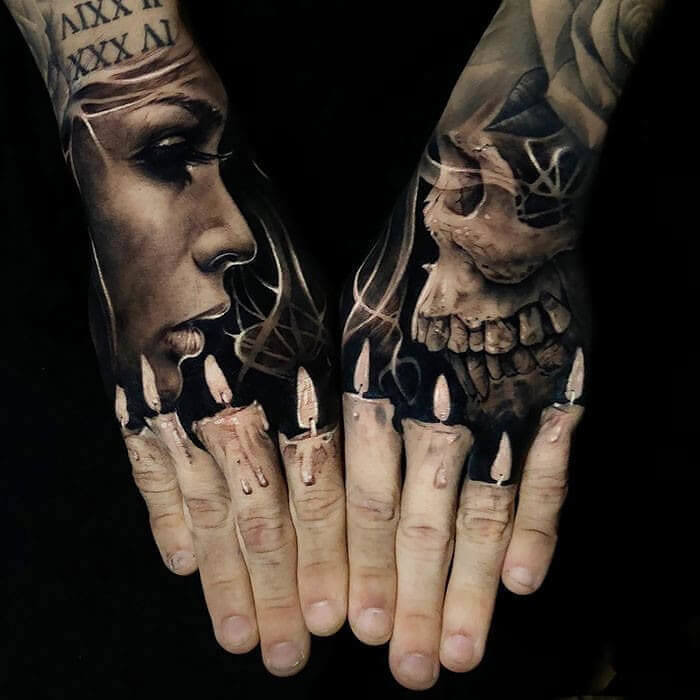 The tattoo makes it seem like the person's fingers are on fire. The sleeve tattoo of the woman's face and the skull also add value to the entire design. It is just amazing to see how talented some tattoo artists actually are. This process surely took a lot of hours, but the results were totally worth it.
– Advertisement –
Upper Arm Embroidery Tattoo
An embroidery tattoo is a type of tattoo that incorporates the look of embroidery into the design. As you can see from the image below, this embroidery tattoo often features highly detailed patterns such as florals, geometrics, or abstract design. It is a unique and eye-catching tattoo.
– Advertisement –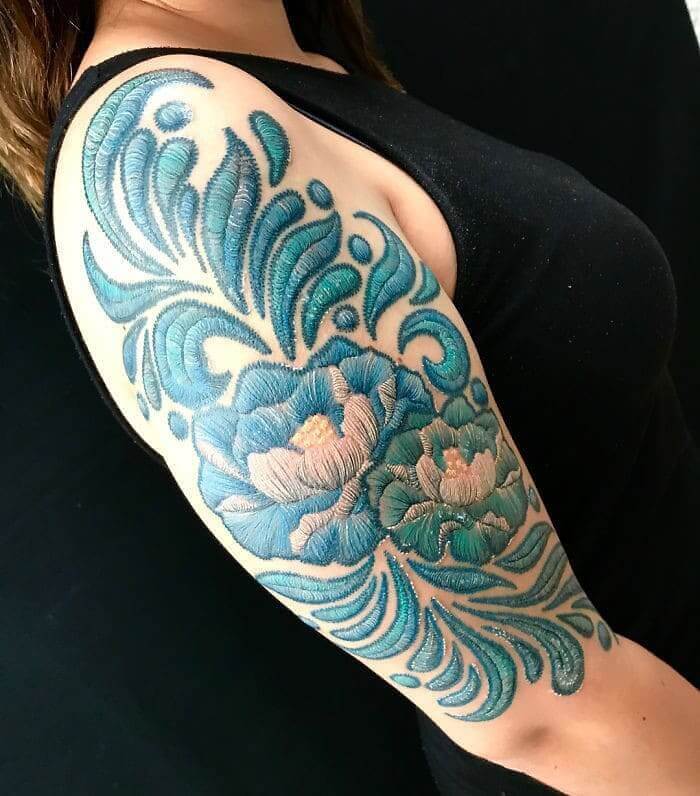 The embroidery tattoo you see in the image above took around 12 hours to complete. Even 12 hours look less when you see how much detail is there in the tattoo design. The blue color looks amazing on this embroidery tattoo floral design.
– Advertisement –
The Clothes Tag Tattoo
Who knew that human beings also came with tags that you normally see on clothes? I don't know why a person would get this type of tattoo. The only reason that I could think of is the person either lost a bet or just got it for fun.
– Advertisement –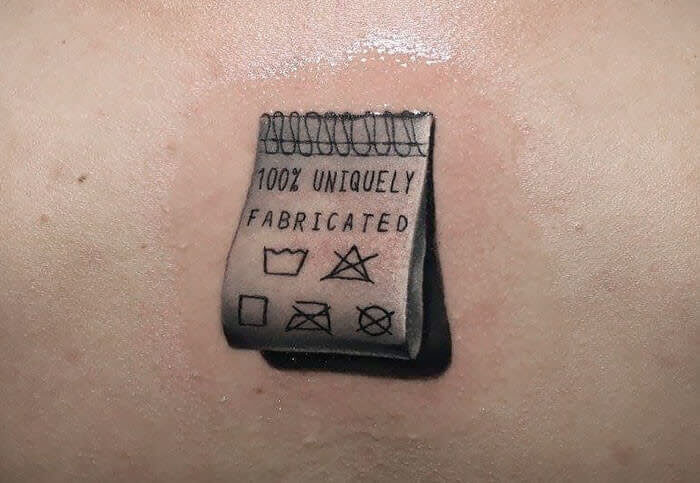 The tattoo says 100% uniquely fabricated, which shows that the person is highly confident in themselves, which is a really good thing. But surely there could have been a better design to explain that. Even though the design isn't too detailed, it is still a unique 3D design.
– Advertisement –
An Impossible Design
If you are a tattoo artist or you like you have tattoos on your body, then going through different designs, you might have come across such designs that seem impossible to create, yet people get them done. This is one of those impossible tattoo designs.
– Advertisement –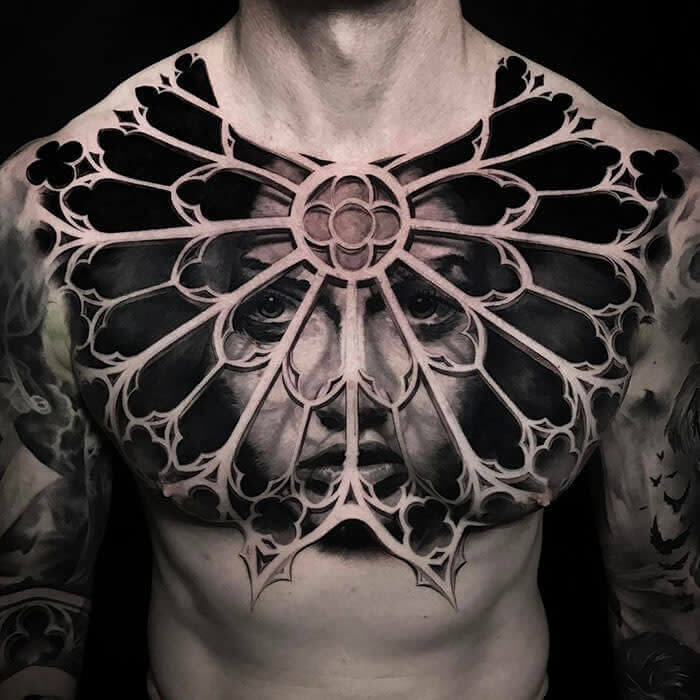 This tattoo definitely took multiple sessions to get done. The design, precision, and quality all make this tattoo look perfect. The best part is that you don't even see any mistakes in the elaborate design. This tattoo artist should get the best tattoo award for creating this masterpiece.
– Advertisement –
3D Blocks Sleeve Tattoo
3D block tattoos are a unique and beautiful form of tattoo art that can create the illusion of depth and texture on the skin. The key to the uniqueness and beauty of these tattoos lies in the skilled use of shading, highlighting, and precise line work to give the blocks a sense of dimension and volume.
– Advertisement –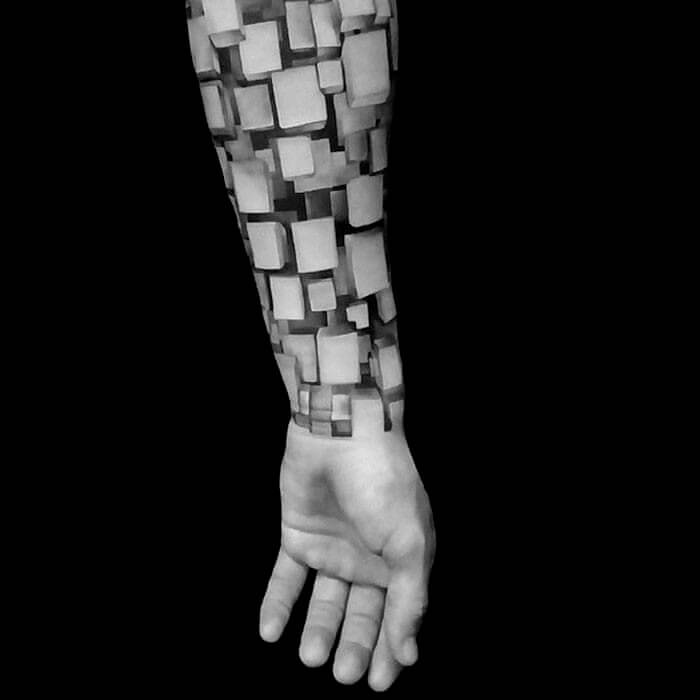 They can be created on any part of the body but look amazing on the arm. However, this guy went one step ahead and got it done on his entire sleeve. It just makes it feel like his entire arm is made up of floating blocks. Just imagine the confusion when someone shakes this guy's hand for the first time.
– Advertisement –
The 3D Butterfly Tattoo
A 3D butterfly tattoo can be a beautiful and intricate design that gives the illusion of a butterfly in flight appearing to sit on the skin. Such 3D tattoos are typically created using shading techniques that make the butterfly look so realistic, as you can see in the picture.
– Advertisement –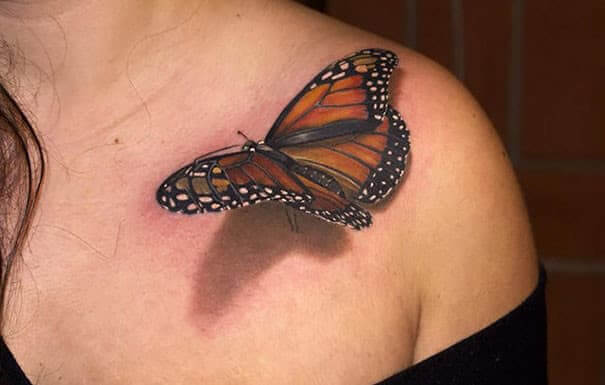 It is definitely a unique design, but you have to applaud the tattoo artist who went into great detail on this tattoo. You can see that each and every wing of the butterfly has a detailed design. The tattoo artist also made a shadow right below the design, which made the tattoo look more real.
– Advertisement –
The 3D Cat Tattoo
This cat tattoo seems like it is popping out of the skin. If it wasn't so small, I would have thought it was a real cat. Whenever you see a tattoo like this, it just makes you feel how talented some tattoo artists actually are.
– Advertisement –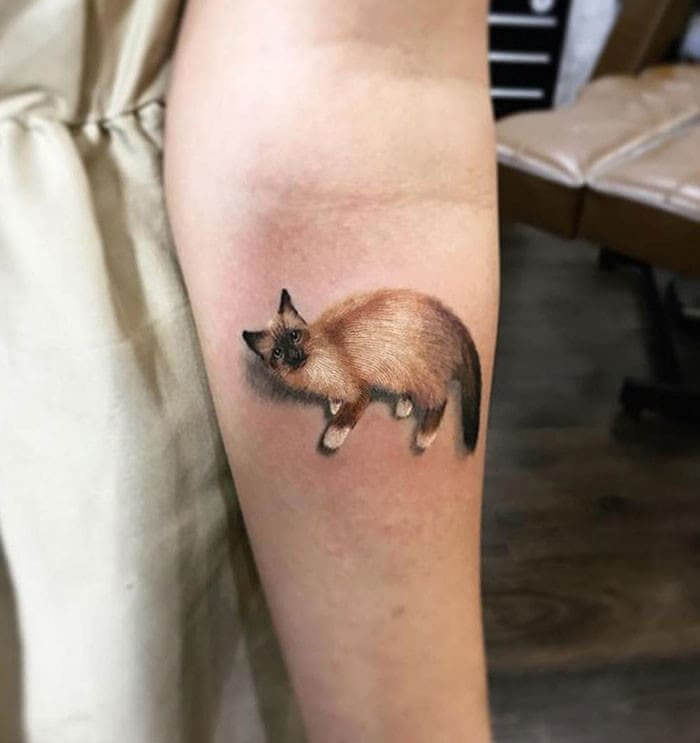 Surely this person loves cats, or maybe they showed a picture of their favorite pet cat to the tattoo artist and asked them to create this tattoo. No matter the reason, this is truly a one-of-a-kind tattoo that I would love to have on my arm as well.
– Advertisement –
Disney Fan Tattoo
If you are a Disney fan, then you would know about Lilo and Stitch. It was one of the most popular Disney productions ever. This person seems like a big fan of the character of Stitch. They loved Stitch so much that they decided to get a tattoo.
– Advertisement –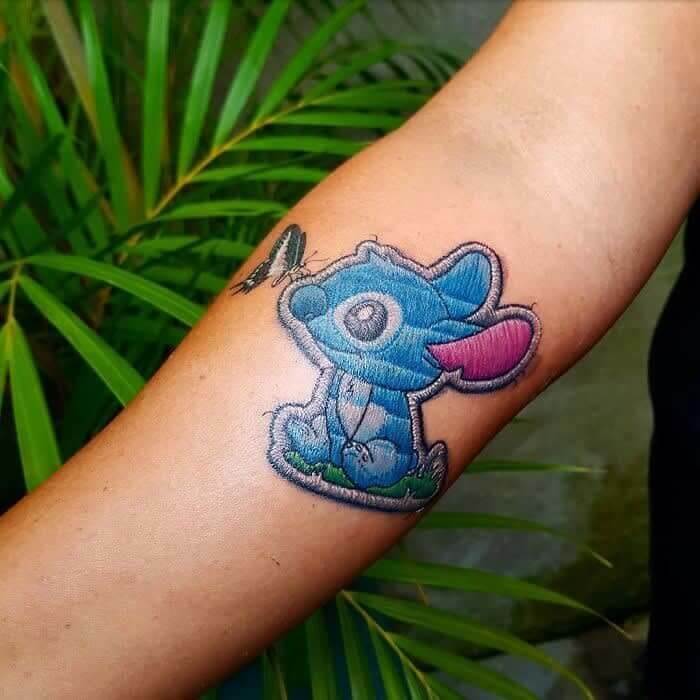 It is an embroidery tattoo of Stitch with exceptional details, which make the tattoo worth applauding. Hats off to the tattoo artist who was able to create such a clear and well-detailed embroidery tattoo like this one. Maybe this person can also get a tattoo of Lilo on the side to complete the pack.
– Advertisement –
Scuba Diver Tattoo
A scuba diver tattoo is a unique and meaningful way to express a love for adventure and a sense of wonder at the mysteries of the underwater world. This tattoo features a scuba diver in full gear, surrounded by the vibrant and colorful sea life found in the underwater world.
– Advertisement –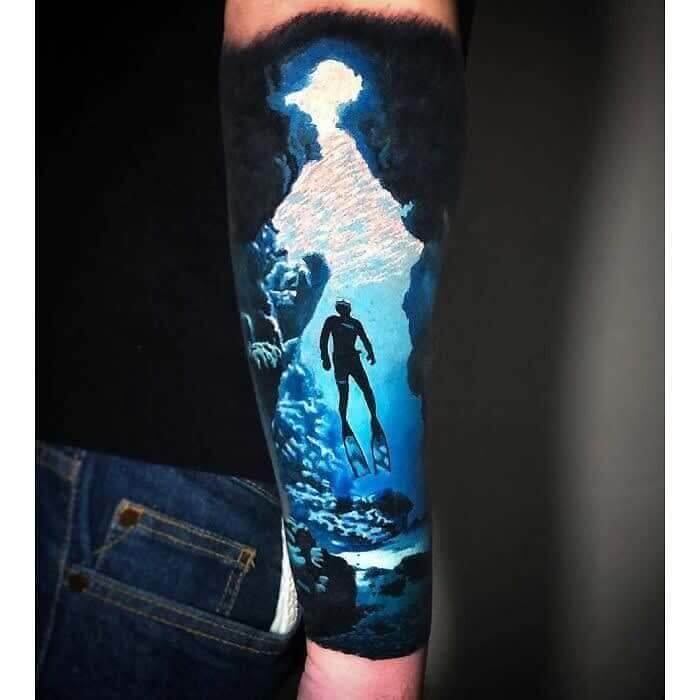 The use of shading and color can bring the design to life and create a sense of depth and realism. You can clearly see that the top of the tattoo seems brighter to show the sunlight hitting the surface of the water and then piercing its way underwater.
– Advertisement –
Infinity Design Tattoo
The optical illusion tattoo design hits our list once again. Not only does this design make it look like there is a hole in your body, but there is also another illusion associated with this design. If you look at this design for a few minutes without breaking your attention, then the swirly lines on the tattoo will start moving.
– Advertisement –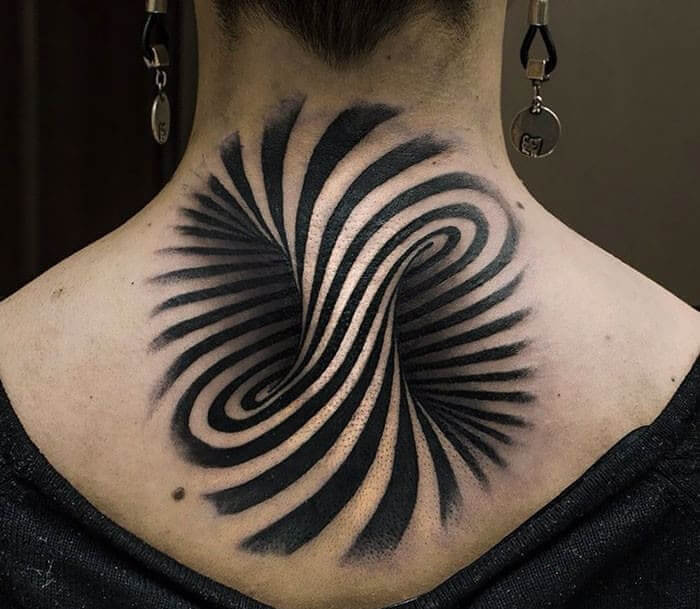 This shows that this design can look really good on your back, but it may not be good for people sitting behind you in a car or even at a theatre. If they can see this tattoo, not only will it distract them, but it will also make them weird once they start seeing the tattoo move.
– Advertisement –
Shattered Glass 3D Tattoo
A shattered glass 3D tattoo on the back can be a bold and striking statement piece that showcases the wearer's artistic taste and individuality. The large canvas of the back provides ample space for the intricate and detailed design, making it a perfect location for showcasing the skill and mastery of the tattoo artist.
– Advertisement –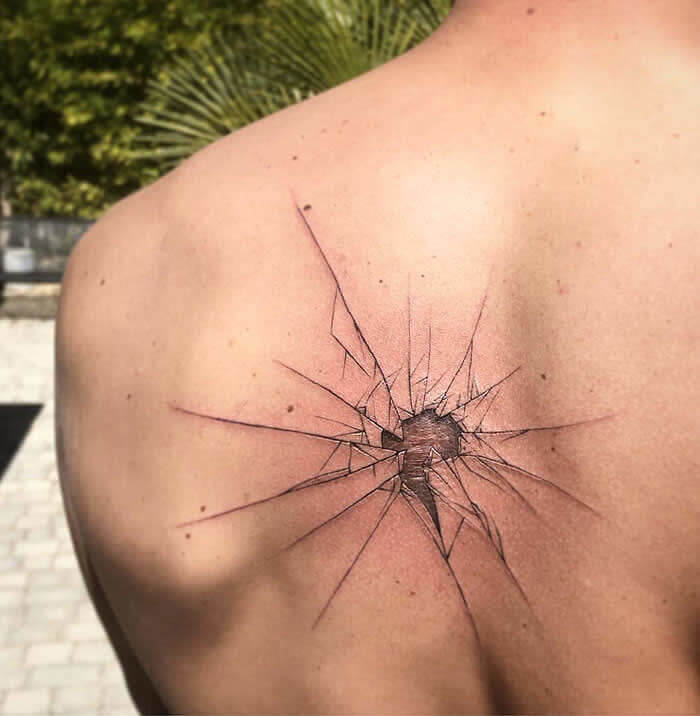 The jagged lines and sharp edges of the shattered glass can create a dynamic and captivating visual effect. Most probably, this guy got this done to cover up an old scar, but to be honest, this seems like the best way to cover up your scars. Instead of hiding the scars, this guy added to them and made them wonderful.
– Advertisement –
A True Lollipop Lover
Imagine being in love with candy so much that you get a tattoo for it. I can't help but notice how realistic this looks. The lollipop in the image is actually just a tattoo, and the gut is trying to create an illusion of holding it.
– Advertisement –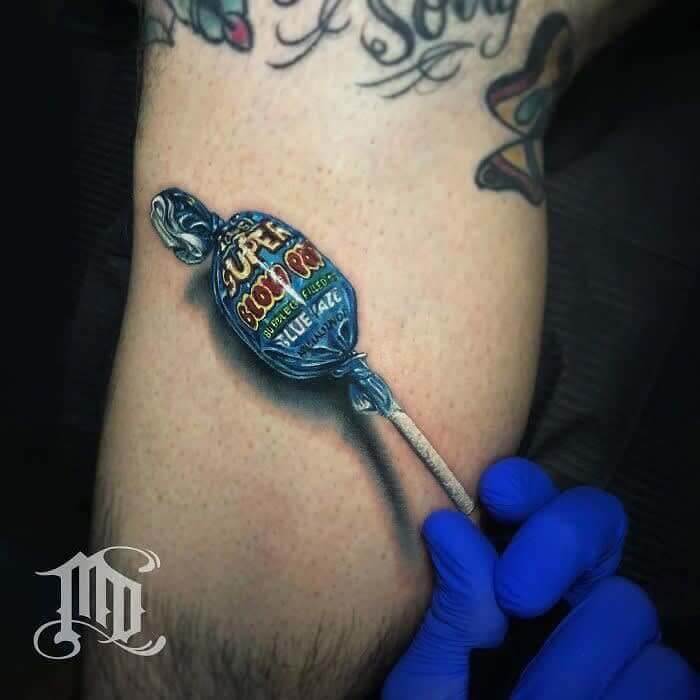 Isn't it amazing how these tattoo artists make things look so real? If you look at the picture, you can clearly see that the guy has other tattoos as well, but this one has to be one of his favorites. If I had this tattoo, it would be my favorite as well.
– Advertisement –
Tattoo For The Travelers
Whether you are an avid traveler or just someone who loves Geography, this is the tattoo for you. This tattoo depicts an old map that is slightly torn off. You can also see a blue compass on the tattoo as well. The compass is a great touch to a map tattoo.
– Advertisement –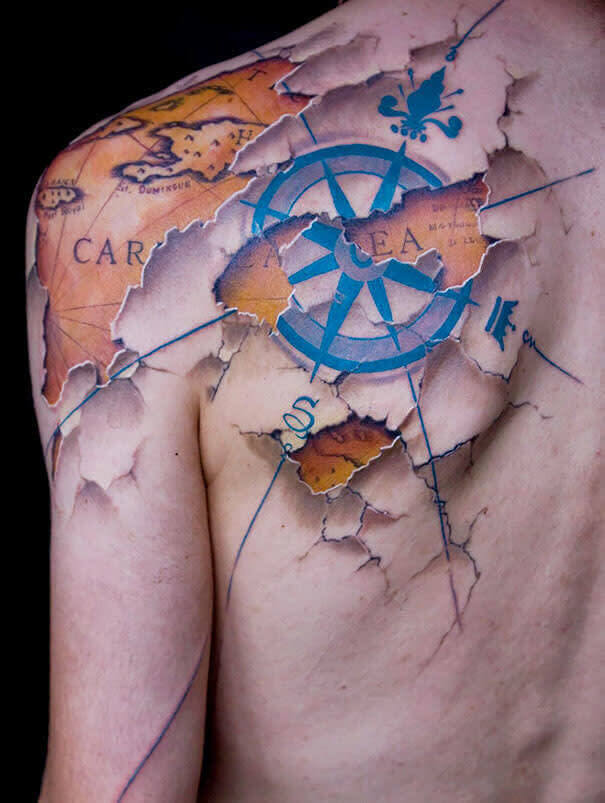 Imagine if explorers in the old world used map tattoos instead of paper maps, they would never have to worry about losing the map and getting lost at sea. It is a unique map that can be a great topic of conversation.
– Advertisement –
The Dolphin Tattoo
I don't know what happened to this person's arm, but it's definitely not stopping him from fighting for his dreams. One of the biggest signs of a confident person is that they don't let such things get in their way. Instead, they embrace such things and feel confident.
– Advertisement –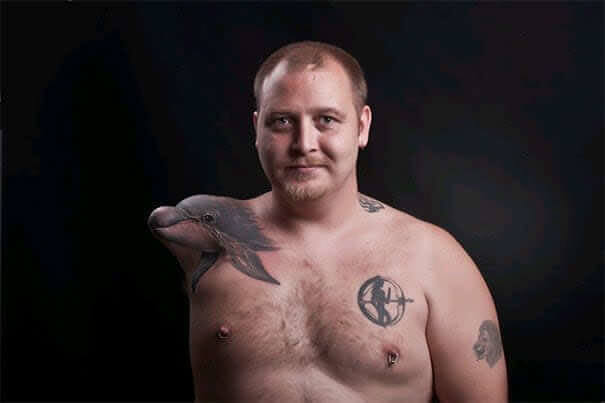 This guy did not care about what people would say. He most probably lost his arm in an accident, and instead of feeling bad about it, he got a dolphin tattoo on the amputated arm. I have to say that the Dolphin was the best choice for this tattoo.
– Advertisement –
Spiderman Tattoo
I am not exactly sure what the idea was here. It seems like the person is a big spiderman fan, and their tattoo depicts that they have a spider suit underneath their skin. I don't think that is how it's supposed to be.
– Advertisement –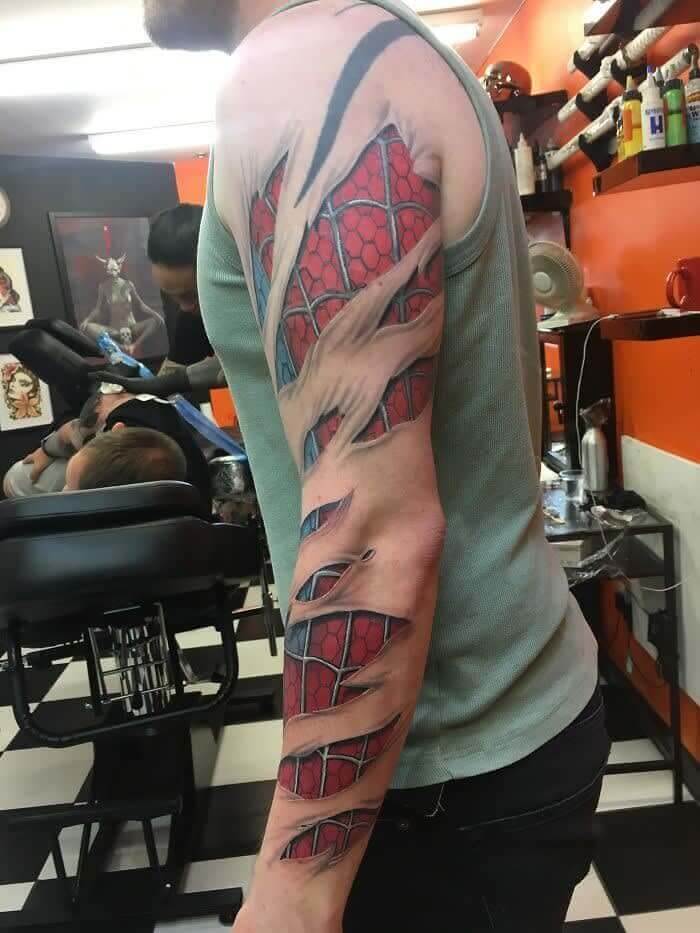 Fans of spiderman may remember that in one of the movies, his suit tears up, and you can clearly see his skin underneath. So this tattoo can also be a nod to that. The tattoo might actually mean that the person previously had the suit on, but now it's torn, and that is why you can see their skin.
– Advertisement –
The Inner Power
This tattoo represents a person's inner strength, which each and everyone should have. You need to boost your inner strength to free yourself from all sorts of pain. Tattoos like this act as a reminder for you to stay strong. It is great for motivation.
– Advertisement –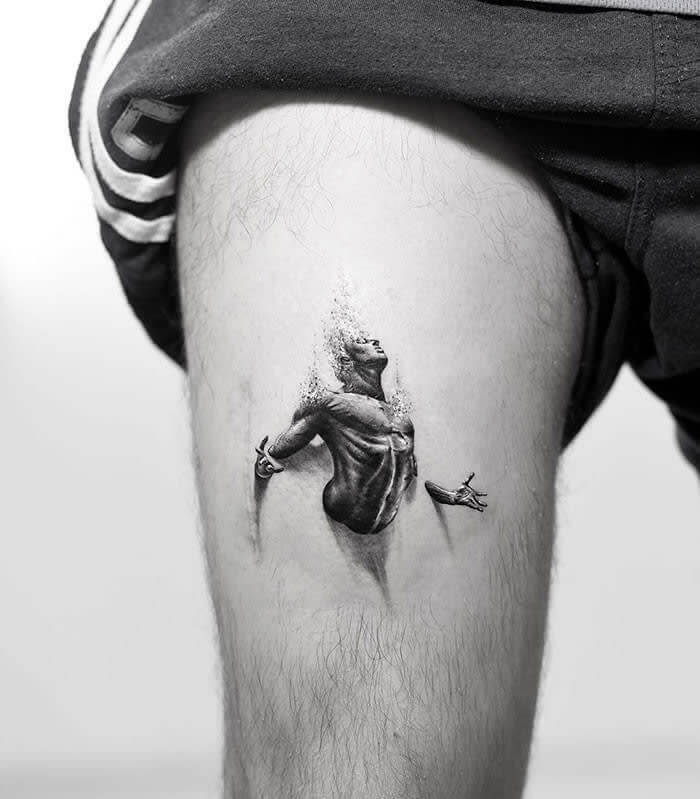 The figure in the tattoo is coming out of the skin, showing that you can pass all sorts of problems and barriers in your life. However, I couldn't help but think that this is a character from Avengers who is just about to vanish right after Thanos snapped his fingers.
– Advertisement –
Honeycomb Tattoo
This is another block tattoo, but it is different than the other block tattoos on this list. This is because it doesn't just feel like the skin is divided into different blocks, but it actually depicts the blocks as honeycomb. There is also a honey bee in the tattoo.
– Advertisement –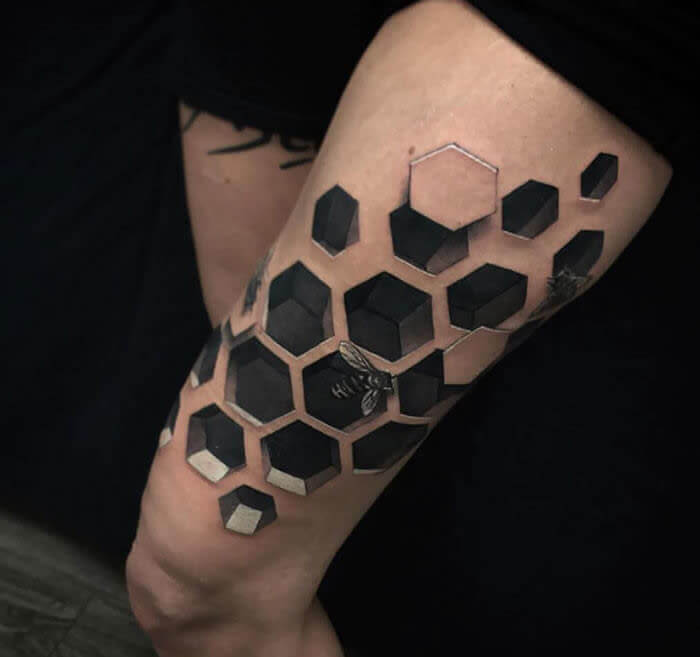 This clearly shows that the artist has tried to make it look as if the honey bee is living inside the person. The artist who created this tattoo also realized that it is a creepy tattoo. In this picture, the tattoo is on the thighs of the person, but it would also look good on the arms as well.
– Advertisement –
Skull Tattoo
You might have seen a lot of skull tattoos in your life, but none like the one I am about to show you. It is a skull tattoo with honey and a honey bee on top of it. The reason this tattoo is so unique is that the tattoo artist has used multiple techniques to complete this masterpiece.
– Advertisement –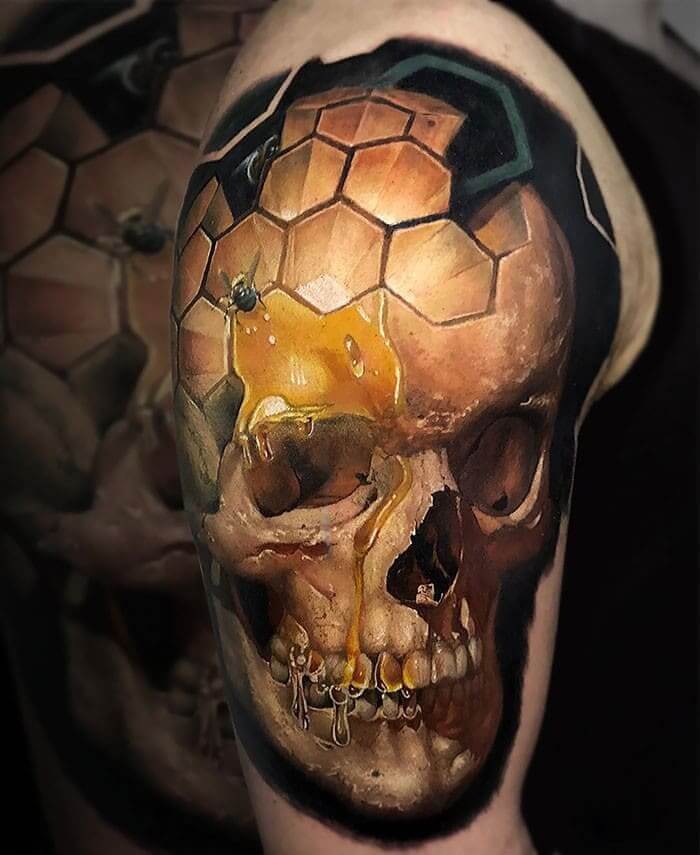 It took the artist around two days to complete, and that is why you see such precision in work. Then you can also see a touch of block tattoos on the top side of the design. The honey dripping down the skull also adds to the uniqueness of the design.
– Advertisement –
DNA Tattoo
If you are an art lover, then the museum isn't the only place you can see high-quality art. You can find some very unique and artistic designs on tattoos. This is one of those unique tattoos that any art lover would like.
– Advertisement –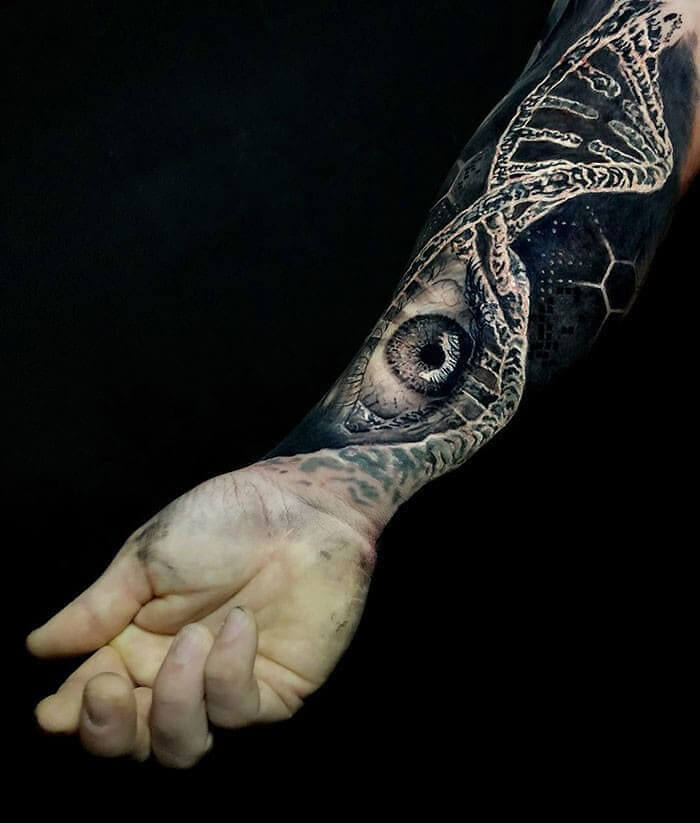 Even though the full arm of the person cannot be seen in this image, it does seem like a sleeve tattoo. The tattoo design is that of a DNA design with a big eye inside the DNA. I don't know what the idea behind this tattoo was, but I can surely see the artistic side to this, tattoo.
– Advertisement –
Incredible Art Piece
This piece of body art is really stunning in every way. The incredible 3D effect, in conjunction with its exquisite design, is quite astounding. The incredible skill displayed by the tattoo artist is demonstrated here. This intricate 3D tattoo resembles the complexity and beauty of an organic compound.
– Advertisement –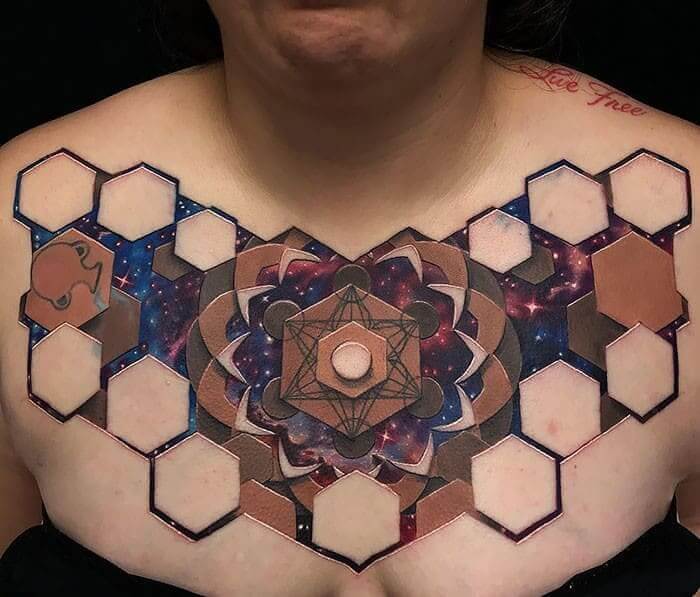 It showcases the stunning combination of artistry and science in its intricate design, making it a true masterpiece. Even if certain parts of this tattoo may have been challenging, the accomplishments you have earned will be well worth the trouble. Everyone who sees this incredible piece for the first time will be blown away by its beauty.
– Advertisement –
The Man On A Ledge Tattoo
I don't know what the person was thinking when they got this tattoo. There isn't a special design or anything; it's just a person standing on a ledge of a skyscraper and looking downwards. It looks more like a photograph than a tattoo, and that is what makes it so special.
– Advertisement –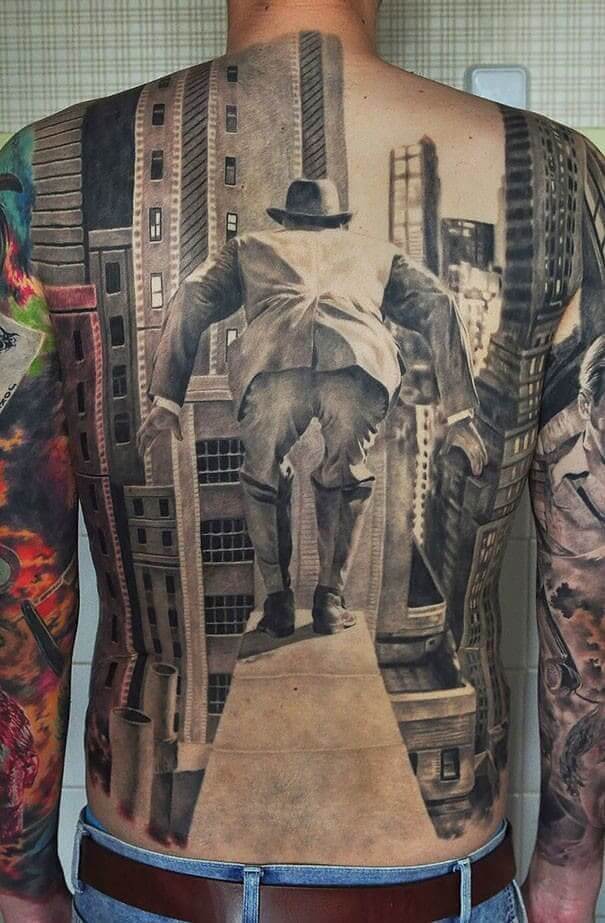 I have to applaud the tattoo artist for being able to create this tattoo. It might have taken over a day to complete, and it must be really painful to get such a large tattoo. And it is going to be a problem for the person if they ever try to get this tattoo removed.
– Advertisement –
Beautiful Tattoo
This talented artist made the decision to snap a picture of the work in progress that he had just begun. The tattoo is almost done, but you can see that it still needs a few touches at the bottom of the tattoo.
– Advertisement –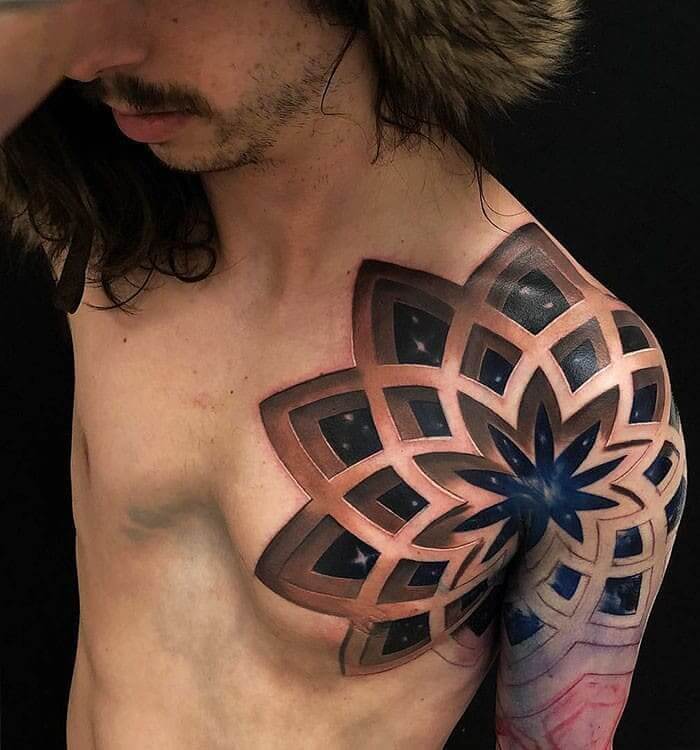 I have to praise the work of this tattoo artist, and it is very clear that the artist uses high-quality ink and color to create their tattoos. The tattoo would look even better if the person puts on a little muscle mass.
– Advertisement –
Wormhole Tattoo
I have already talked about similar tattoos on this list before. The person is definitely a big fan of space and wormholes. This gives the illusion that the person's hand has a big cavity in the middle of his arm. It is just amazing to see how simple art can create illusions.
– Advertisement –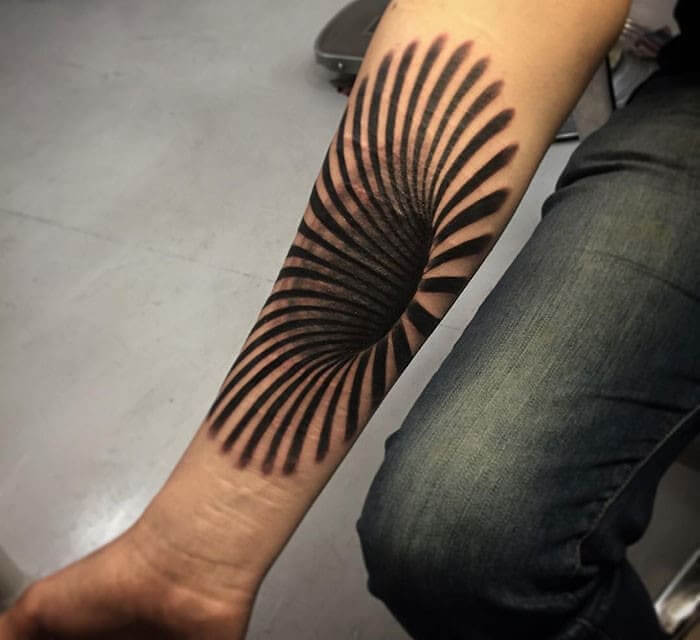 It is a great tattoo if you are looking to cover scars left by accident. The tattoo will totally cover the scars, and anyone who sees your arm will see a big wormhole. This will give you and your friends something to talk about.
– Advertisement –
Hooked To Fishing Tattoo
This tattoo has so many different meanings. Only the person who has this tattoo can tell us why they got it. It shows that the person loves fishing because there are two fishing hooks that are turned to make it look like a heart sign. It is a simple but very meaningful tattoo.
– Advertisement –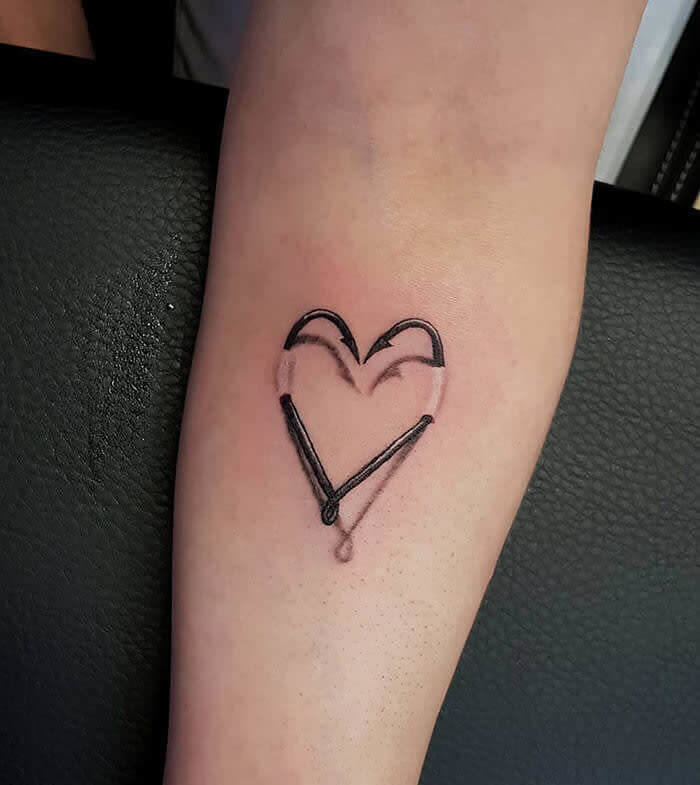 But the tattoo is designed in such a way that it seems like the hooks are going through the person's skin. Another meaning of this tattoo can be that the person is hooked on love. The most romantic thing would be if their partner also had a similar tattoo on the exact same position on their arm.
– Advertisement –
Music Lover Tattoo
This person is definitely a great music lover. I think they must be someone who was alive in the late 1960s, as that is when Jimi Hendrix toured with Pink Floyd. As a music lover myself, I love this tattoo. However, It would have looked better if both tattoos were closer to each other.
– Advertisement –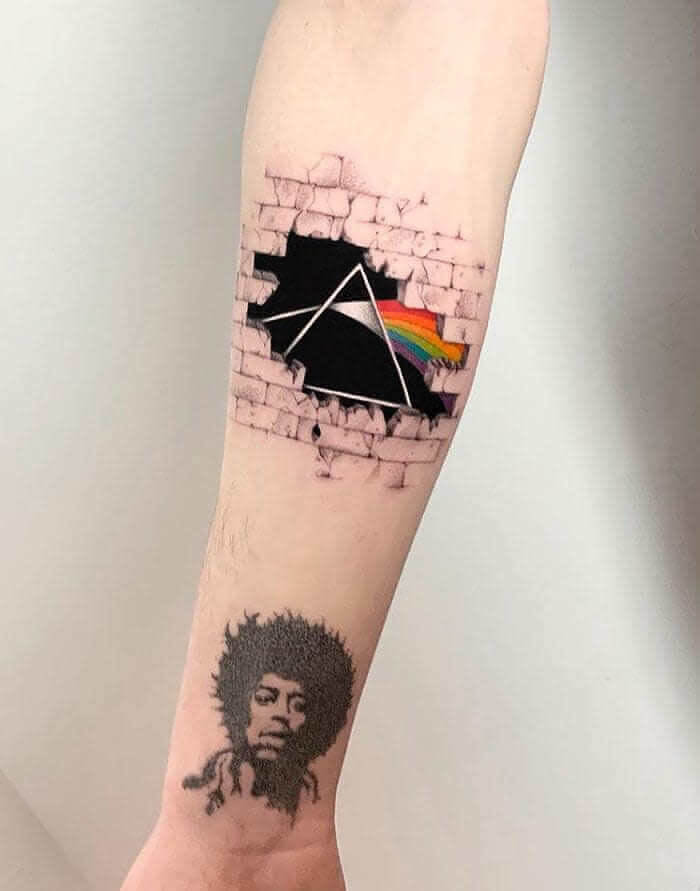 It is very difficult to create a high-quality portrait tattoo, and not every tattoo artist can create such tattoos with such precision. Usually, the end result comes out completely different than what the actual person really looks like, but this tattoo artist definitely nailed the designs.
– Advertisement –
3D Floral Tattoo on The Back Of The Hand
When getting a tattoo on the back of your hand, it's important to keep in mind that this is a highly visible area, and the skin is also subject to a lot of movement, which can cause the tattoo to fade over time. You'll want to make sure you choose an experienced tattoo artist to create high-quality tattoos.
– Advertisement –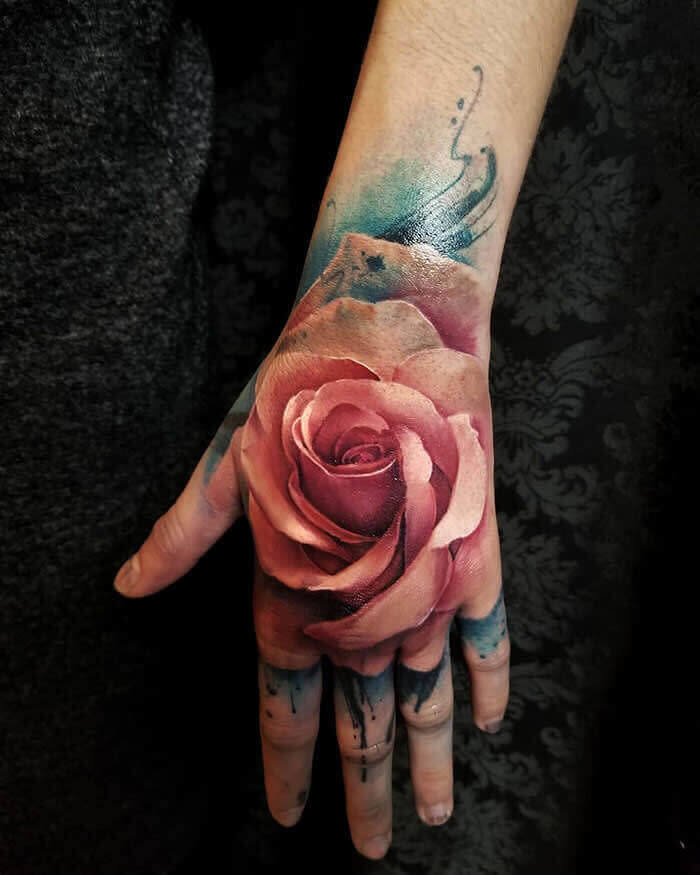 Some popular flowers for this type of tattoo include roses, lilies, and cherry blossoms, but the design possibilities are endless. It is important to consider the color of the flower and the surrounding design. You can see in the picture that the artist chose the best color for the tattoo as it complements the skin color of the person.
– Advertisement –
A Concept That Blows Your Mind
This tattoo is a clear demonstration of the extraordinary talent and meticulous attention to detail possessed by the artist. This magnificent work was brought to life through the culmination of two marathon sessions, each of which lasted for a full 24 hours.
– Advertisement –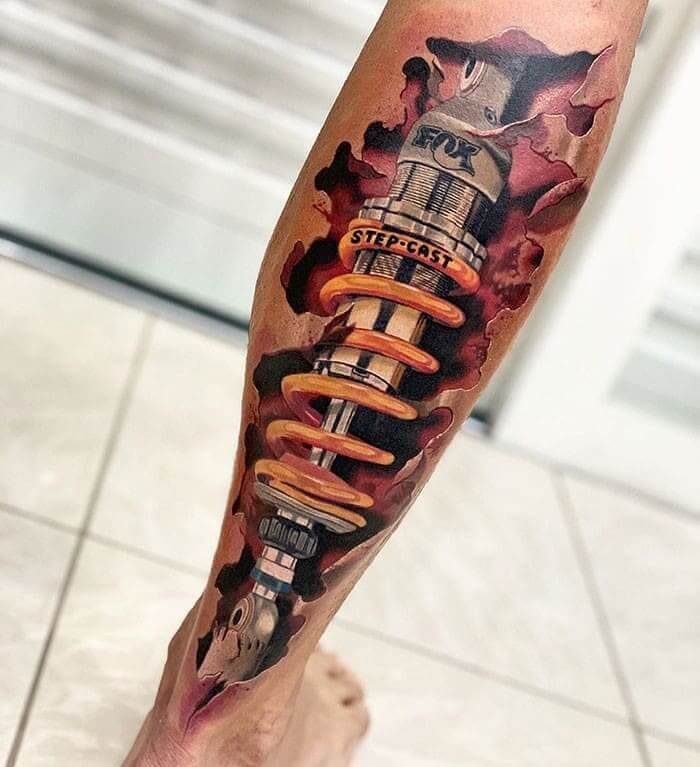 The end product, however, is a fully restored masterwork that defies all credulity. This fact speaks for itself. The steadfast dedication and expertise of the artist shine through in every minute detail, even the background, which was totally conceived of and crafted from the artist's mind. A heartfelt ovation to the creative mind that brought this stunning 3D tattoo to life.
– Advertisement –
Innovative Inking
It's time to ditch those old pens and make room in your bag for this person's cutting-edge approach to inking. This individual, who was earlier not allowed to enter class because he did not have a pen, now has a pen always available to him because of his 3D tattoo.
– Advertisement –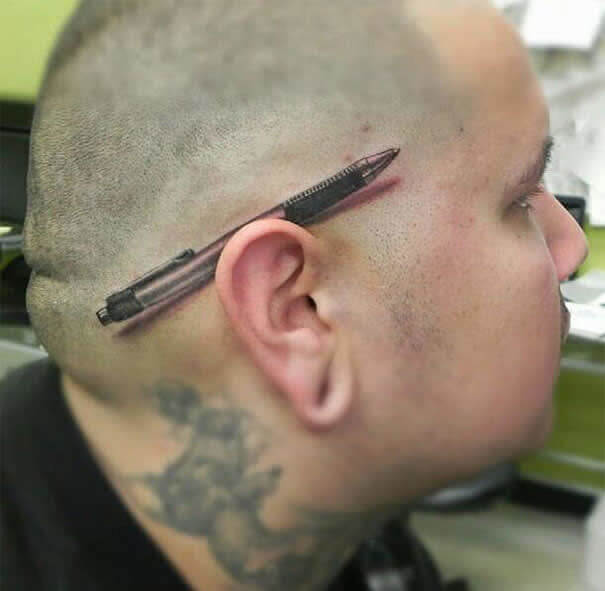 This invention is not just a topic of discussion, but it is also a workable solution to a problem that is experienced by many students all over the world. An astounding demonstration of artistic skill and creative brilliance! However, I do believe that it might have hurt him a lot to get a tattoo above his ears.
– Advertisement –
An Homage to the Simpson's
Who doesn't like the Simpsons? It's a show loved by millions of people all over the world. This three-dimensional tattoo is a work of art, and it's perfect for fans of The Simpsons. The richness of the design, from Homer's characteristic duff cap to the lifelike stitching, makes it look great.
– Advertisement –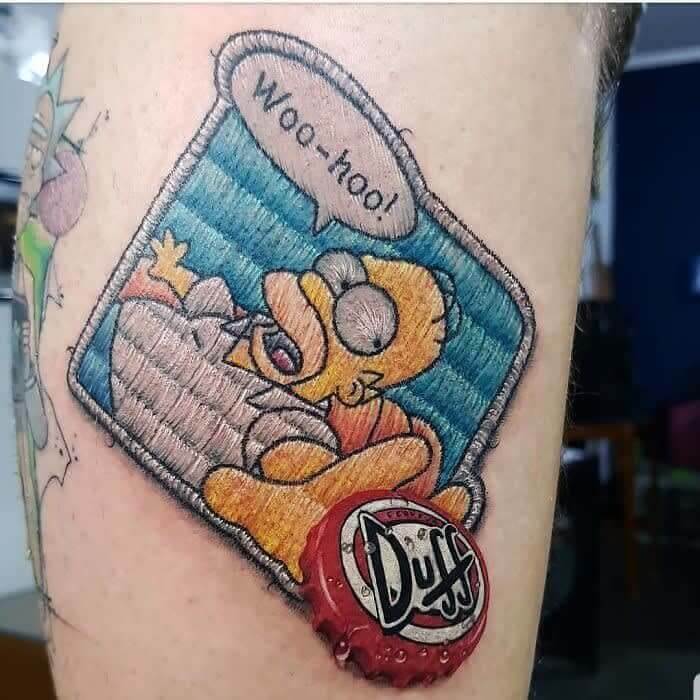 This tattoo is a demonstration of both the artist's talent and the fan's devotion to their favorite cartoon character. Prepare to be blown away and stunned by this incredibly remarkable piece of body art. I am sure that this tattoo might have helped the person break a lot of ice in conversations.
– Advertisement –
The Art of Simplicity
This tattoo may seem simple at first glance, but the intricate details and 3D effect make it a work of art. It's a testament to the power of simplicity that a minimalist design like this can still evoke awe and wonder. Thinking about this tattoo deeply reveals a different perspective.
– Advertisement –
Of course, if you or someone close to you has a fear of needles, this might not be the best choice. However, if you appreciate the beauty in simplicity, this tattoo is definitely worth checking out. It really inspired people to do more simple 3D tattoos.
– Advertisement –
The Illuminati Artwork
The creation of this chest tattoo took the artist a total of eight hours of their work. Onlookers are definitely going to label this man as an Illuminati member because of the Illuminati logo on the tattoo. I love to see unique tattoo designs, but if I saw someone with an Illuminati sign, I would think twice about talking to them.
– Advertisement –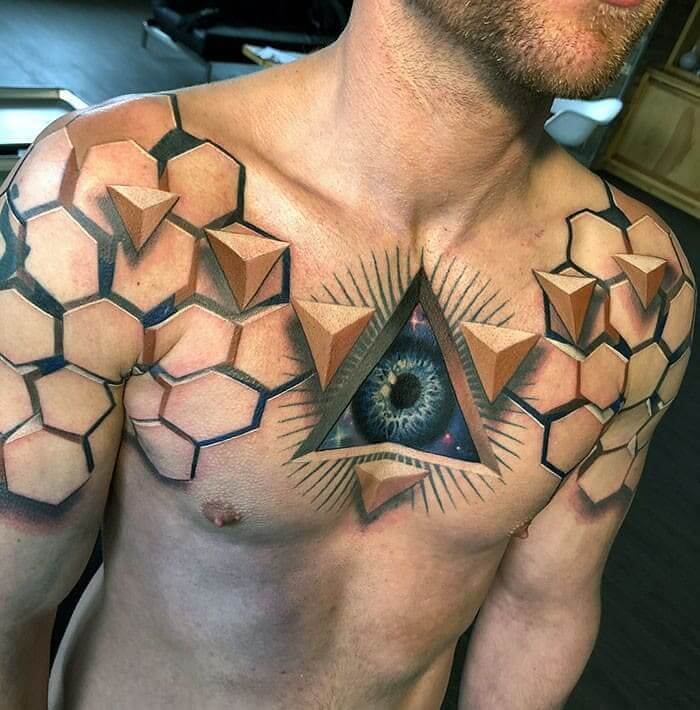 To be honest, it doesn't have to be the eye of the Illuminati logo, as it also looks like an arc reactor that Tony Stark wears on his chest in the Iron Man movies. No matter the meaning of this tattoo, the arrows, the block, and the triangle in the middle all make the tattoo look awesome.
– Advertisement –
Tattoo That Represents Freedom
This may look like a simple tattoo with beautiful scenery, but there is actually a meaning behind this tattoo. Birds are often associated with freedom because they have the ability to fly and soar high in the sky without worrying about the restrictions of the earth.
– Advertisement –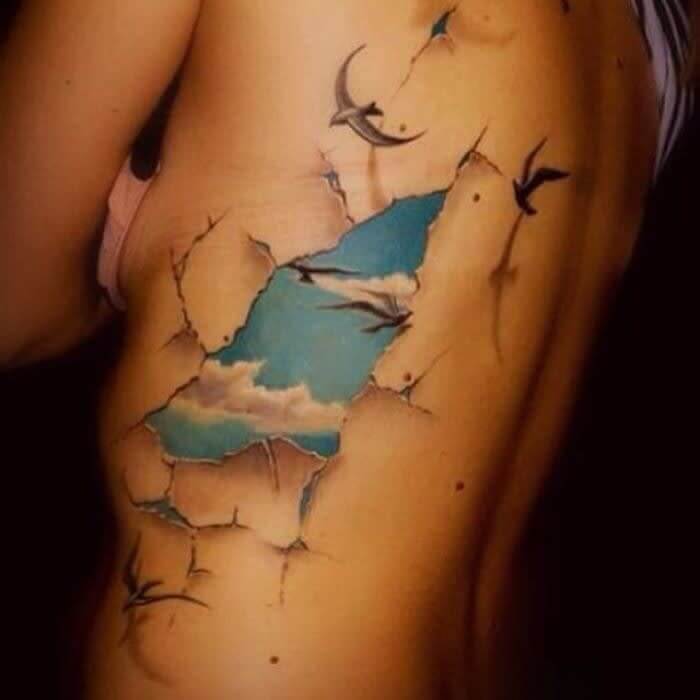 A tattoo of a bird, such as an eagle, dove, or phoenix, can represent your desire for personal freedom and independence. In this tattoo, you can see doves flying sky-high. I am really amazed by the artist's work on this tattoo, and I would love to get a tattoo like this.
– Advertisement –
Unleashing the Unseen: A Mesmerizing 3D Tattoo
This incredible tattoo design is a true work of art that leaves a lasting impression. It's a perfect representation of the duality of human nature, with one side showing a possible alien presence and the other a warning of the inner demons that lurk within us all.
– Advertisement –
The skill of the tattoo artist is truly remarkable, and he has brought this unique design to life in an absolutely breathtaking way. With its 3D effect, this tattoo is sure to leave onlookers stunned and, in some cases, a little bit frightened.
– Advertisement –
The Enigma of Beauty
Art has the power to evoke a wide range of emotions and feelings, and 3D tattoos are no exception. This intricate masterpiece is not only beautiful to behold, but it is also challenging our perceptions of what is possible in the world of tattoo art.
– Advertisement –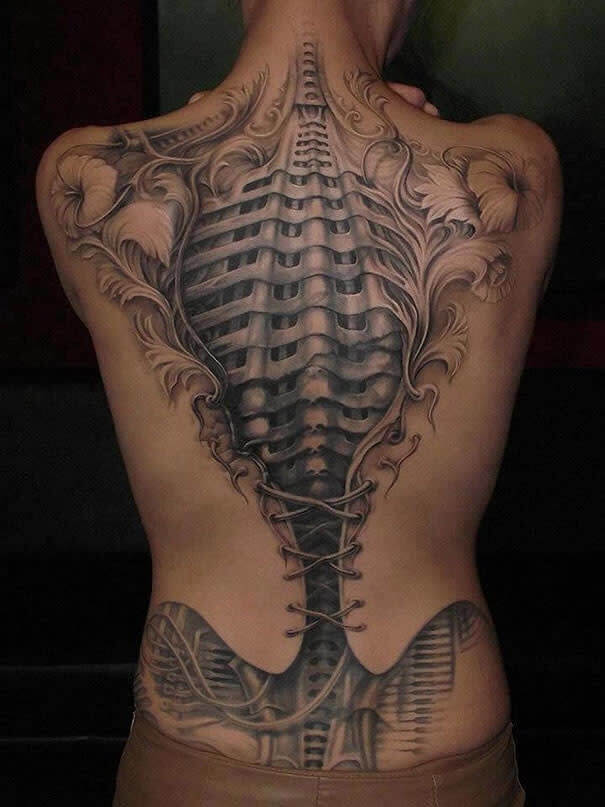 The illusion of depth and texture achieved in this 3D tattoo is truly remarkable and creates a mesmerizing effect that cannot be explained by words alone. These tattoos seem to come to life, and it's hard not to be captivated by their strange beauty.
– Advertisement –
Bringing Your Inner Demons to Life: A Stunning 3D Tattoo
There's no denying the captivating power of a well-crafted 3D tattoo. And this one, in particular, is a true work of art that's sure to leave you in awe. Although it may look like a depiction of a burn victim, it's actually a mix of both creepy and cool, blending together to create a truly mesmerizing masterpiece.
– Advertisement –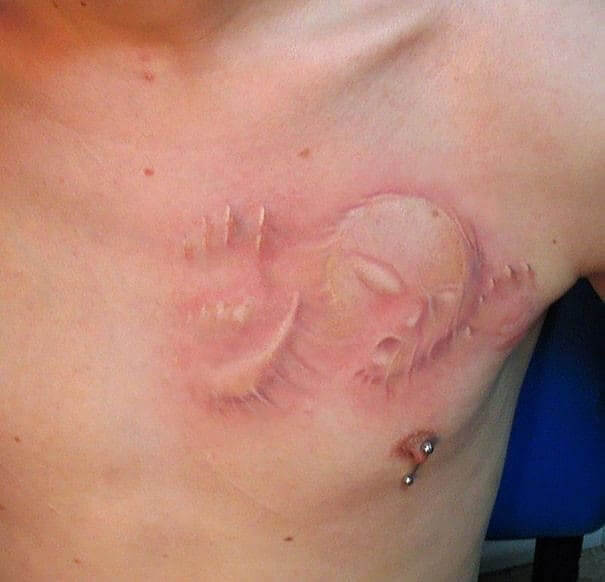 The level of realism achieved by the tattoo artist is nothing short of astonishing, making this a must-see for all fans of body art. Get ready to be amazed as your inner demons come to life right before your very eyes.
– Advertisement –
Mystery in Ink: An Enigmatic 3D Tattoo
Is it a baby rainbow missing a few colors? Or perhaps the top of a padlock? Whatever it may look like, this 3D tattoo is sure to leave a lasting impression. It's a work of art that showcases the talent and creativity of the tattoo artist.
– Advertisement –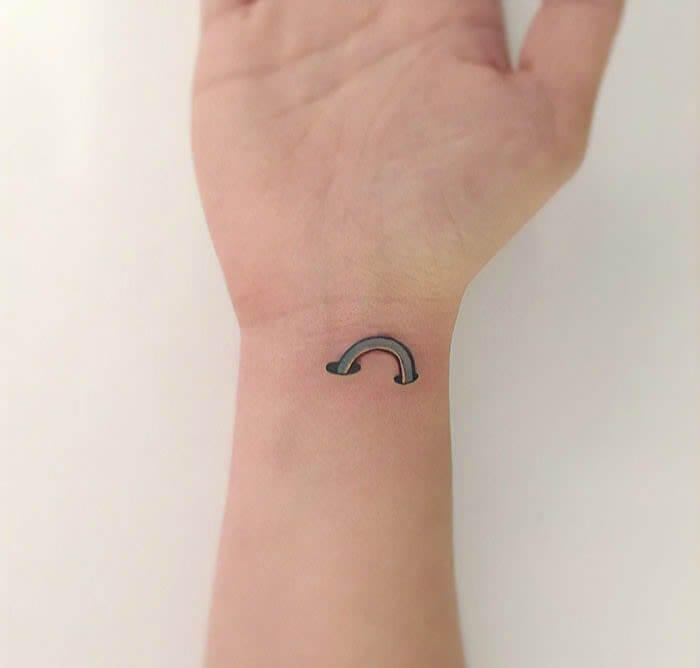 This 3D tattoo is a testament to the limitless possibilities of human imagination. While some may see it as just a simple design, others might see it as a message waiting to be unraveled. Whether you're a fan of tattoos or not, this piece is bound to leave you in awe and wonder.
– Advertisement –
Stunning Simplicity: The 3D Tattoo That Will Leave You Breathless
Tattoos have been a form of self-expression for centuries, and this one, in particular, is sure to leave a lasting impression. The beauty of this tattoo lies in its simplicity, yet its 3D design will captivate your attention instantly. It's the perfect example of how something small can make a big impact.
– Advertisement –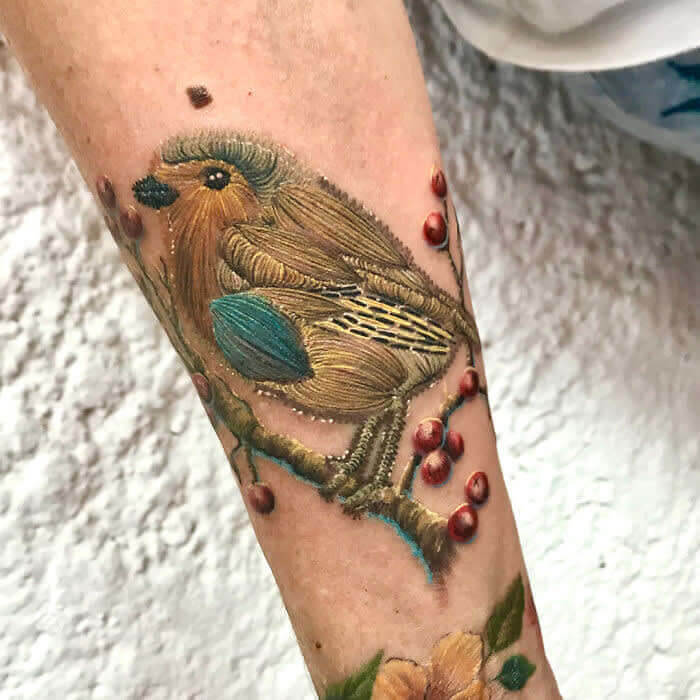 If you're on the fence about getting a tattoo, this one just might change your mind. Take a chance and let this amazing piece of art tell your tale. Get a 3D tattoo to stand out and impress. This tattoo will draw attention and leave an impression on everyone who sees it.
– Advertisement –
A Masterpiece on Display
This 3D tattoo is a true work of art. The tattoo artist's skill and attention to detail are on full display in the elaborate design of this piece, which is a visual treat. It is a certain way to start a conversation and is certain to leave people in a state of amazement.
– Advertisement –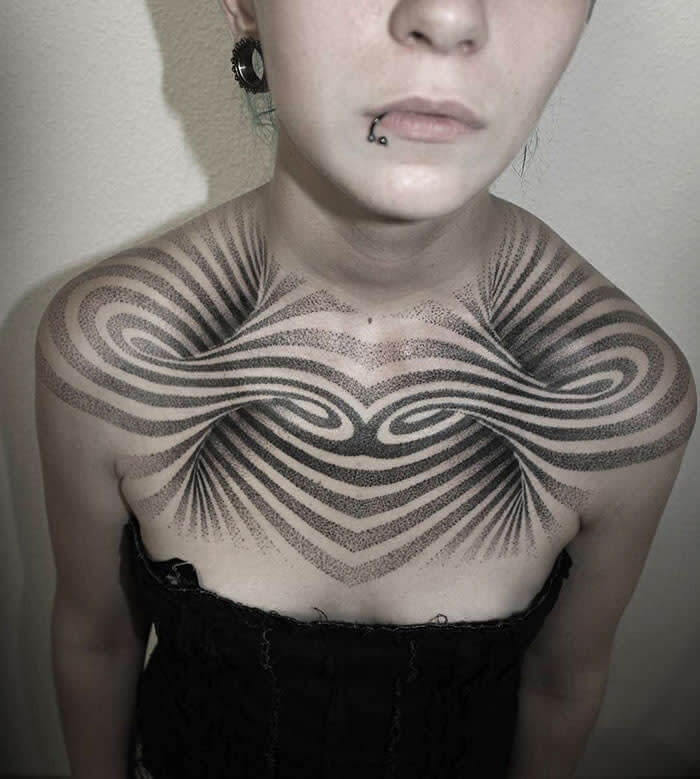 The stunning design that was tattooed on this person's body is certain to attract attention and make an enduring impact. The woman who has this tattoo should be excited to show it off since it is an authentic demonstration of the strength that can be found in the human imagination.
– Advertisement –
The Art of Transformation: Skynet's 3D Tattoos
Skynet, the villainous artificial intelligence in the Terminator films, appears to have begun developing humanoid robots. Just please, for the sake of everyone's sanity, make pineapples the first thing they get rid of so that no one can ever again put them on pizza.
– Advertisement –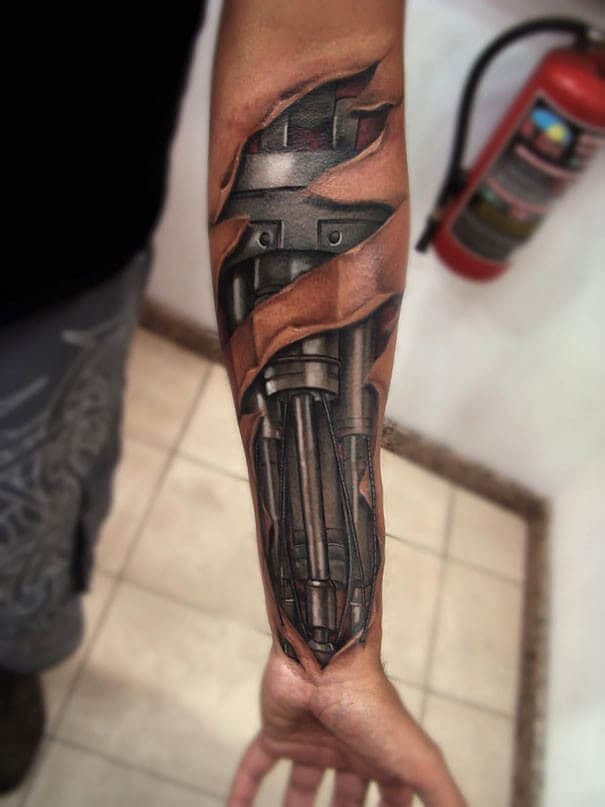 In the world of the Terminator franchise, Skynet is known for creating advanced robots designed to terminate humans. But what if Skynet decided to take its mastery of technology to a new level by incorporating stunning 3D tattoos into its terminators? The result would be a masterpiece, blending together to create a truly unique and mesmerizing creation.
– Advertisement –
Bringing the Anime World to Life: A Goku 3D Tattoo
For fans of Dragon Ball Z, the love for the show runs deep. And for one lucky fan, the dream of having a perfect Goku tattoo became a reality. Thanks to the artistry of a talented tattoo artist, this fan was able to bring the anime world to life with a stunning 3D tattoo.
– Advertisement –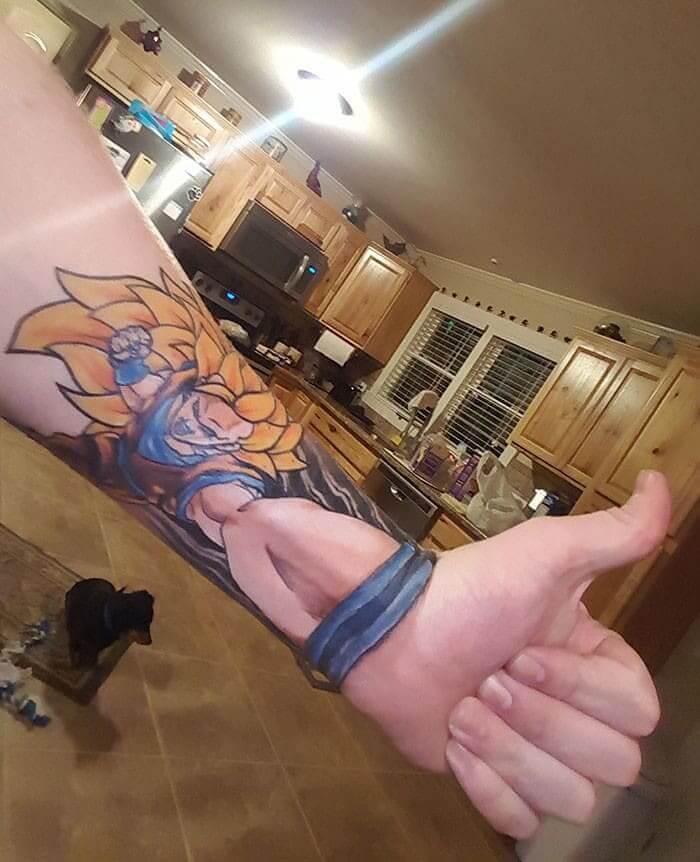 For fans of Dragon Ball Z, this tattoo is a dream come true. It is a beautiful tribute to the show that they love and a testament to the power of 3D tattoos to bring such characters to life. Get ready to be amazed by the beauty of this Goku tattoo.
– Advertisement –
For the Brave at Heart: A Horror-Inspired 3D Tattoo
The adrenaline you feel after being startled is unlike any other feeling. In addition, the opportunity to incorporate the thrills they feel when watching horror films into their daily lives is very appealing to individuals who enjoy the genre. Getting one of these tattoos takes a lot of guts and a fascination with the uncanny characters.
– Advertisement –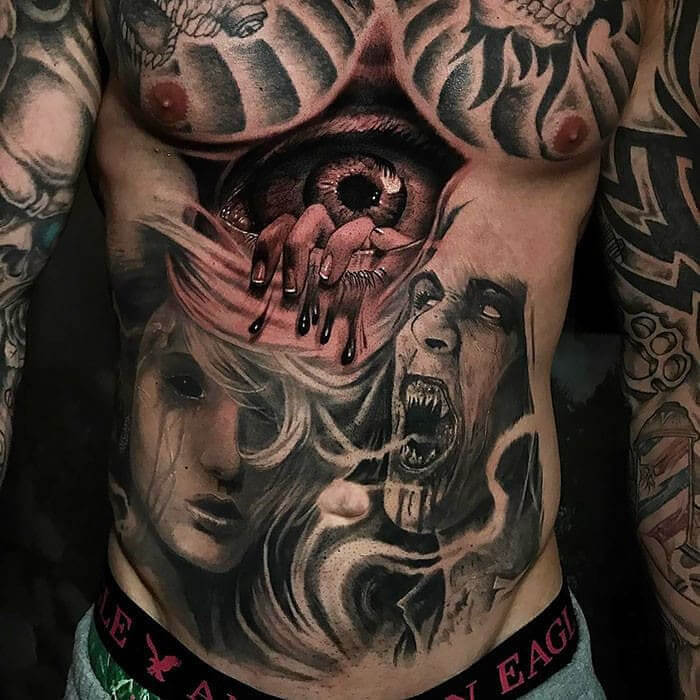 The stunningly realistic details and elaborate patterns will wow you and perhaps even scare you. However, this tattoo is an incredible piece of art, despite the possible negative emotions it may arouse. The level of expertise and precision required to create such patterns is unmatched, and the results are nothing short of breathtaking.
– Advertisement –