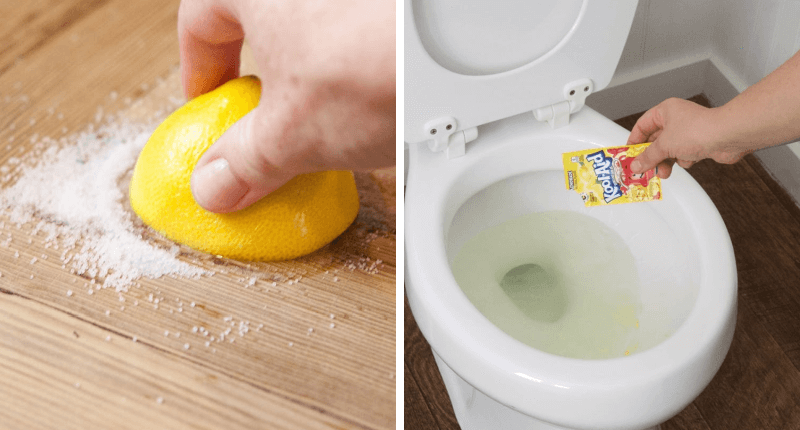 Do you ever feel embarrassed when guests come over because your house is messy? Do you constantly struggle to manage work, kids, and even your love of a good nap with keeping your living space clean? Or do you ever get exhausted when your everyday items do not get clean after thousands of washings? Yeah, I feel you. But, let's be honest, everyone loves the sensation of walking into a spotless home with everything dazzling and clean. So, achieving that level of cleanliness must be accessible. The good news is that applying the right cleaning hacks makes cleaning fun and enjoyable. In this article, you will get to know many proven and tested cleaning hacks. Whether you're a busy bee or a lazy bone, these tips and tricks will make cleaning easy and fun. So, buckle up!
Brighten Up Your Faucets with Lemon
The stubborn hard-water stains on your faucet are disgusting. But a fresh lemon can be the secret weapon in your cleaning arsenal. Cut it in half and use it to scrub away any invisible build-up. For an extra boost, wrap the lemon in a small plastic bag secured with a rubber band and leave it on the end of the faucet for a few hours.
– Advertisement –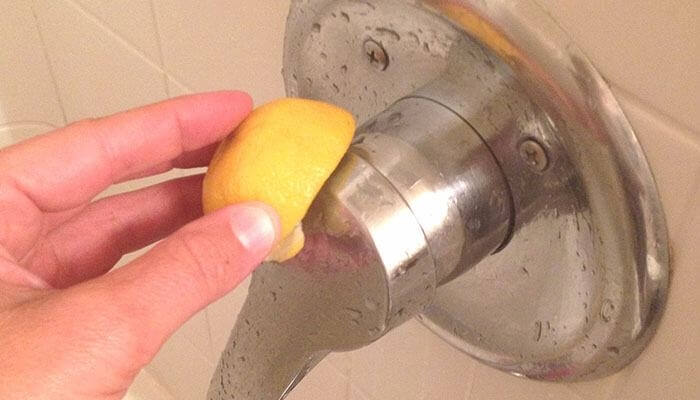 The citric acid will work its magic, leaving your faucet sparkling clean and stain-free. Say bye-bye to harsh chemicals and hello to the natural cleaning power of lemons.
– Advertisement –
Easily Clean Your Wood Cutting Board with Kosher Salt and Lemon
Say goodbye to grime and bacteria on your wooden cutting board with this simple yet effective hack! All you need is kosher salt and lemon. Cut a lemon in half and sprinkle your cutting board with coarse salt. Then, use the lemon to scrub the salt onto every inch of the board.
– Advertisement –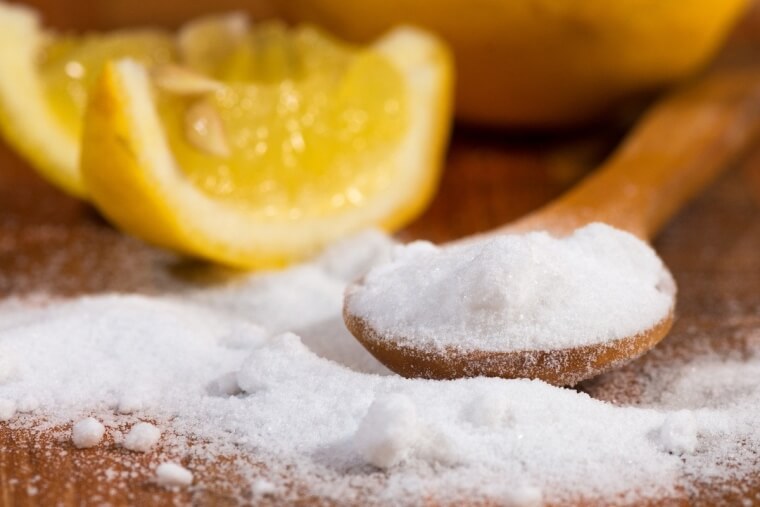 Wait a few minutes, and watch as the dirt and stains disappear. Give this try once a month and enjoy a clean and fresh cutting surface every time you cook.
– Advertisement –
Clear out Water Rings on Wood with Hairdryer
Time to say farewell to unsightly water rings on your precious wood furniture! With just a hairdryer and a few drops of olive oil, you can restore the natural beauty of your wooden surfaces in no time. Set your hairdryer to medium heat and hold it at a safe distance away from the stain.
– Advertisement –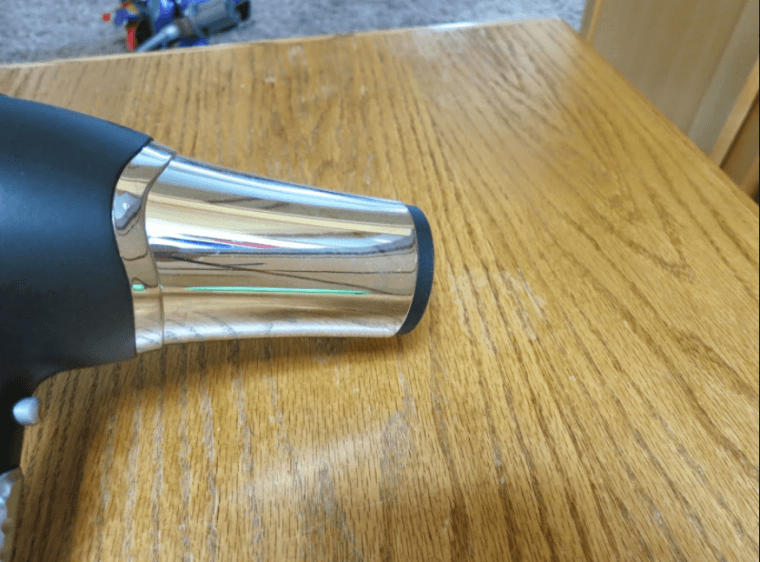 As the heat melts away the damage, gently wipe away the mark with a napkin. To add an extra touch of nourishment, use a couple of drops of olive oil to give your wooden surfaces a renewed shine.
– Advertisement –
Use Duct Tape and Vinegar to Clean and Sanitize The Toilet
Toilet cleaning is different from other tasks. I've got a hack that'll make it a breeze. Get trusty duct tape and a jug of vinegar.
– Advertisement –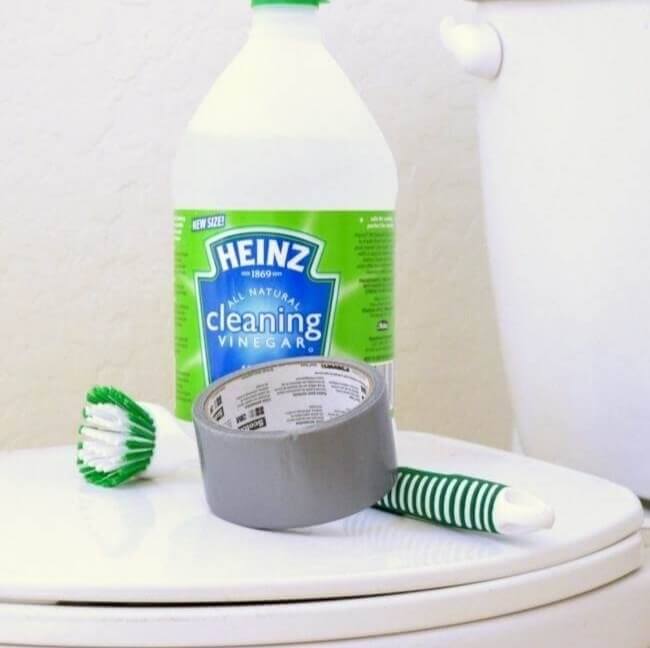 Use duct tape to cover the siphon jets under the rim, and then pour in the vinegar. Flush and Bingo! A sparkling clean toilet. Enjoy a hassle-free toilet cleaning experience.
– Advertisement –
Cleaning Grease Stains made Easy with Chalk
Grease stains on your clothes look ugly. Chalk is a surprisingly effective way to remove grease stains quickly and easily. Rub a piece of chalk onto the stain, let it sit and absorb the oil, then brush it off.
– Advertisement –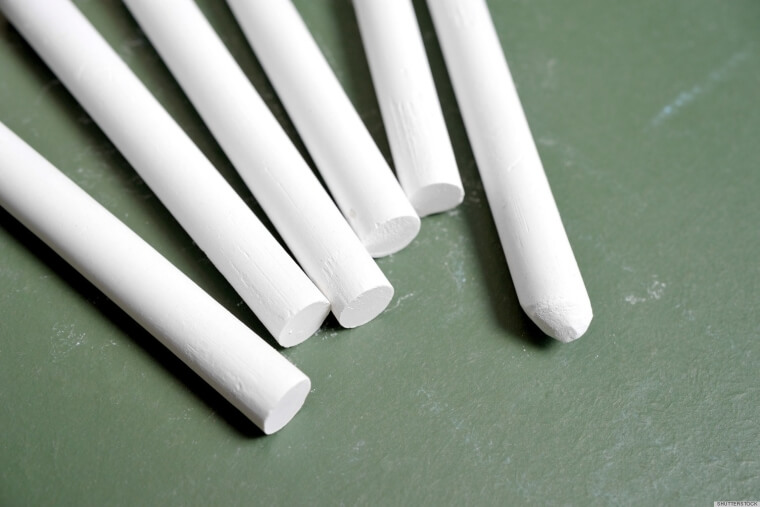 If the stain is still there, repeat the process before laundering. This simple trick is magical and will save you time and energy from trying to scrub out the paint.
– Advertisement –
The Simple Way to Clean Baseboards: Dryer Sheets
Tired of dirty baseboards covered in dust and pet hair? Ditch the traditional cleaning methods and try using dryer sheets instead. Next time you finish a load of laundry, save a used sheet and swipe it over those baseboards.
– Advertisement –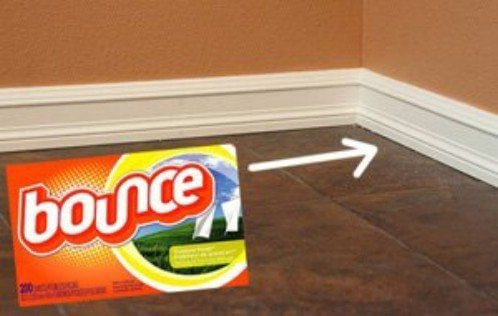 Not only will it clean 'em up, but it'll also repel dust and pet hair, keeping them cleaner for longer. Trust me; it's a game-changer.
– Advertisement –
Vinegar And Baking Soda
The self-cleaning function on your oven is a bit of a hit or miss. Sometimes it works like a charm; other times, it leaves you with more cleaning to do. But worry not! There is a natural way.
– Advertisement –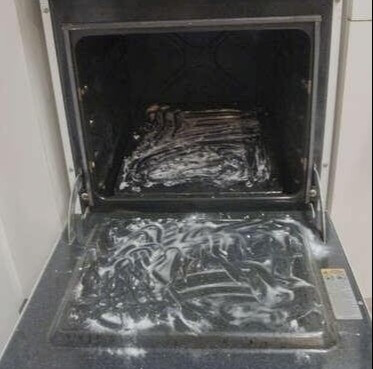 All you need is baking soda, water, and vinegar. Mix baking soda in water and create a paste. Spread the paste on the oven's interior and leave it to work its magic overnight. Wipe it down in the morning, and voila! Goodbye grime, hello shine! Your oven is now spotless and clean.
– Advertisement –
Remove Paint from Clothes with a Disposable Razor
Paint blisters look bad on clothes. These stains can ruin your new or favorite clothes. The solution? A disposable razor! This little hack will have you saying goodbye to paint stains in no time. Simply lay your stained clothing on an ironing board and gently scrape away the paint with an old razor.
– Advertisement –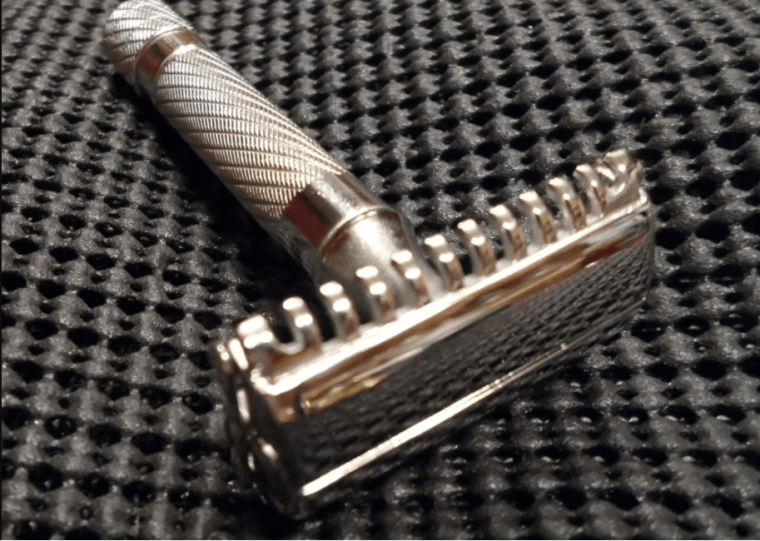 This technique is so effective you'll be wondering why you didn't think of it sooner. Just remember to use an old razor to avoid any damage to your clothes.
– Advertisement –
Easily Refresh Your Blinds with White Vinegar and Water
Say goodbye to dingy, greasy blinds with this simple cleaning hack. You need a trusty bottle of white vinegar. Mix equal parts water and vinegar, then grab a sponge and get to work. Scrub each slat of your blinds for a spotless finish.
– Advertisement –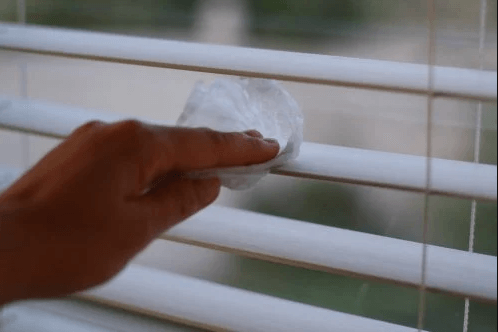 Bonus tip: if you have wooden blinds, be sure to avoid getting them too wet – a damp sponge will do the trick.
– Advertisement –
Remove Sofa Odors and Stains with Baking Soda
Are you tired of your sofa smelling like last night's pizza party or your pet's favorite spot to nap? Say No to those unwanted odors with the power of baking soda. All you have to do is sprinkle a thin layer of baking soda on your sofa and wait for 20 minutes. That's it! The baking soda will work its magic, neutralizing those unpleasant odors. Once the time is up, vacuum up the baking soda, and you're good to go.
– Advertisement –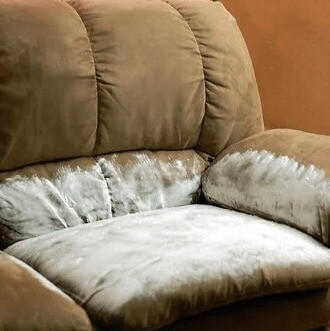 Does your sofa have stubborn stains too? Mix a tablespoon of white vinegar, washing-up liquid, baking soda, and warm water for a DIY cleaning solution that will leave your sofa clean. So, why waste time and energy on complicated cleaning methods? Trust the simplicity and keep your sofa in tip-top shape.
– Advertisement –
Use Sea Salt to Remove Rust and Grime from Cast Iron
Rust and grime on your cast iron dishes can ruin the beauty of your kitchen. Use sea salt to easily restore cast iron to its former glory. Sprinkle the sea salt onto the surface of the iron, and then use a sponge to scrub it in gently.
– Advertisement –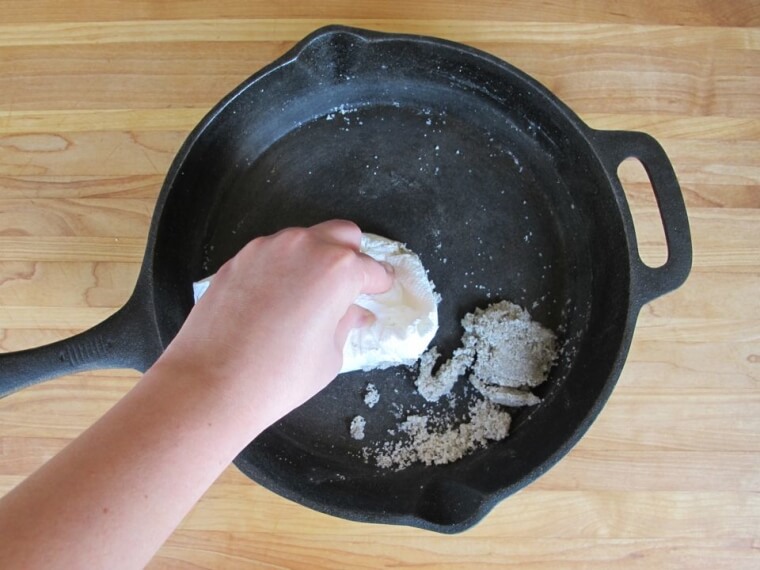 So next time you're washing your cast iron dishes, remember to grab that handy sea salt and make the cleaning process a breeze.
– Advertisement –
Revive Your Makeup Brushes with Baby Shampoo Cleaning Method
Baby shampoo is the best way to get makeup brushes clean and germ-free. After giving them a good wash, don't let them lay flat. Instead, use a hanger and a binder clip to raise them up.
– Advertisement –
This is important because if the brushes stay wet for too long, mold can grow, and the bristles can fall out, ruining the brush.
– Advertisement –
Revive Your Keyboard with a Simple Toothbrush Cleaning
Imagine you are working on a very decent project but your keyboard is dirty and dusty. Sounds unprofessional? Say ta-da to grime and hello to a like-new keyboard with the power of an old toothbrush.
– Advertisement –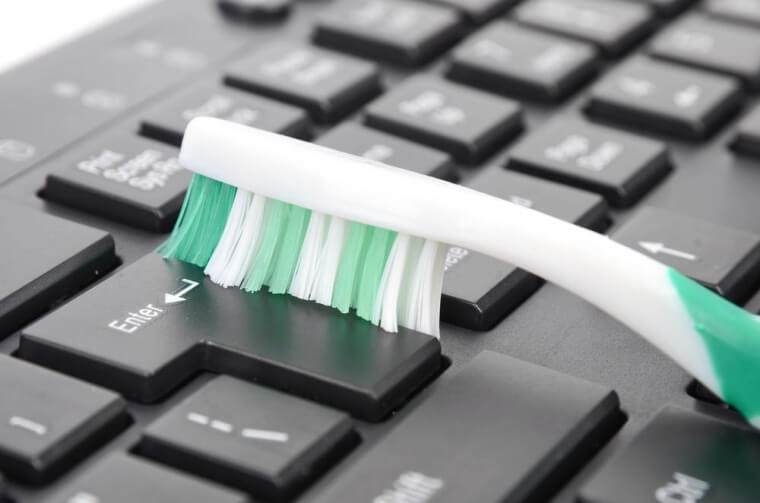 Just a few swipes of an old toothbrush will blast away dust, crumbs, and other pesky particles that can slow you down. Your keyboard will be shining in no time.
– Advertisement –
Effortlessly Clean Stainless Steel Surfaces with Cream of Tartar
Did you know that the humble cream of tartar has a secret talent? It can transform stainless steel surfaces from dull and grimy to gleaming and new. You need a mixture of cream of tartar and water to wipe away grime and leave your stainless steel sparkling clean.
– Advertisement –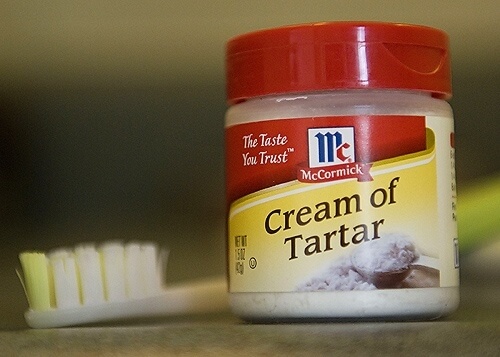 Who knew that this versatile ingredient could be so powerful? Next time you're whipping up a batch of cookies, don't forget to set aside a little bit of cream of tartar for your stainless steel cleaning needs. It's the perfect solution for keeping your kitchen looking its best.
– Advertisement –
Easily Remove Build-up on Your Curling Iron with Steel Wool
Use the power of steel wool to clean your curling iron and keep your home sparkling with effortless ease. Cleanliness is a daily grind.
– Advertisement –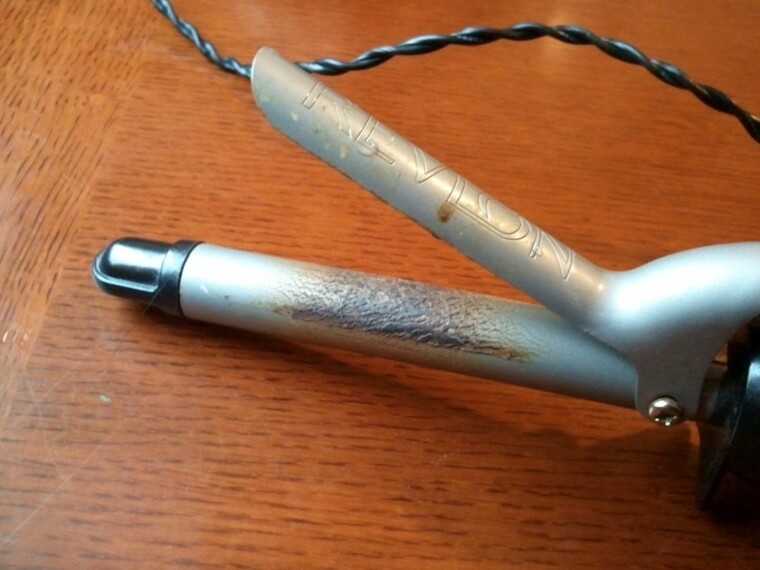 Steel wool provides a powerful, abrasive action that effortlessly removes any stubborn build-up on your curling iron, such as sticky gunk. Get a non-damp, shining curling iron tirelessly.
– Advertisement –
Get Rid Of Oil Spots from Carpet with Baking Soda
Baking soda can eliminate pesky oil stains on your carpet magically! This household hero is a game-changer in tackling tough grease and oil marks. Sprinkle an appropriate quantity of baking soda over the stained area and wait for some time.
– Advertisement –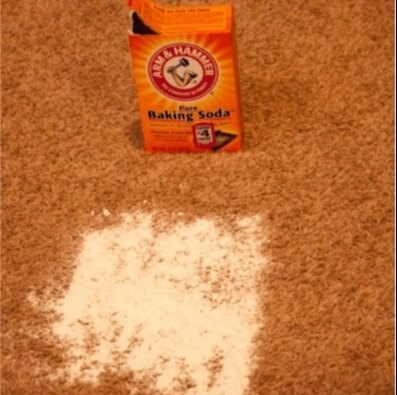 Then, gently scrub the area with a brush and vacuum up the baking soda. Lo! Your carpet will look as good as new.
– Advertisement –
Get Rid of Nail Polish on Carpet Using Alcohol
Get rid of stubborn nail polish stains on your carpet with alcohol and a microfiber cloth. Dab the affected area with the alcohol-soaked cloth and gently scrub in a circular motion.
– Advertisement –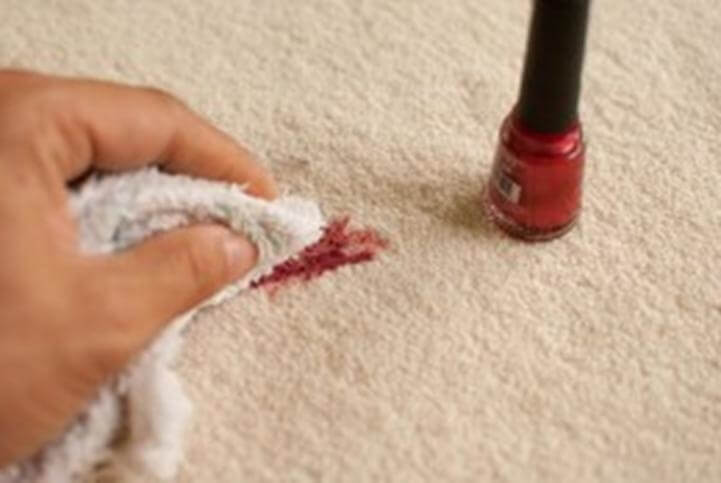 Voila! The stain is gone. Finish up by rinsing the area with water and letting it dry for a fresh, clean look.
– Advertisement –
Clean Up Spilled Glitter in a Snap with PlayDough
When your crafting session ends, removing the glitter that seems to have taken over your home can be daunting. But fear not; there is a simple solution to banishing those pesky sparkles for good.
– Advertisement –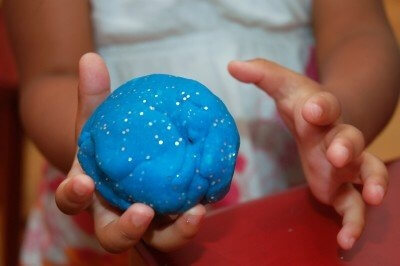 Grab a ball of play dough. Gently press the dough over the affected areas and voila, the glitter will be easily picked up and disposed of, leaving your home sparkle-free.
– Advertisement –
Remove Carpet Hair Quickly and Easily with a Squeegee
It's a quick and easy way to scrap pet hair on your carpet without hassle. Say goodbye to pesky pet hair with just a squeegee and a few strokes.
– Advertisement –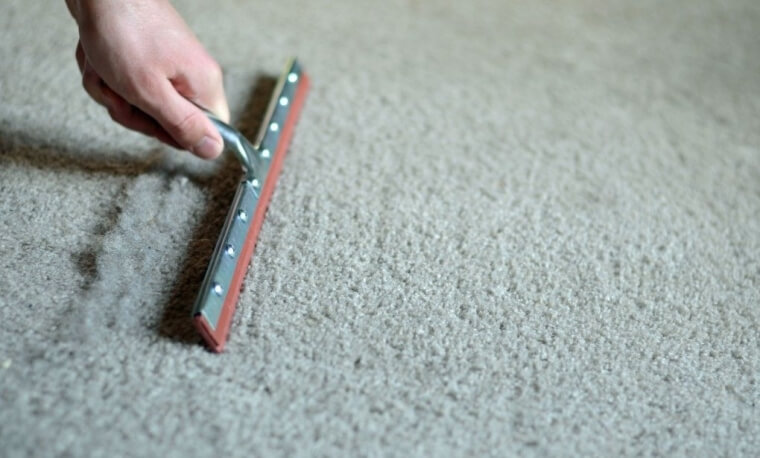 No need for expensive vacuums or lint rollers. Give it a try!
– Advertisement –
Get a Shiny Shower Head with this Simple Vinegar Hack
Vinegar is a powerful cleaner used for a wide range of cleanings. One of its many uses is to remove stains that won't go away.
– Advertisement –
Fill a plastic bag with vinegar and drape it over the whole surface of the showerhead. Wait a few hours and get a polished and sparkling showerhead shine.
– Advertisement –
Bathtub Cleaning with Liquid Soap and Baking Soda
Forget about harmful chemical fumes and the risk of skin irritation while cleaning your bathtub. Create a power paste by mixing a teaspoon of liquid soap, baking soda, and a few drops of antibacterial soap.
– Advertisement –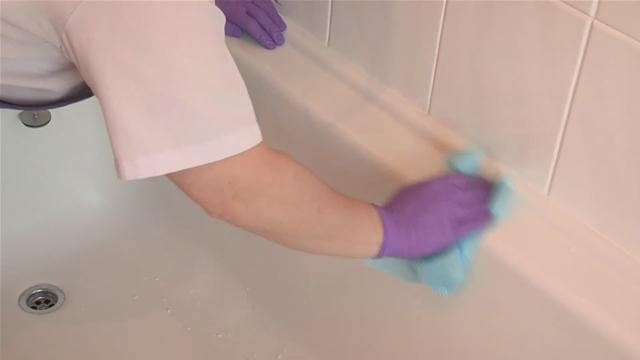 Apply it to your bathtub and see the magic. Your bathtub will be sparkling clean without using dangerous chemicals like bleach.
– Advertisement –
Easily Clean Glass Baking Dishes with an Aluminum Foil Ball
To tackle those tough, baked-on stains on your glass baking dishes, begin by filling the dish with water and a few drops of dish soap. Next, grab a piece of aluminum foil and shape it into a small ball.
– Advertisement –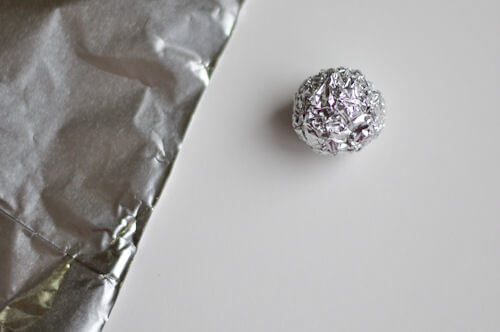 Don't be tempted to play with it, as it's about to work hard to scrub away that grime. Using the foil ball as your scrubber, you'll be able to quickly and easily eliminate those unsightly stains, leaving your dishes sparkling clean.
– Advertisement –
Clean Coffee Mugs with Baking Soda
Unleash the cleaning power of baking soda and clean stubborn coffee spots on your mugs, carafes, and hard surfaces. Dust some baking soda on the affected area, and add a few drops of water to create a paste.
– Advertisement –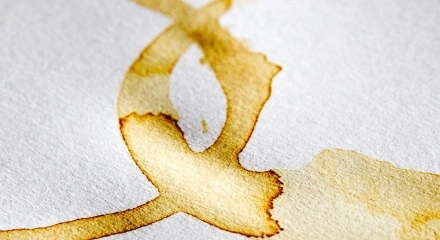 The abrasive action of the baking soda effortlessly removes even the toughest stains in minutes. This simple yet effective cleaning solution gives your coffee mugs a new lease on life.
– Advertisement –
Eliminate Oil Stains with the Power of Coca Cola
The oil stains from your car can make your garage floor look bad. Instead of using harsh chemicals or hiring a professional, you can use Coca-Cola, which is easy and cheap.
– Advertisement –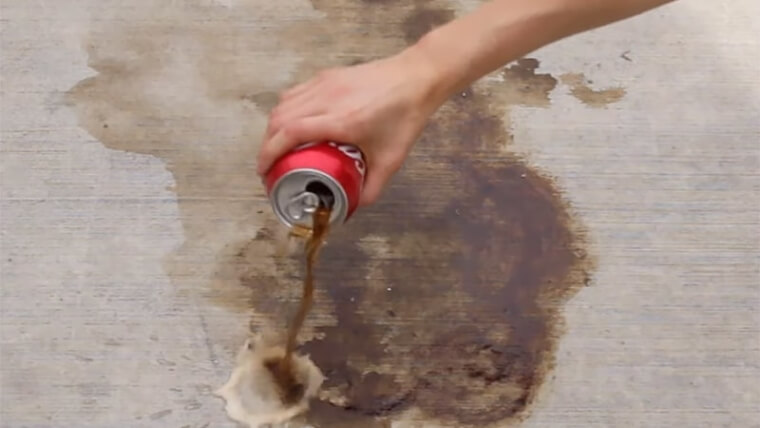 The acid in the cola will break down the scars. Pour the cola on the stain and wait for a while. After that, it will be easy to wash away the stains, leaving you with a clean, shiny garage floor.
– Advertisement –
Get Sparkling Clean Earbuds with Q-Tips and Rubbing Alcohol
When it comes to cleaning earbuds, Q-tips and rubbing alcohol are the best way to go. Dip the Q-tip or cotton ball into the rubbing alcohol and gently scrub your earbuds' nooks and crannies, including the mesh screens.
– Advertisement –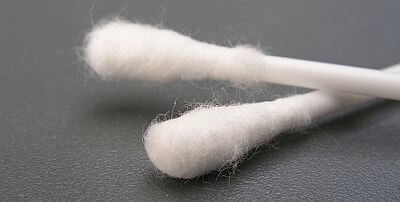 The rubbing alcohol will clean your earbuds. It will also make them smell clean and fresh. This easy way to clean your earbuds will keep them in great shape and ensure you always have a great time listening to music.
– Advertisement –
Keep Your Blender Spotless with Dish Soap and Water
With this easy and effective way to clean your blender, you can say goodbye to smells you don't like. Pure water, a few drops of dish soap, and a sliced lemon in your blender.
– Advertisement –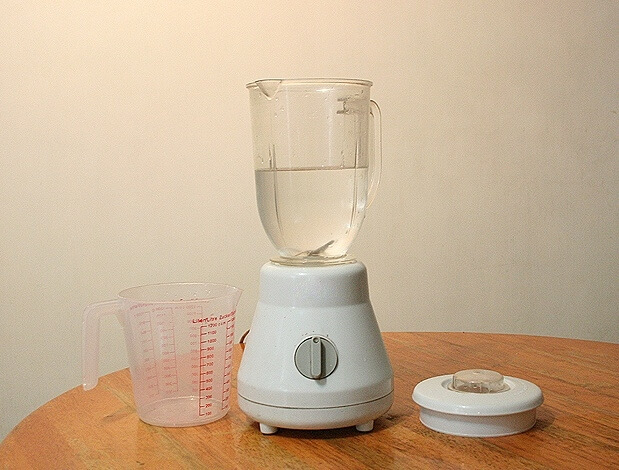 Turn it on and mix it for 30 seconds to eliminate any leftovers. Rinse it out, and voila! Lemon juice will get rid of any lingering smells and make your blender smell as good as new.
– Advertisement –
Revive Cabinet Doors with Vegetable Oil and Baking Soda
This effective cleaning solution can bring a new life to your greasy, grimy cabinet doors. Mix baking soda and vegetable oil to create a powerful paste that can tackle even the toughest stains.
– Advertisement –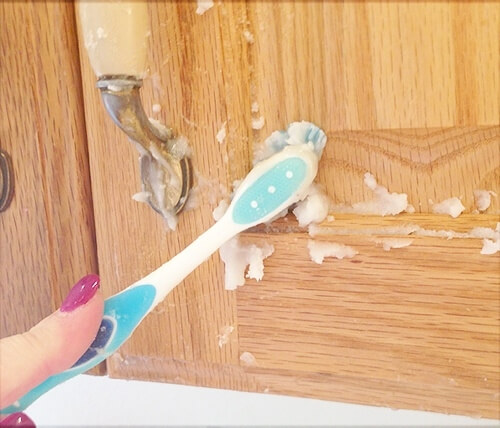 Use a soft cloth to gently rub the mixture on your cabinet doors and watch as they transform from dingy to gleaming in no time!
– Advertisement –
Bring Your Old Sneakers Back to Life with Toothpaste
Are you a white sneaker fanatic but hesitant to wear them often for fear of ruining their pristine appearance? The struggle is real – we all want to rock our shoes and keep them looking new. I got you!
– Advertisement –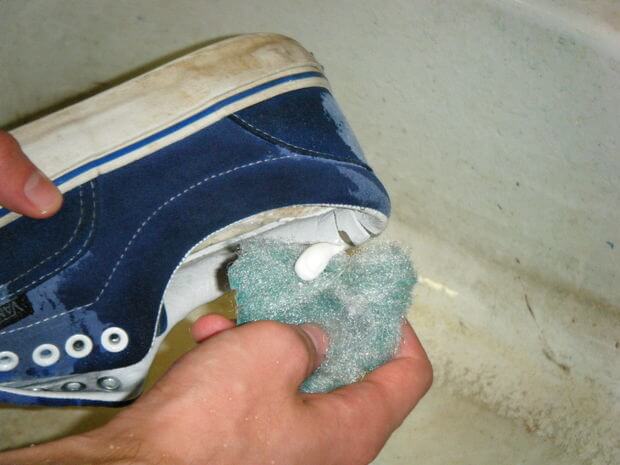 Revitalize your kicks by soaking them in warm water, then using an old toothbrush and toothpaste to scrub away dirt and grime gently. Leave the foamy mixture on for 10 minutes before rinsing off to reveal a fresh, clean look that'll have you confidently striding out in style.
– Advertisement –
The Aluminum Foil Hack for Cleaning Glue Guns
Cleaning a hot glue gun can be a tricky task, but there's a simple solution that will make it a breeze. Use an aluminum foil ball to scrub the nozzle of your hot glue gun.
– Advertisement –

The aluminum foil will act as a gentle scrubber, removing any dried glue and gunk. It's a quick, easy and efficient way to keep your hot glue gun in top working condition.
– Advertisement –
The Shampoo Trick for Cleaning Your Hairbrush
Revitalizing your makeup brush is easy. Get a bowl of warm water and a few drops of shampoo. Start by filling a bowl with warm water, add shampoo and dip your brush. If your brush has a wooden handle, only dip the bristles.
– Advertisement –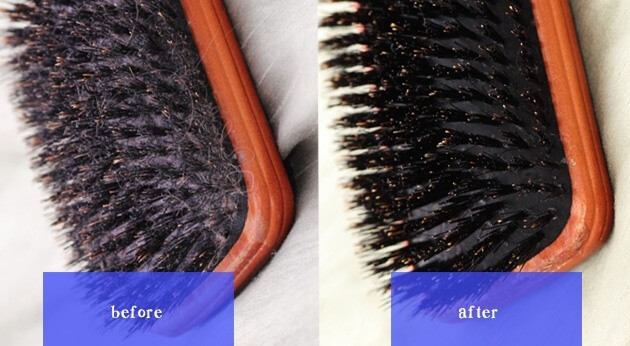 Allow it to soak for a few minutes, then remove the brush and give it a few shakes. You'll be left with a clean and refreshed brush.
– Advertisement –
The Bleach and Baking Soda Hack for Cleaning Your Bathroom
Cleaning grout can be tedious, but you are good to go with this right hack. Mix baking soda and bleach to create a paste and apply it to dirty grout lines. Wait a few minutes, and then scrub it with a stiff brush.
– Advertisement –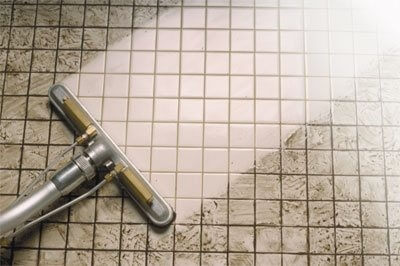 The combination of baking soda and bleach will break down and lift away dirt and grime, leaving your grout fresh and new.
– Advertisement –
Get a Clean Smelling Coffee Grinder with Uncooked Rice
A coffee grinder may start to smell bad after some use. But don't let that mess up your coffee in the morning. Simple, but it works: put a small amount of uncooked rice in your grinder and grind it up.
– Advertisement –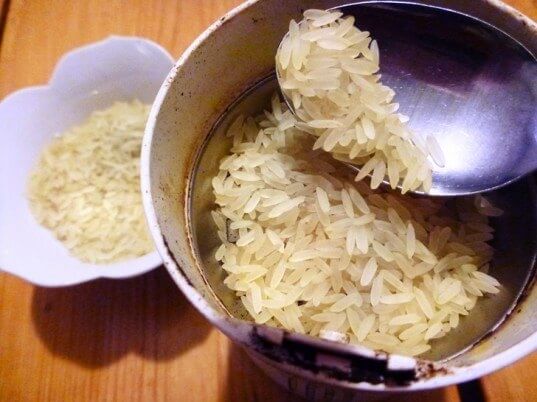 The rice absorbs any smells and leftovers that have built up over time, leaving your grinder smelling clean and fresh. This will make your next cup of coffee even better.
– Advertisement –
The Salt and Grapefruit Hack for Removing Bathtub Rings
Clean bathtub rings with a simple and natural solution – the power of grapefruit and salt. Instead of reaching for harsh chemicals, cut a grapefruit in half and sprinkle some salt on the tub's surface.
– Advertisement –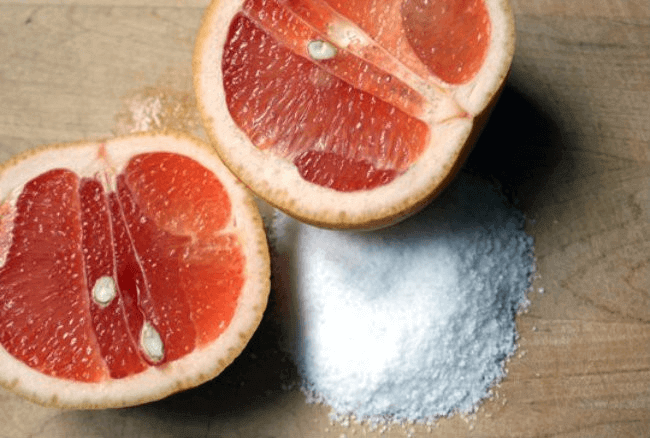 Scrub away for a few minutes, and watch as the combination of the acid in the grapefruit and the abrasiveness of the salt effectively remove even the toughest stains. Get a fresh tub and enjoy your bath.
– Advertisement –
Give Your Engagement Ring a Deep Clean with Toothpaste
Caring for your diamond jewelry is crucial, and it's important to remember that harsh chemicals should never be used. A small amount of toothpaste can work wonders, but be gentle when scrubbing.
– Advertisement –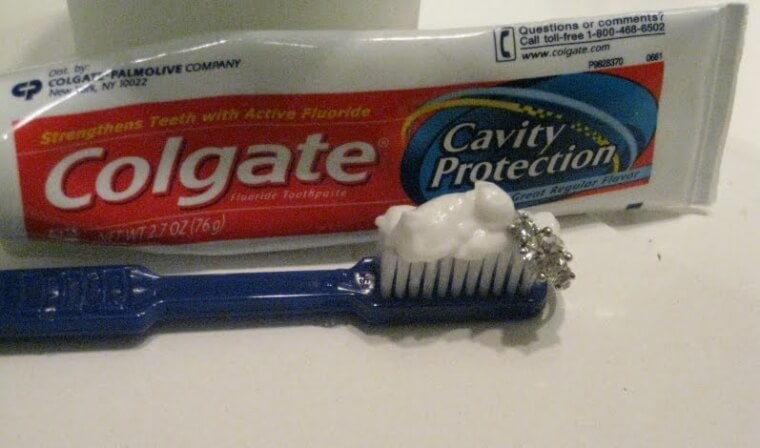 With the proper technique, you'll be able to restore your ring's sparkle and make it shine like new again.
– Advertisement –
Remove Burned-On Residue with Vinegar
Are you staring at a burned pan and thinking about giving up and buying a new one? Wait! A little vinegar, baking soda, and some elbow grease can make that pan good as new. Start by filling the pan with water and two cups of vinegar and bringing the mixture to a boil.
– Advertisement –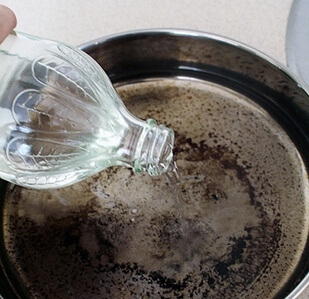 Then remove from heat and add two tablespoons of baking soda. Once you're done, give it a good scrub. You will witness that obstinate stain is no more.
– Advertisement –
Lint Roller to the Rescue: Removing Dust from Lamps
While dust may seem like a never-ending battle, a quick and effective solution for removing it is a lint roller.
– Advertisement –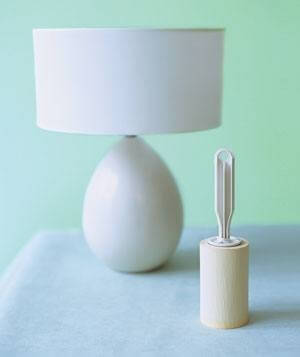 Use it to remove dust and debris from lamps, including tricky spots like lampshades. Just be extra gentle if it's a paper lampshade to avoid any damage.
– Advertisement –
Dry Your Shoes in a Flash with Crumpled Paper
With this quick and easy hack, wet and smelly shoes are a thing of the past. Don't put your wet shoes in the dryer. This can cause both the shoes and the dryer to shrink and break. How to fix it? Put newspaper or crumpled paper in your wet shoes, and bingo!
– Advertisement –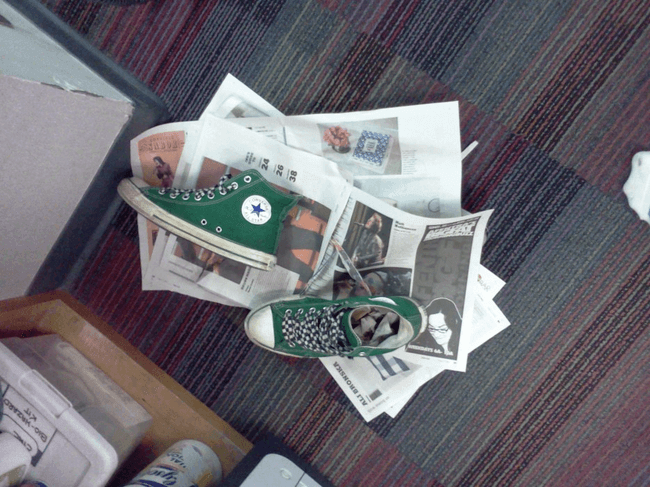 Your shoes will dry quickly and won't be damaged in any way. Say goodbye to shoes that are wet and musty and hello to shoes that are dry and smell good.
– Advertisement –
Keep your Microwave spotless with Warm Water
Cleaning a dirty microwave is a hassle. But don't worry. Simply mix dishwashing liquid and warm water in a microwave-safe bowl.
– Advertisement –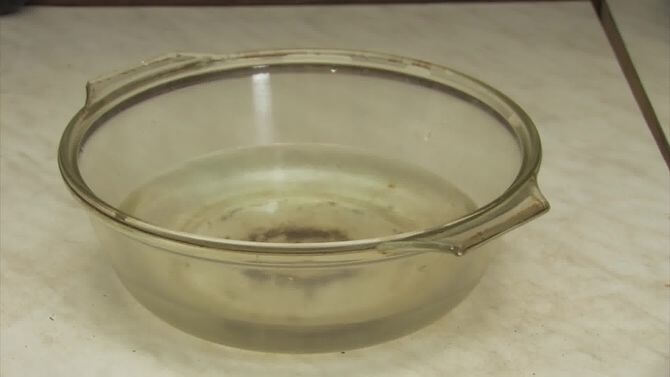 Place the bowl in the oven and run on high for 5 minutes. Leave it for an additional 4-5 minutes, then take out the turntable and wipe it down with a damp sponge for a sparkling clean microwave in minutes.
– Advertisement –
The Raw Potato Trick for Cleaning Cheese Graters
Tackling a dirty cheese grater doesn't have to be a chore. Skip the elbow grease and harsh chemicals, and reach for a raw potato instead.
– Advertisement –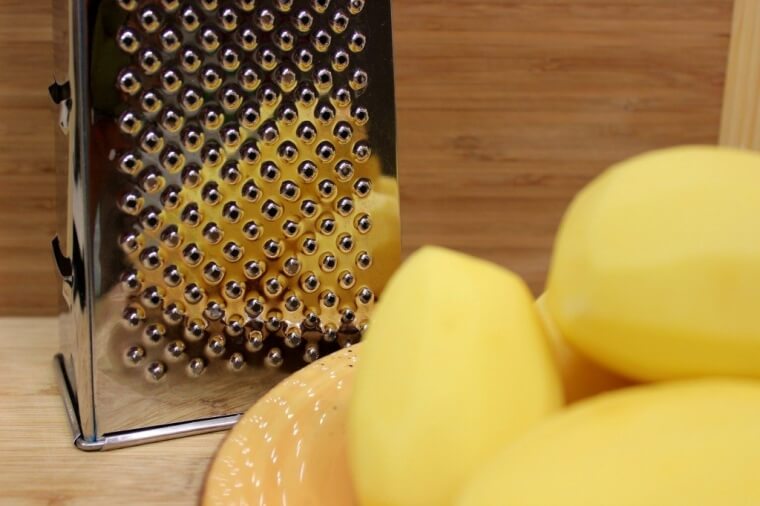 Run it through the grater, the starch and acid in the potato or apple will do the heavy lifting for you, breaking down and removing any leftover cheese particles, leaving your grater spotless.
– Advertisement –
Maintain Pillow Plumpness with a Tennis Ball in Wash
Who knew that pillows, like clothes, need washing every now and then? But did you know there's a secret trick to keeping them fluffy? Next time you throw your pillows in the wash, add a couple of clean tennis balls to the dryer.
– Advertisement –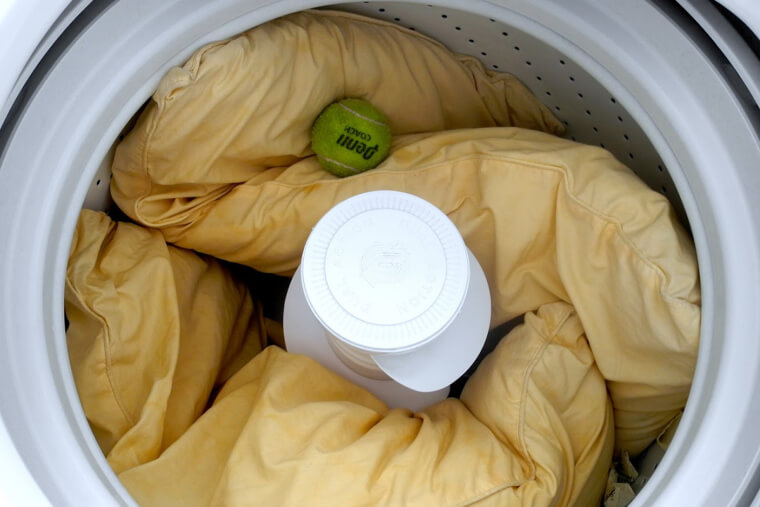 As the dryer spins, the balls will bounce around and fluff up the pillows, helping them maintain their shape, cutting down on drying times, and preventing wrinkles in your laundry. It's a small but mighty tip for keeping your pillows fresh and fluffy for a good night's sleep.
– Advertisement –
A Shoe Polish Touch-Up: Shine Your Leather Furniture
Scratches on your leather furniture can be a real eyesore, especially if you have pets who love to scratch and play. But don't worry.
– Advertisement –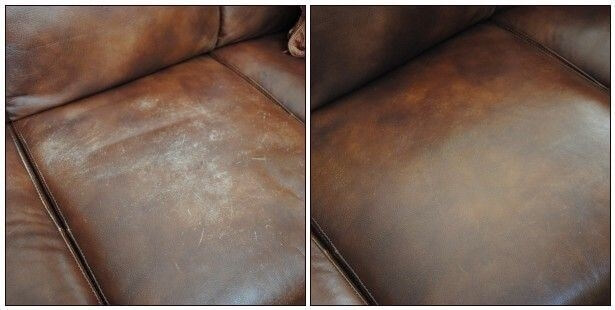 Use shoe polish to hide those marks! Make sure to choose a color that matches your furniture and apply it carefully, rubbing off any excess. With this hack, your scratched leather furniture will look good as new.
– Advertisement –
Keep Your Hard-to-Reach Places Dust-free with Canned Air
Cans of air are a simple way to stop dust from building up on your electronics.
– Advertisement –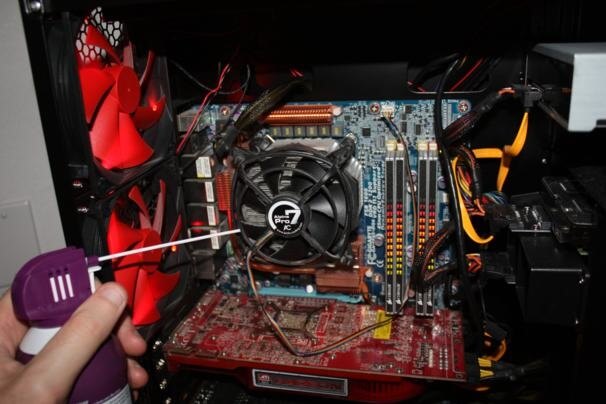 This compressed air is excellent for cleaning fragile and sensitive items so they stay in good shape and don't overheat or catch fire. Make sure your devices are clean and running well.
– Advertisement –
Easily Clean Up Broken Glass with a Piece of Bread
Broken glass is dangerous, so you need to be extra careful when you clean it up. Use a piece of bread instead of your hands to clean up the area where the glass broke. You can put a little peanut butter on the bread to keep the small pieces of glass from falling out.
– Advertisement –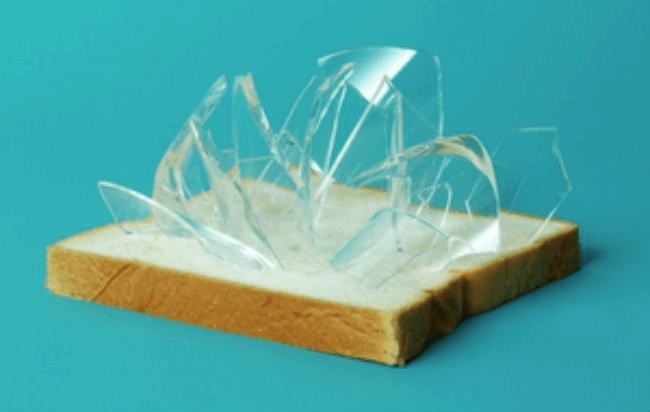 With this tip, you can safely pick up the pieces and clean up the area without hurting yourself.
– Advertisement –
Clean Refrigerator Odors with Newspaper
Remove bad smells in your refrigerator with the natural power of baking soda—no need to worry if you don't have any on hand.
– Advertisement –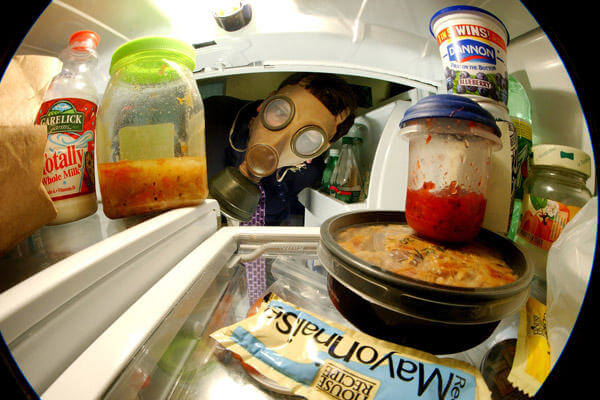 A simple alternative is to crumple up some newspapers, spray them with water and place them in your fridge for a fresh-smelling kitchen.
– Advertisement –
Keep Your Iron Soleplate Spotless with Salt
Clean the soleplates of your steam iron regularly to make it last longer and work better. Get rid of dirt, stains, or unwanted materials for a longer lifespan.
– Advertisement –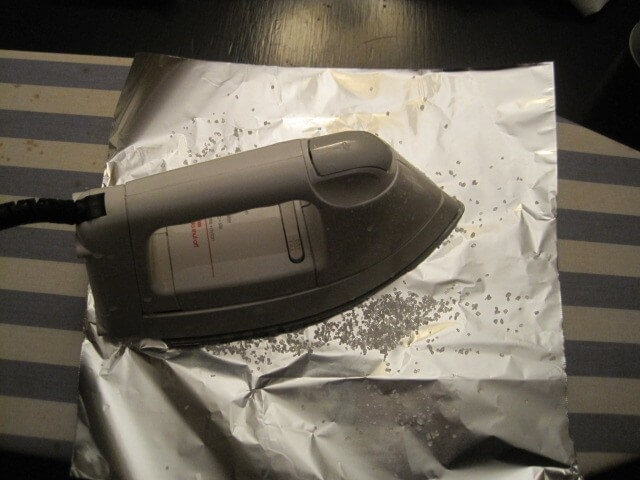 A simple solution that works well is to run the iron over a piece of foil or paper with salt sprinkled. Just make sure not to use steam during this step.
– Advertisement –
The Sneaky Hack for a Fresh-Smelling Bathroom
Say goodbye to that unpleasant toilet odor and hello to a refreshing scent every time you flush. This easy trick will keep your bathroom smelling amazing all day long. All you have to do is pour a cup of laundry detergent into your toilet tank.
– Advertisement –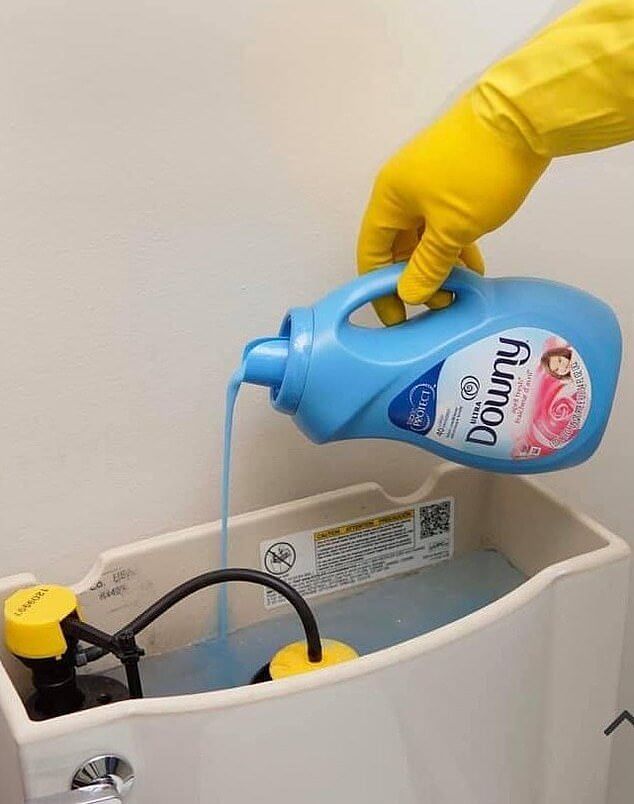 The detergent will work magic every time you flush and make your bathroom smell clean and fresh. No more worrying about that embarrassing smell; this simple hack is safe for your toilet, and your nose will thank you.
– Advertisement –
Revive Old Candles with Stockings
With a simple trick, you can bring your favorite but worn-out candles to life. Don't use harsh chemicals like rubbing alcohol to clean them.
– Advertisement –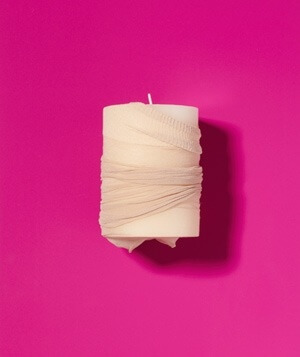 Instead, gently buff them with a pair of stockings to give them a new lease on life. Bring back the sparkle and shine of those unique candles you've kept for years.
– Advertisement –
Final Verdict
Cleanliness is essential for a happier and healthy life. For many people, this may be daunting, but with the simple and effective hacks discussed in this article, it doesn't have to be. From using lemons to clean your Microwave to using baking soda to freshen up your carpets, these hacks will make cleaning a breeze.
– Advertisement –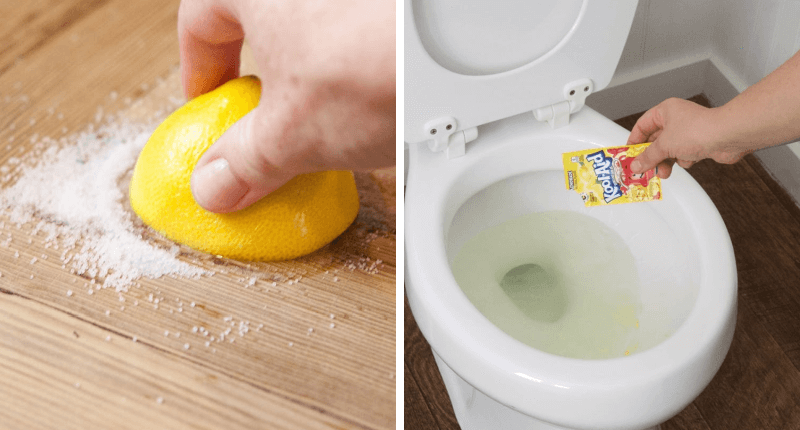 These hacks are easy to implement and will help you achieve a cleaner home with minimal effort. Now that you know these hacks, it's time to implement them. Start with one hack and see the difference it makes in your cleaning routine. Once you see the results, you'll be motivated to try out all the hacks I've discussed. So, don't wait any longer. Start cleaning smarter, not harder, and enjoy a cleaner home.
– Advertisement –
Easily Collect Small Toys with a Dustpan
Picking up small toys scattered around your home is a tedious task. Your trusty dustpan can now come to the rescue. No more bending over to pick up those tiny toys one by one.
– Advertisement –
Let the dustpan do the work for you. A simple yet effective solution to a common problem!
– Advertisement –
The Coaster Trick for Stopping Jar Leakage
Elevate your coaster game and discover a new use for those strategically placed coasters around your home. Don't just limit their purpose to handling condensation from iced drinks, but also use them to prevent jar leakage.
– Advertisement –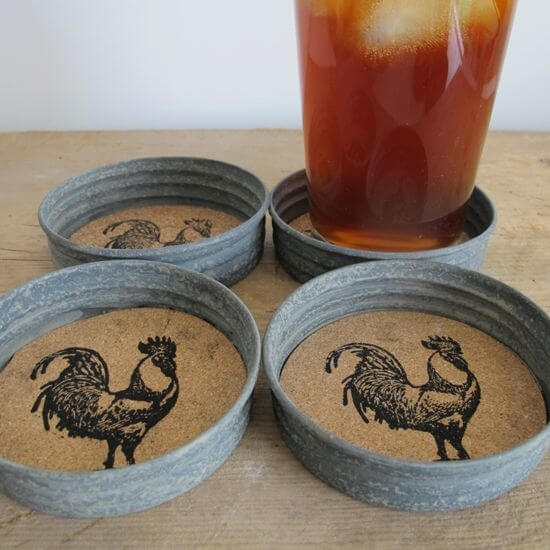 Place a coaster in the lid of a plastic jar and you are saved from messy spills and wet countertops. The next time you have a pot with a loose lid, reach for a coaster and let it do the work for you.
– Advertisement –
Clean Toilet Bowl with Coke
Coca-cola, the versatile beverage that pairs with anything from pizza and burgers to…toilets? Yes, you heard that right. Next time your bathroom throne needs a little sprucing up, reach for a refreshing can of coke.
– Advertisement –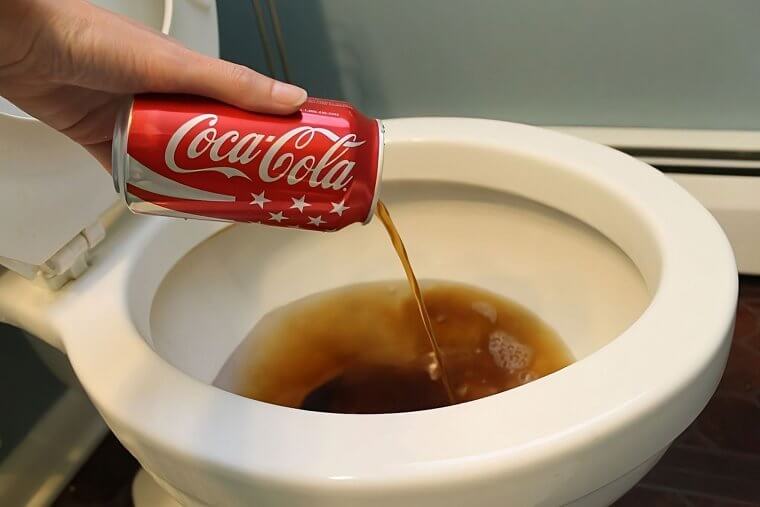 Simply pour it around the edges of the toilet bowl and let it sit overnight. The carbonation in the soda will do all the dirty work. Wake up to a sparkling clean toilet by simply flushing it away in the morning. It's that easy!
– Advertisement –
Clean Lipstick Stains Using Hairspray
The right shade of lipstick looks nice on your lips, but don't let it spread on your clothes. Having trouble getting those lipstick marks off? There's an easy way to do that, so don't worry.
– Advertisement –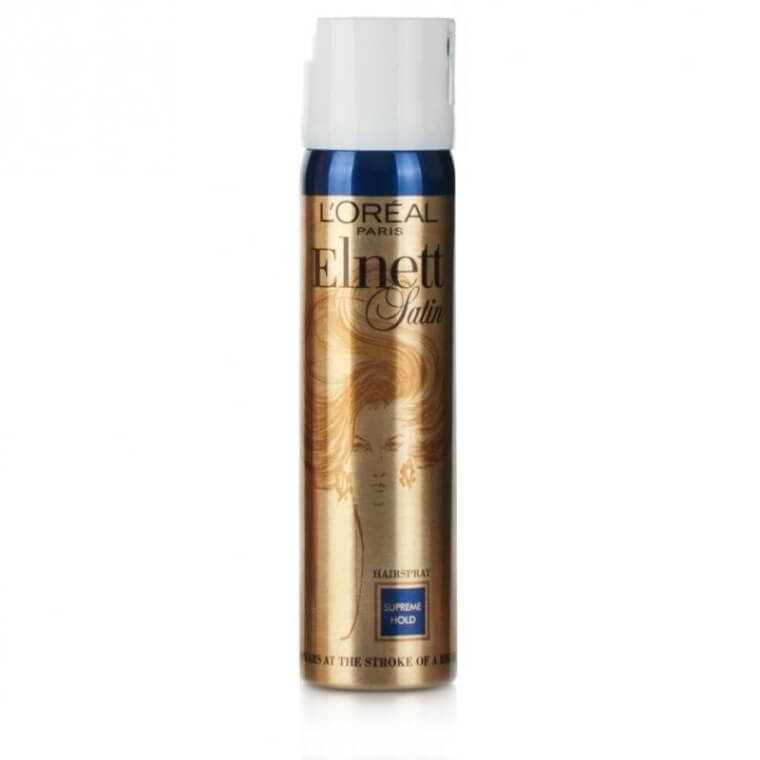 To remove the stain, spray some hairspray, rub it gently with a damp cloth, and then wash the item. Bingo!
– Advertisement –
The Coffee Filters Trick for Cleaning TVs and Screens
To clean your TV screen, don't use towels and clothes. Instead, use coffee filters, which aren't as common. They are lint-free, which means they won't scratch your screens.
– Advertisement –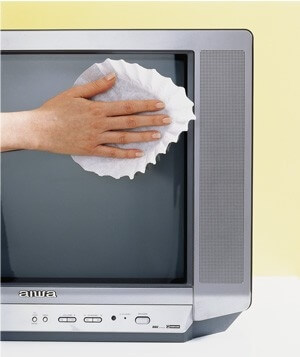 Coffee filters also clean your screens gently and well. This simple trick will give your TVs, monitors, and other screens a new look.
– Advertisement –
Restore Silverware to Shine Using Baking Soda
Tired of your silverware losing its shine? Give it a sparkling clean with the power of baking soda. Simply mix one tablespoon of baking soda with one liter of water, and let your silverware soak for a few seconds.
– Advertisement –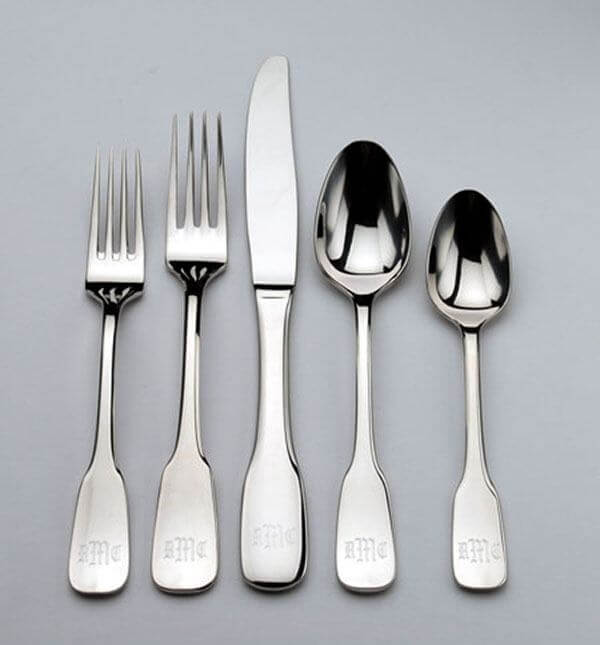 Use kitchen tongs to remove the silverware and watch as it gleams like new. Not only does it effectively clean, but it also removes any bad smells, a bonus to your cleaning routine.
– Advertisement –