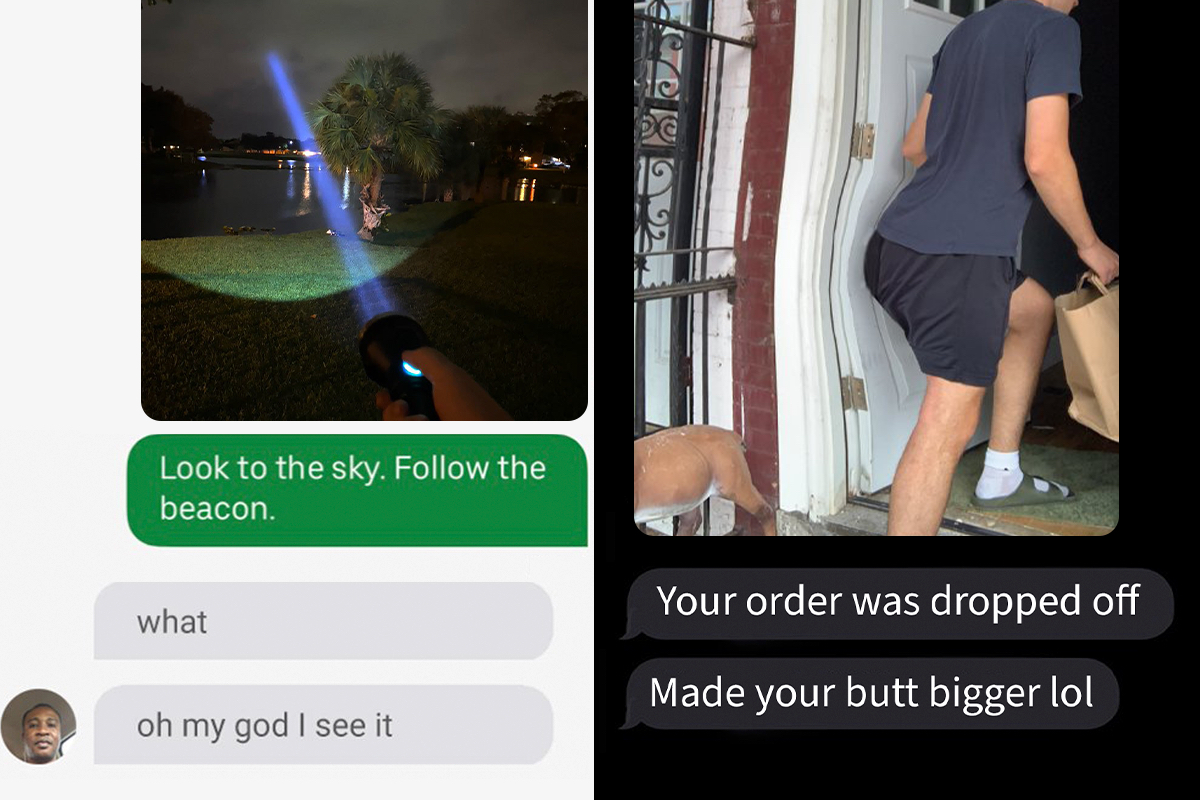 Several different food delivery businesses have emerged during the past few years. Many consumers have found these delivery services lifesavers when they lack the energy to cook something for themselves. But occasionally, just like everything else, these drivers' cringy texts will make you laugh out loud and amuse you with their humour. You will see how food delivery guys can be weird, humorous, generous, and passionate about their job. Also, you will come across some cute and hilarious conversations between the driver and the customer; This is quite entertaining and cringy at the same time. Therefore, we thought it could be interesting to assemble a collection of some texts from food delivery guys that could be both weird and entertaining.
Batman is here.
This is appreciative about someone who takes pride in their work and wants their clients to be satisfied and happy. We can therefore respect his commitment to his work. This gesture not only makes customers happy but also makes them less stressed, which is a great thing, we believe. Because the food delivery job is not easy, you must have the guts to comprehend its pressure.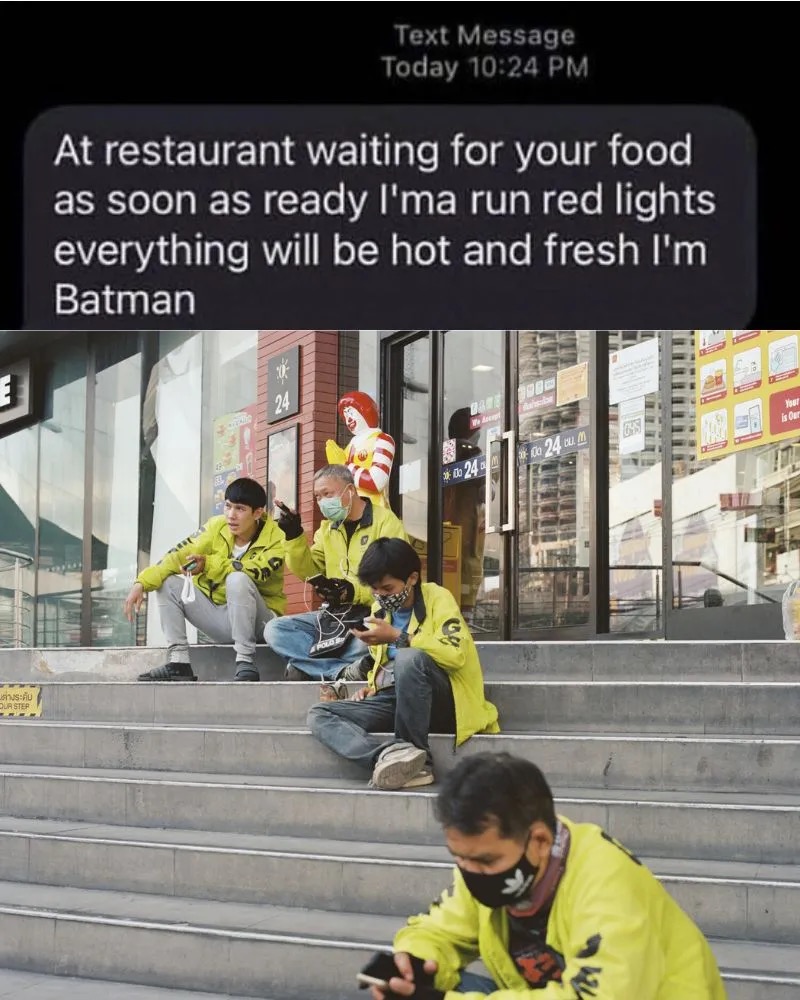 This is great when someone makes you smile by saying I'M BATMAN although who knows that he's had to take a second job due to financial hardship. Then, we begin to feel as though the situation is genuinely sad.
Follow the Light
We can understand how it could be difficult for those who deliver food to find homes in communities. The costumers surely have to guide them properly about the house. Look at the picture; this guy is seemingly making no sense. 
We're not sure why this guy didn't just send the driver a Google pin rather than using a beacon, though. If you thought it could be a unique idea, but it did not turn out to be helpful. It's better to try luck on Google pin, next time, mate. 
Text to Speech
When it comes to using a phone while driving, there are many risks. As a result, many people use talk-to-text to stay in touch with everyone. This may be useful for those who deliver food, as they can now answer their customers more conveniently. But at times, things do not work as you think they should, as you can see in this picture.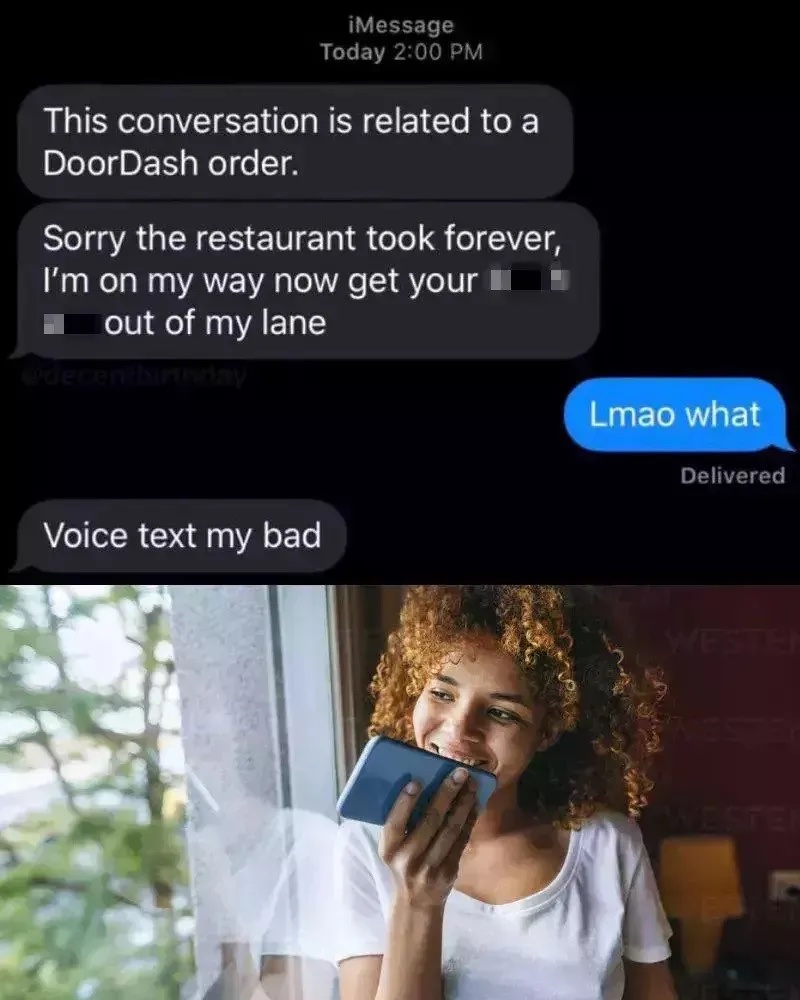 Haha! That's hilarious! You are lucky if your text-to-speech works well for you; otherwise, your text will put a smile on someone's face. If our driver texted us something like this, it would surely make us giggle. However, we believe that we could also appreciate where he was coming from.
Lasagna? No Lasagna!
Many of these delivery businesses now offer the opportunity to shop for groceries. This makes it quite handy for parents who don't have a lot of free time to do these small chores. So someone ordered some lasagna, which is the reply he got from customer service.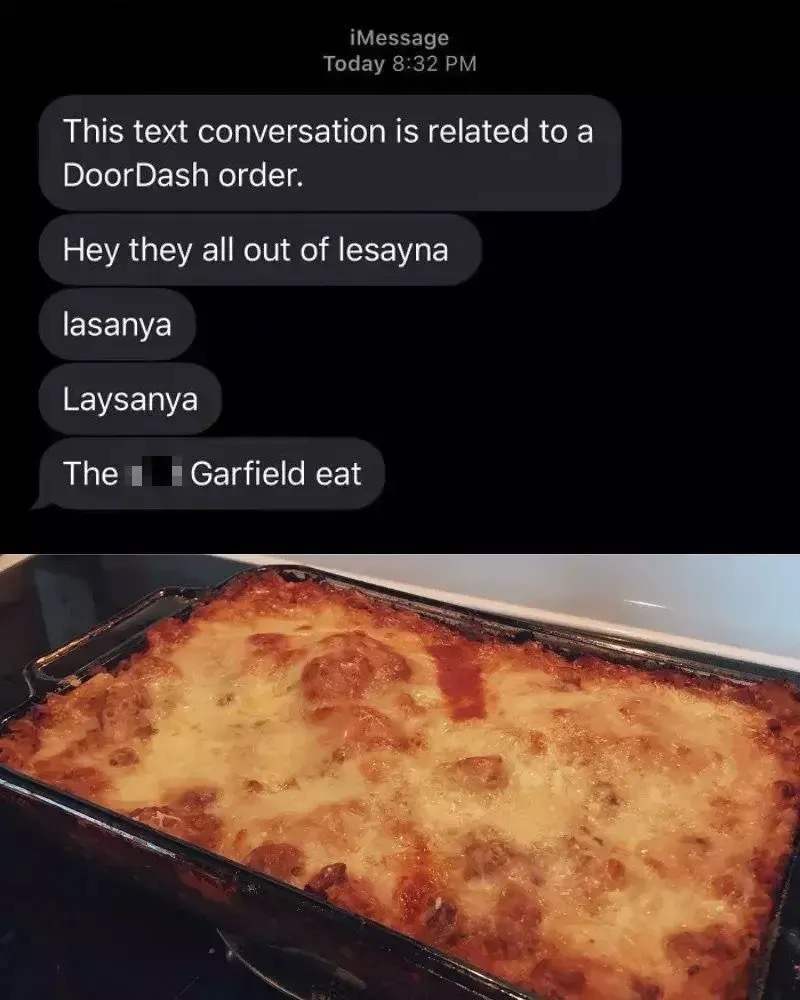 We think there is no need to use the language of this nature, we know it can be very stressful for the delivery guy to pick up all the food, but this is your job. No one forces you to do this, and you are paid to do this. This is not the right way to respond to your customers at all. 
Choose a number
It can be fun to joke around with customers. To add some humour to your job makes it bearable. Believe me! This food delivery guy surely knows how to elevate customer service to a whole new level. The humour he poured into his text is remarkable.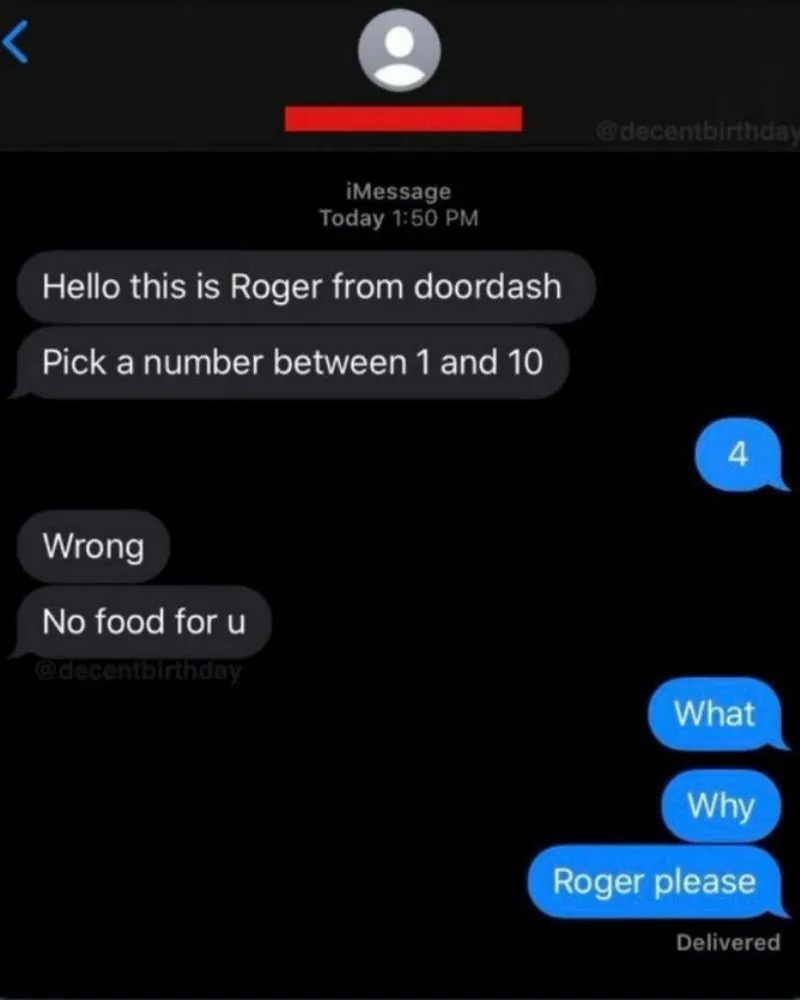 Here the delivery guy understood immediately that when it comes to food, there would be no joke therefore the deliveryman stopped quickly. Otherwise, he will lose that tip! And who does not want a great tip?
Meet Me on the Roof 
Many people find sarcasm amusing and believe it is a useful technique to freshen up their minds. But the last thing you want is for your Uber Eats driver to take advantage of you while you're waiting for your dinner after a hard day.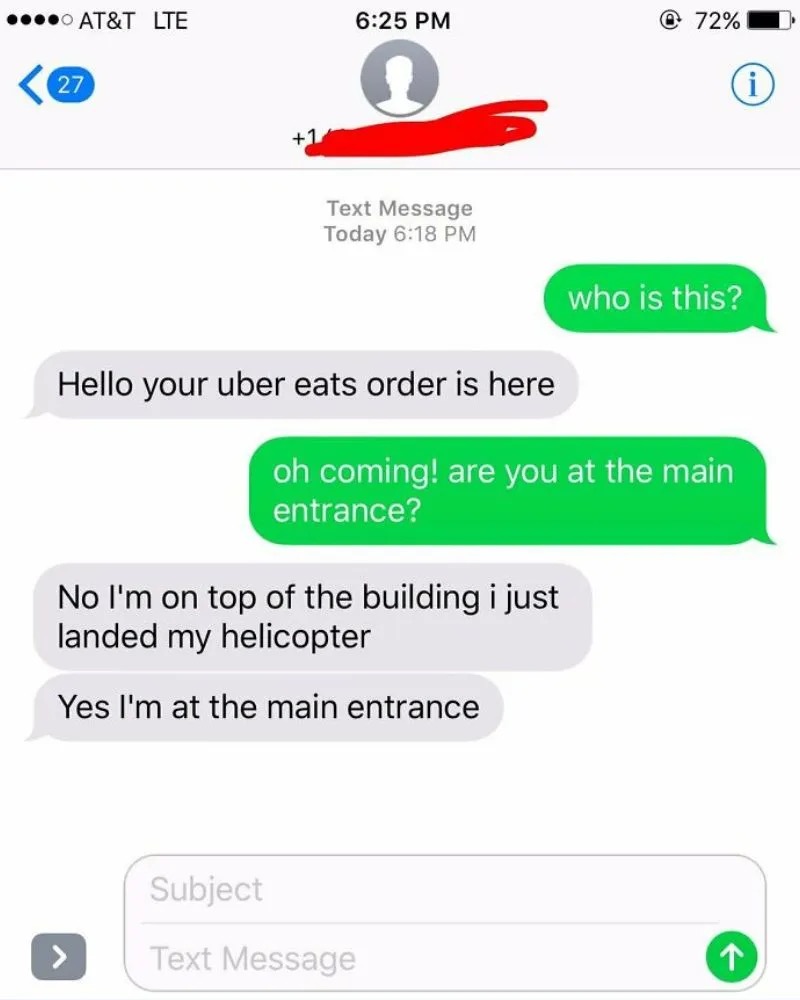 Perhaps on a different day, this would have been a lot of fun, but if we were at this person's place, we would surely be angry. At the main entrance, we may have yelled a few choice words at this delivery person! 
The delay
Sometimes the delivery staff has no control over how long it takes to deliver the food to you. We should understand that they must contend with lineups much like we would if we went to a restaurant.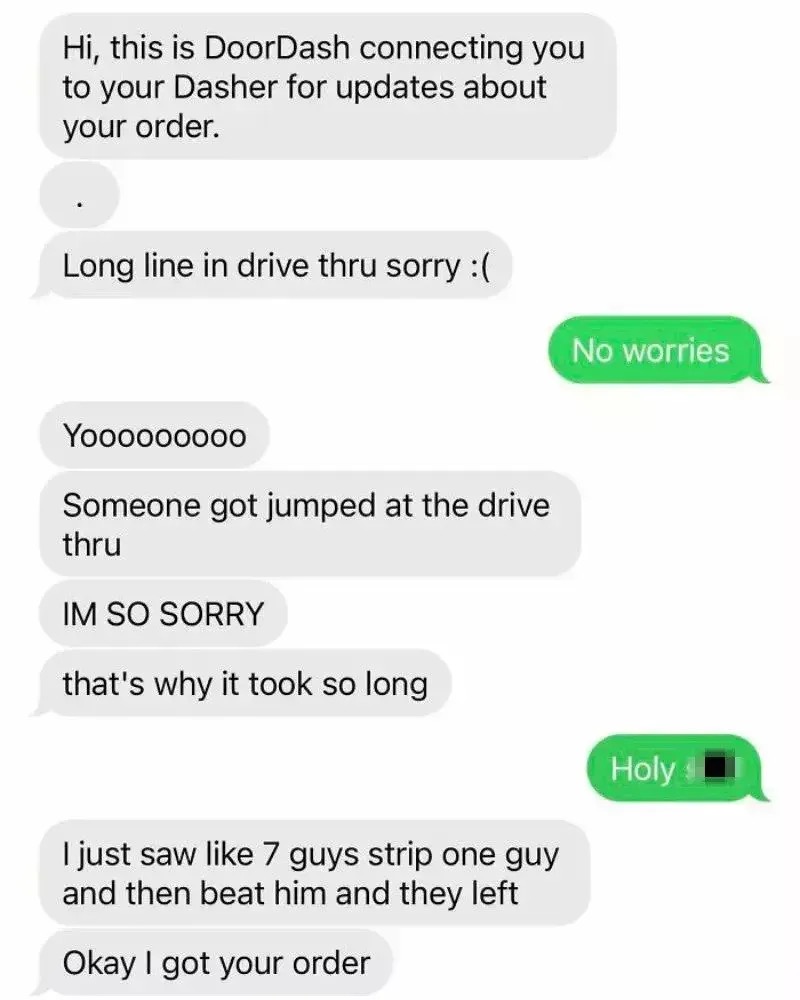 The person here sounds understanding, and the driver must experience a lot in a short period of time. It's incredible that he persevered through it all. Undoubtedly, they have more patience than we would have. Let's hope they find good customers more often so they can do their job more conveniently.
Making a Proclamation
It's clear that when you order meals from fast food restaurants for delivery, you're not constantly thinking about what can happen after you stuff that delicious food in your mouth. But this driver went too far, and made the customer service worse than ever!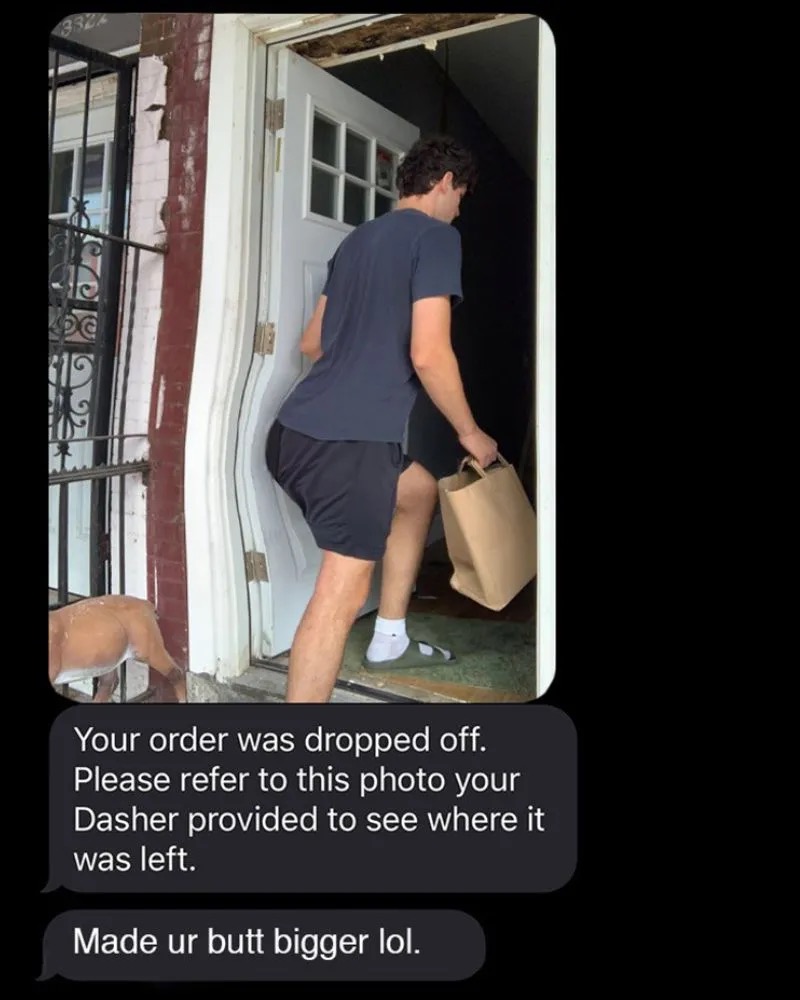 You must not want your driver to add some filter and make fun of you like this. It is annoying when someone without your permission takes a picture of you, applies some filter, and makes fun of you. Fun is good, but letting down someone is not. He is not going to get a tip for sure!  
Passing on the message
Many of these delivery services let you enter particular instructions is nice. This enables you to personalize your service as you choose and ensures that certain conditions won't prohibit you from receiving your food.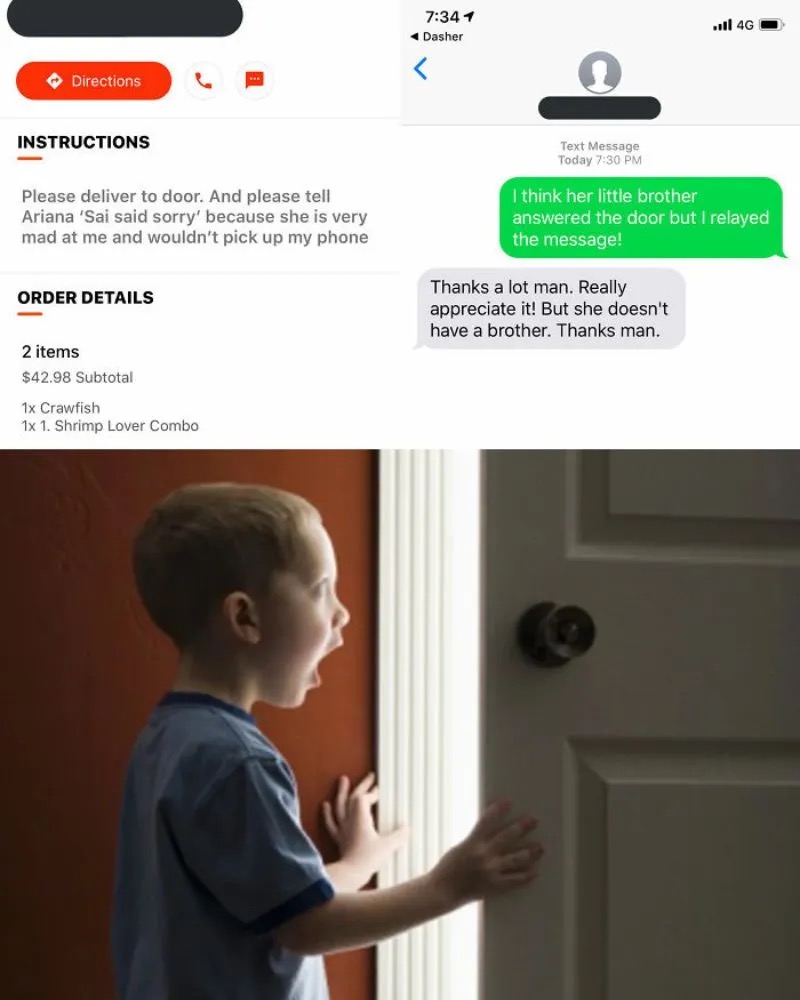 Passing on the message on someone's behalf seems awkward. Similarly, having your driver apologize on your behalf seems fairly weird. Stranger still, it seems like this guy did it, and made someone's day by saying sorry. Thus he should get a good tip. But something is fishy here. Don't you think?
Reassigning the Order
The thing you are not expecting while you're waiting for meals is a text from your delivery person saying that he won't make it because he's going to jail. After all, if your meal is travelling to the police station with him, how will you be getting it?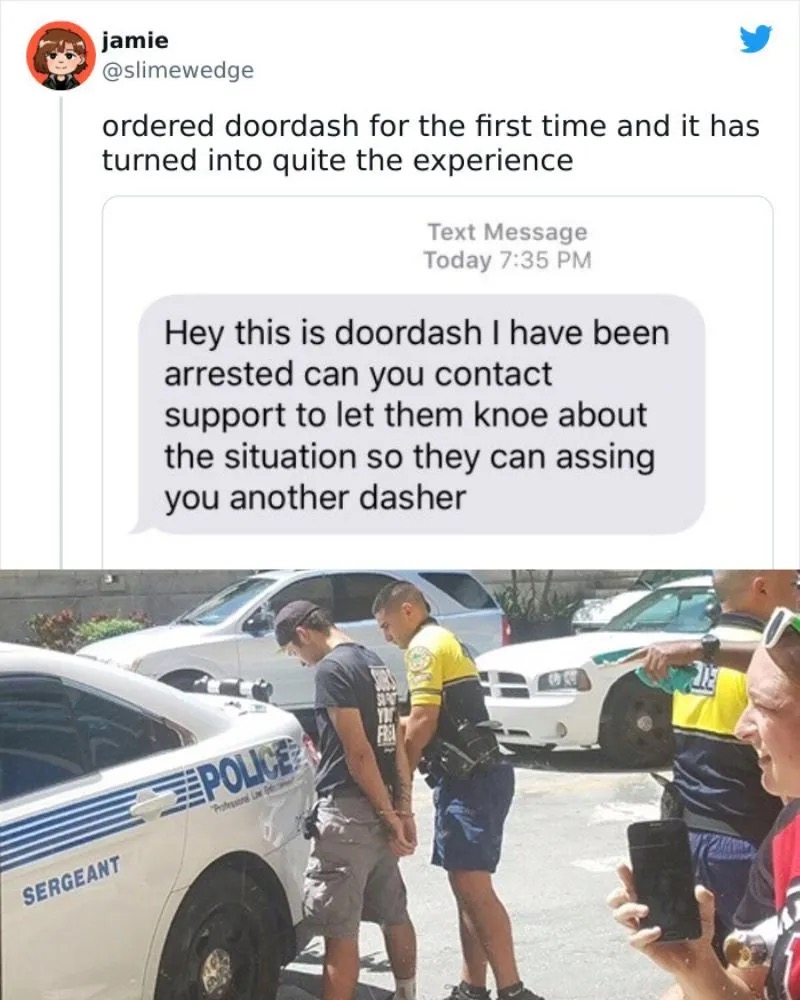 It is Funny and upsetting at the same time; we aren't sure if we would be laughing at the circumstance or irritated that we didn't get our dinner. But no one can do anything but reassign the order. And if we talk about this, this can be a fascinating social media post!
Add-On
When you order in a rush, you likely forget something to add to that order. So when you remember what you forget after placing the order, several delivery services let you connect with the driver directly to see if they can do something for you. This is so nice of the delivery services that they let you try your luck. But this guy seems angry about this.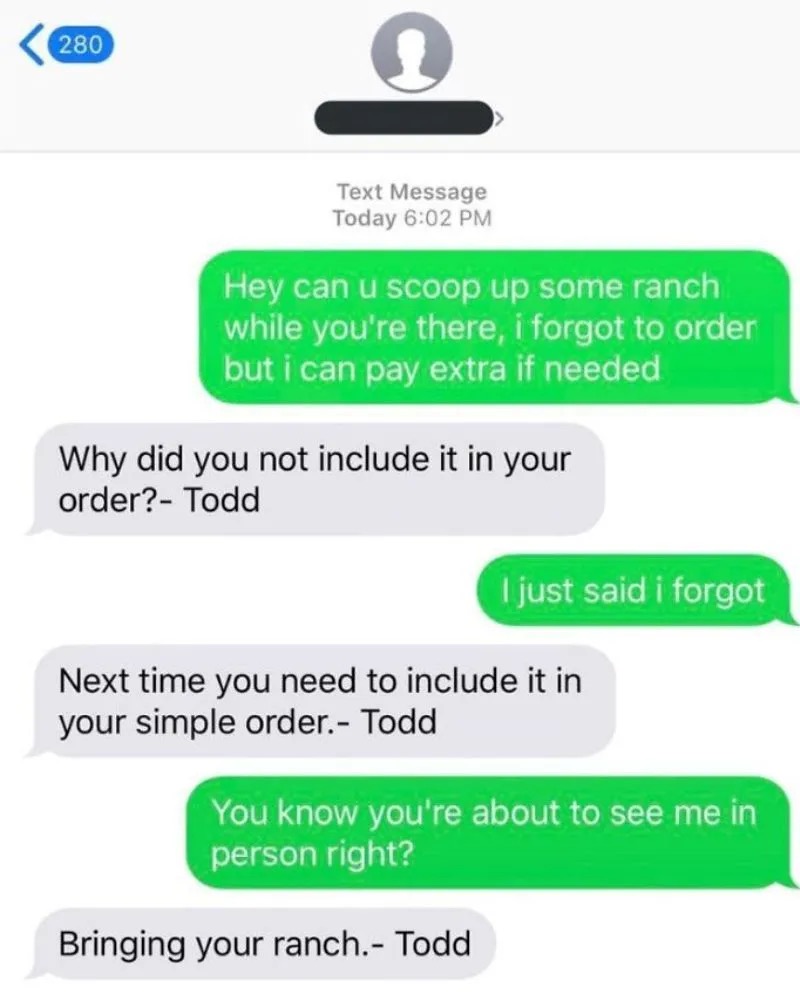 You can see here, at first, this guy is a little rude, but when he made to realize that he would be meeting the person to whom he was rude. He changed his tone and followed the instruction. Good for him, though.
Quality Assurance
It can be annoying when you receive your food and it seems like something is missing, but it would be impolite and unprofessional if you do this. Opening your order and discovering that something has been eaten is disgusting. If you have eaten it by mistake, you should have informed them. Maybe he was just afraid of doing this?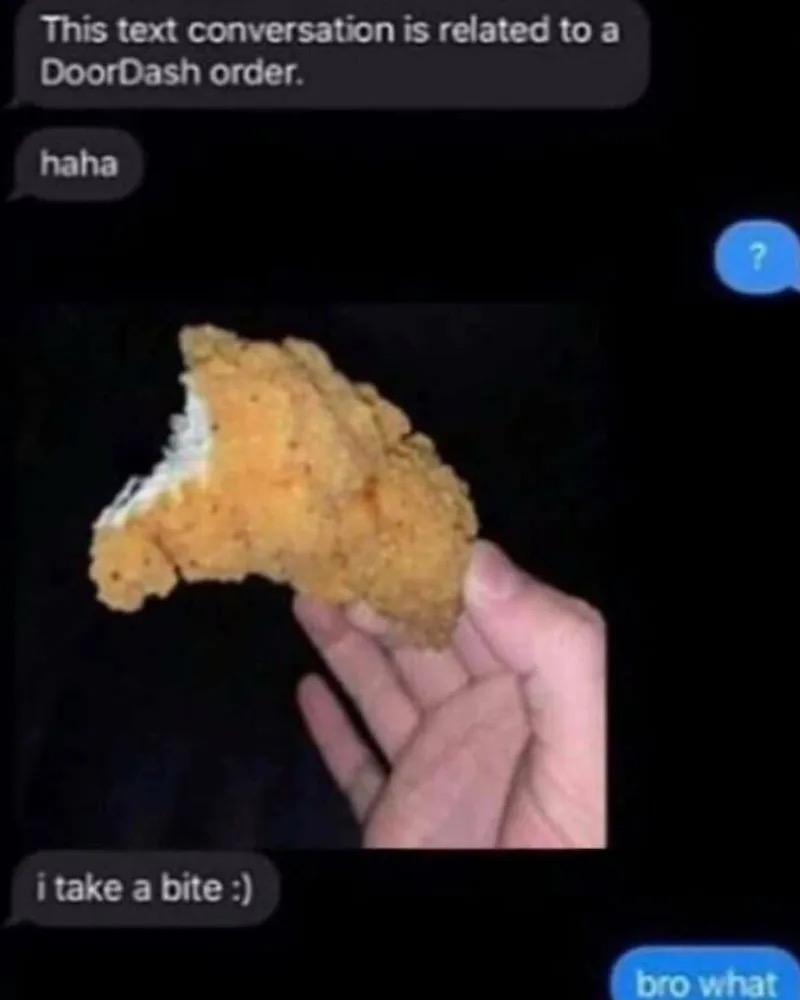 Maybe the driver was just trying to do the right thing and make sure the food was good? What are you going to do? Or maybe they were just hungry. But still, this is a bad thing to happen. Drivers should be professional enough not to do this at all. 
TMI
The thing to be excited about your work is a tip. When someone tips you, it's one thing to make you feel out of the world. It's wonderful to have a little extra money in your pocket; we do understand that. But here is something that person should have been more careful with when you wish for the tip.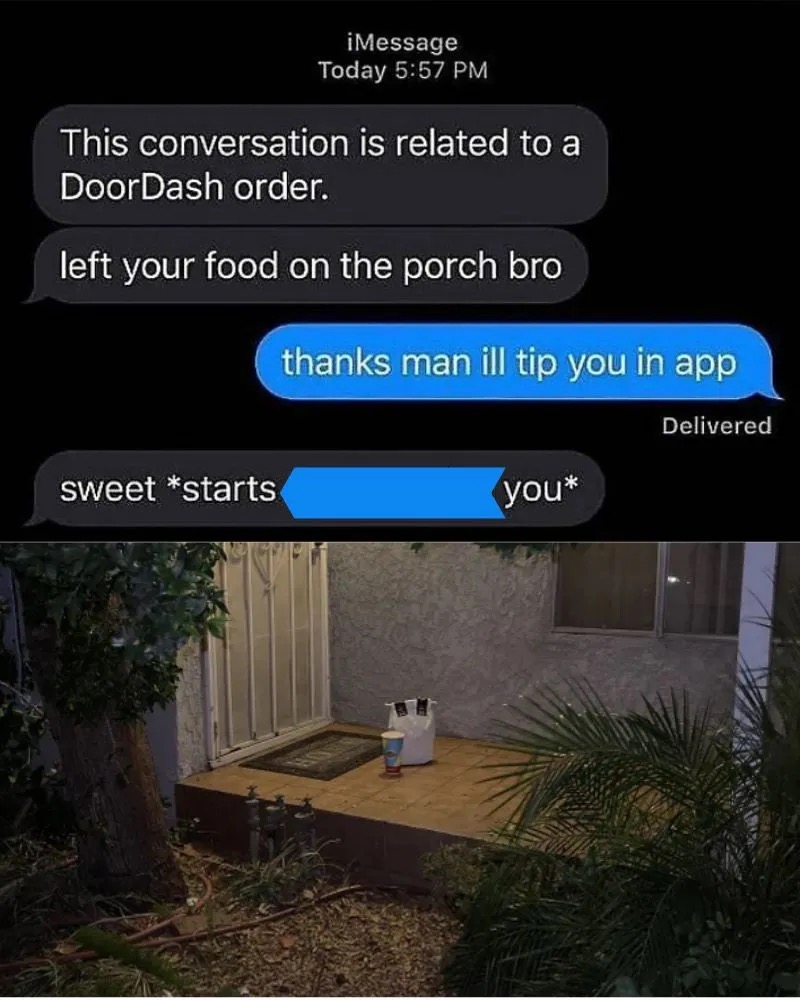 Here he made the biggest mistake that is against customer service. This guy should have kept this professional, stopped and said a Thank you with a decent smile, and might have got a tip. But ALAS! His attitude ruins everything. By doing so, you damage your reputation and the organizations you work with!
Food Justice League
Possessing a delivery driver with a bit of personality has many advantages. If your driver sends you messages like this, and you are having a hard day, it might make your day. It would be best if you appreciated that not only is he giving you food, but he also has a great sense of humour.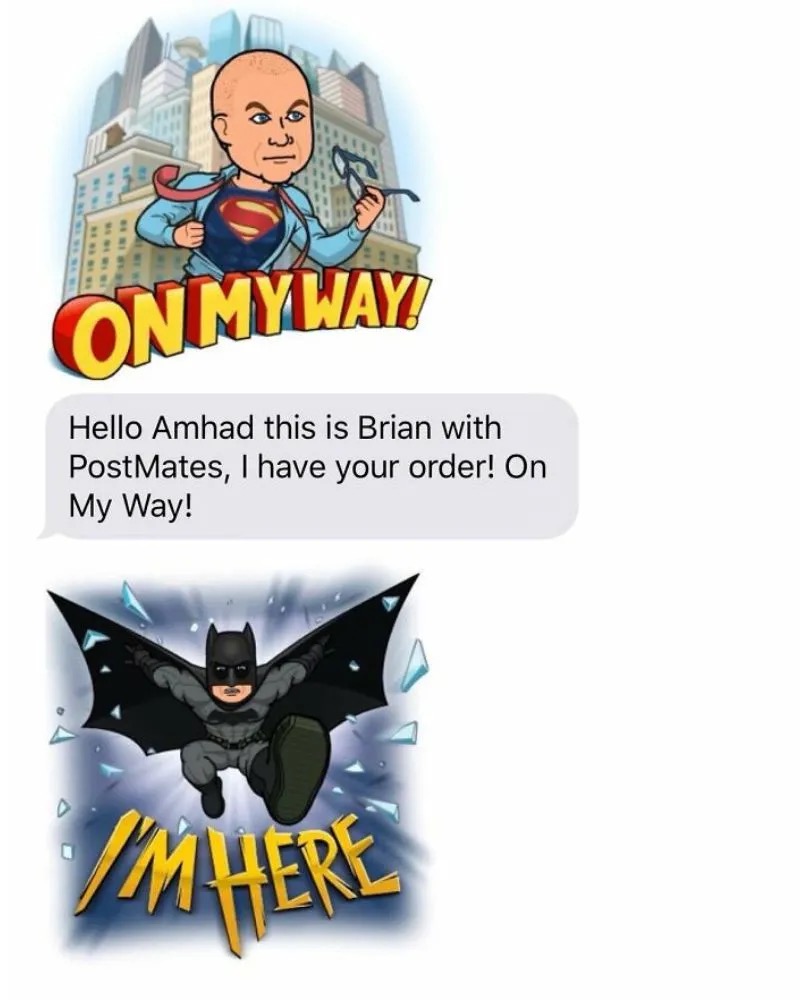 Though this might not be as entertaining for you as it is for us if you aren't a fan of comic book characters, however, you would at the very least be able to recognize that they are making the most of their circumstances and enjoying their job. 
I'll be late.
Delivering food while driving from one location to another is risky itself. It would be best if you constantly took precautions because you are not the only person on the streets; it is your responsibility towards yourself. Unfortunately for this guy, things didn't entirely turn out that good.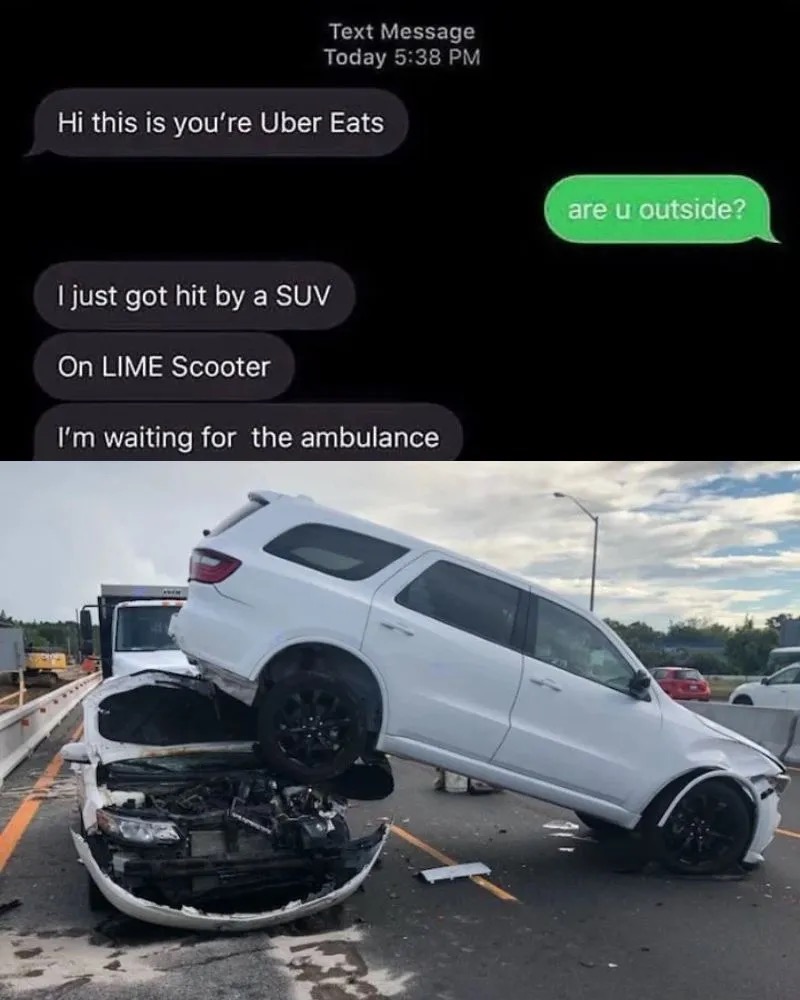 We hope everything is fine and that UberEats will eventually be able to assist them and take them to the hospital as soon as possible; even our food wouldn't be a problem for us. But for the sake of GOD, please be careful while driving; your life is more precious. 
Pick-Up lines
No matter what business you work for, you'll meet many people as a meal delivery guy. You think it's acceptable to approach and flirt with some of those people since you find them attractive and cute, but it is not nice and might be taken as an offence. Mostly girls are uncomfortable with all this nonsense, so be a little considerate when you intend to text something like that.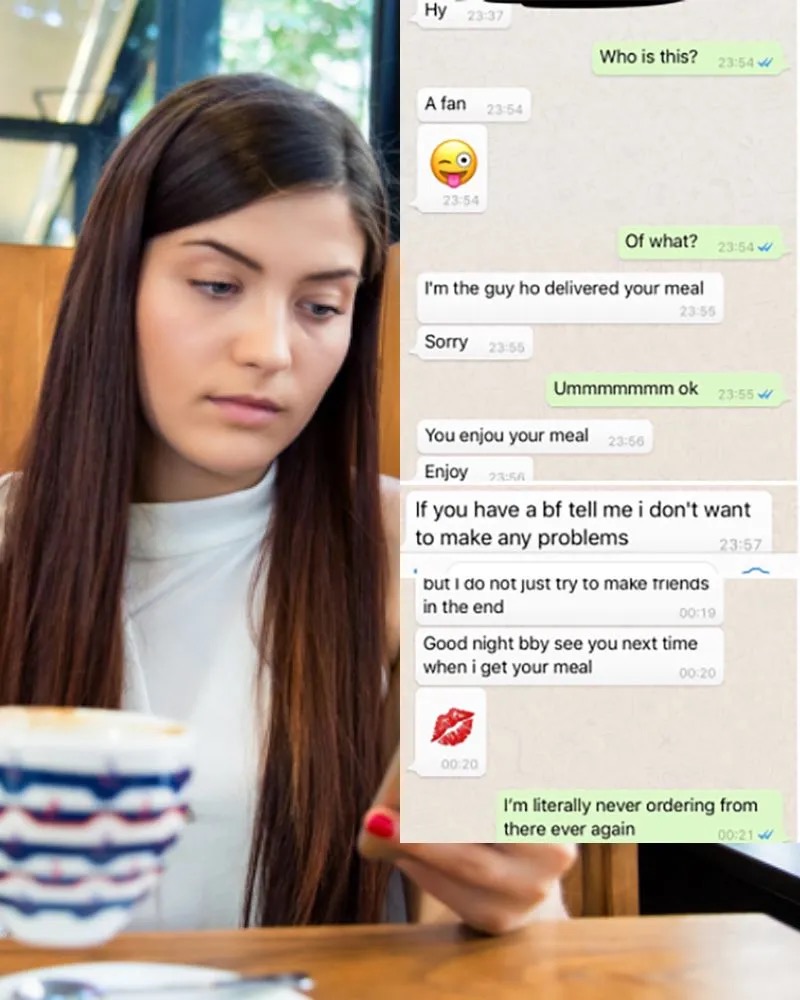 This is a little creepy though, as you must realize that you only met them once and maybe never meet them again. We sincerely hope this guy responded or, at the very least, blocked the number. What do you think his fate would be? 
Sorry!
Like any employment, food delivery drivers occasionally work long shifts. This can imply that there isn't much downtime, particularly if they constantly receive orders. We can appreciate how challenging it would be to ride in a van full of delicious-smelling food without getting a little bite.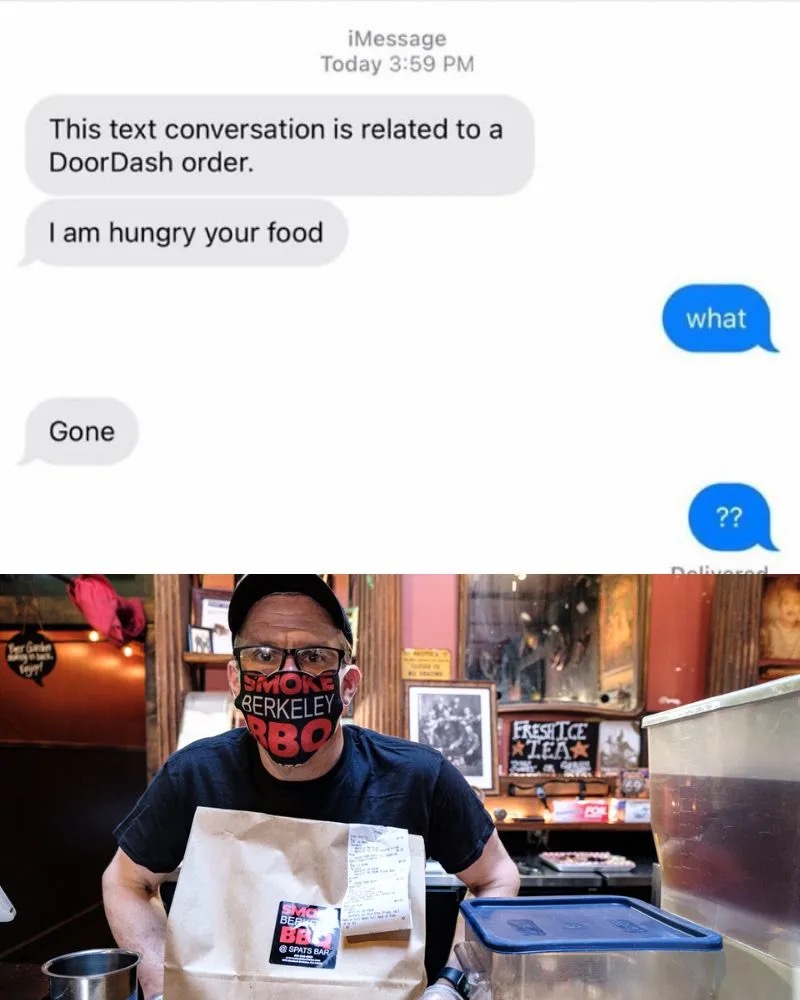 In contrast, we'd be furious if our driver said that our food had been consumed. They can also be hungry, sometimes it happens, and you should appreciate that at least he dared to message them and didn't let leave them hanging. They are also human. Be kind to them.  
Order Cancellation
Being really honest in the customer service sector is one thing; being disrespectful is quite another. Because their girlfriend consumed the food, this person is sincerely attempting to convince the customer to cancel the order. What is he trying to do?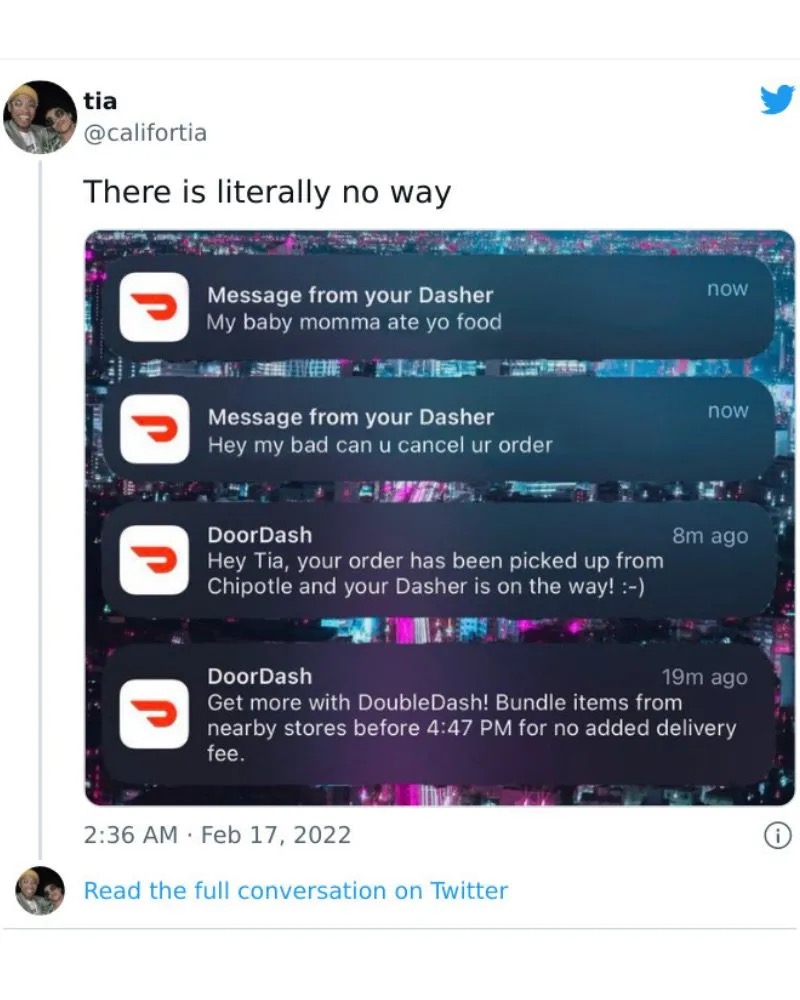 This act is really bad. We hope that someone took action and that the unfortunate victim was not made to pay! Why didn't you simply purchase something for your girlfriend when you were at the restaurant? I don't understand why some people forget professionalism? This is not good indeed.
Left it on your doorstep
Many delivery businesses appreciate it when customers take photos of the location where the meal was left, so they have documentation of delivery. I don't believe the business really cares if you were present when they opened the door, though. But it is funny when you were captured like this.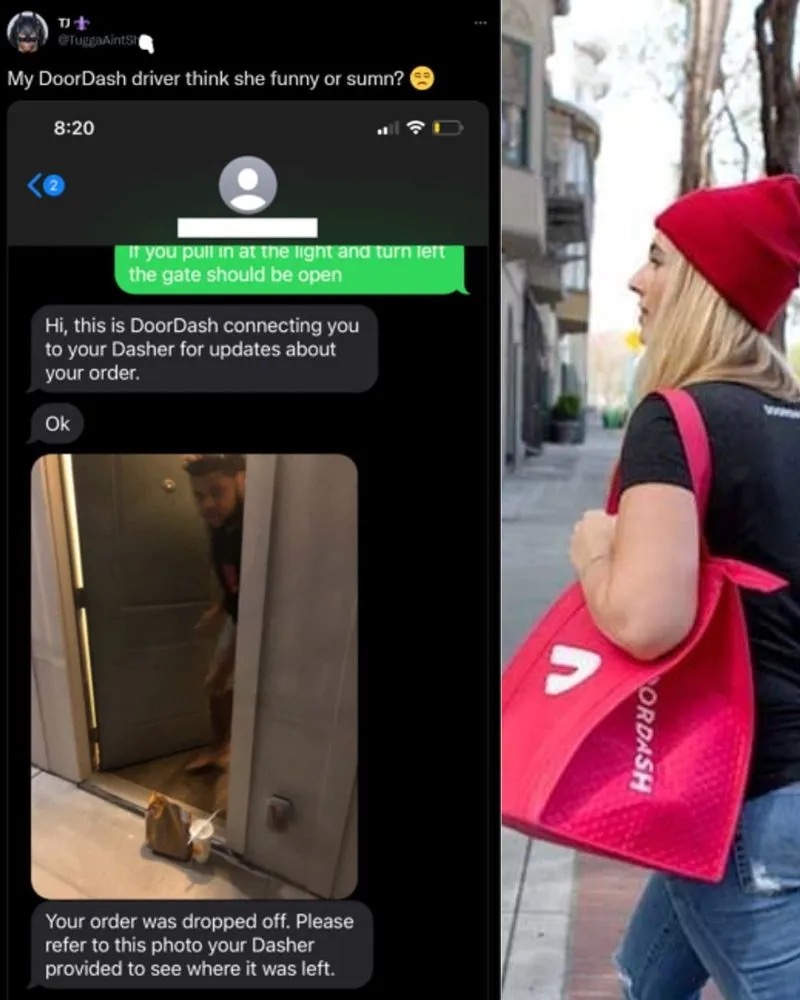 We speculate that it might also be extremely humorous. It was kind of hilarious in this circumstance, so maybe everything will work out. Whether the picture with only the food on the doorstep is fine, or the driver must be shown in the picture? We'll let you make that decision.
Where is your office?
There are undoubtedly several locations that are incredibly difficult to deliver to, but an office building would surely rank as one of the hardest. Considering the top-notch security of the buildings today, it is the biggest challenge for the delivery man to locate the right place.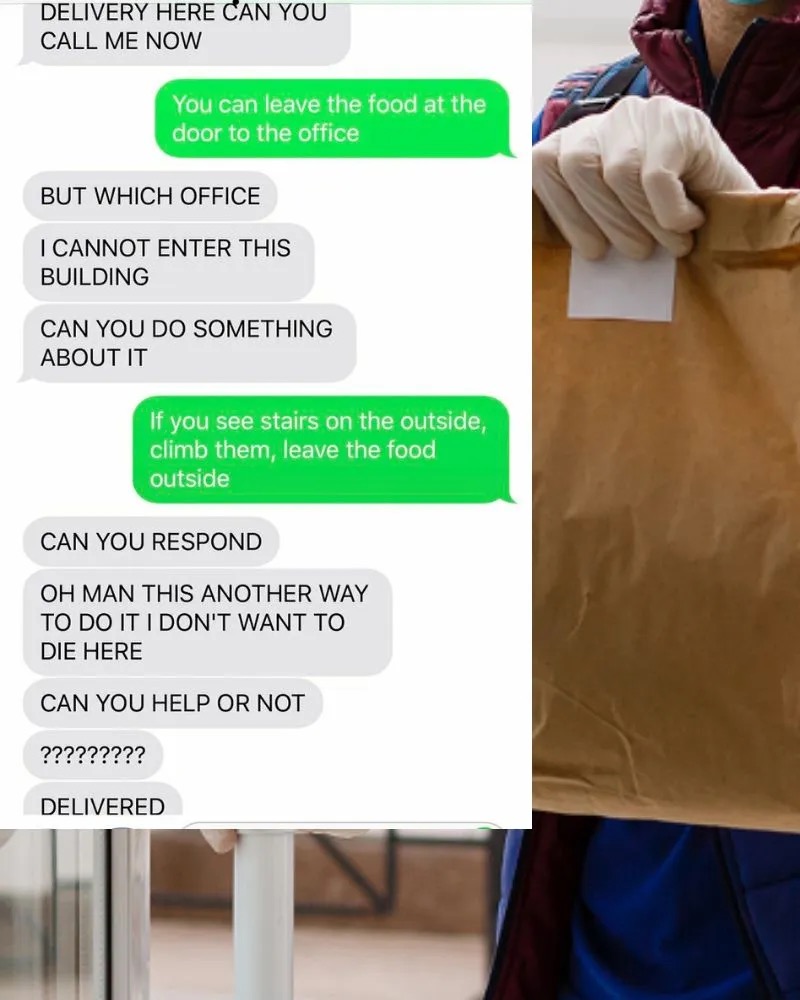 We can understand the driver's displeasure and resentment because you would hope that the people would be helpful in those situations, to at least be concerned about their food, but he doesn't seem to be. Well, we can just pray for that poor guy.
Being a little Froggy
When a driver automatically sends you suggestions for how to earn more money in tips, it's very straightforward. Being creative is not a negative thing, and also, it is, in fact, great to know someone with a nice sense of humour, but you should be prepared for certain individuals who won't appreciate it.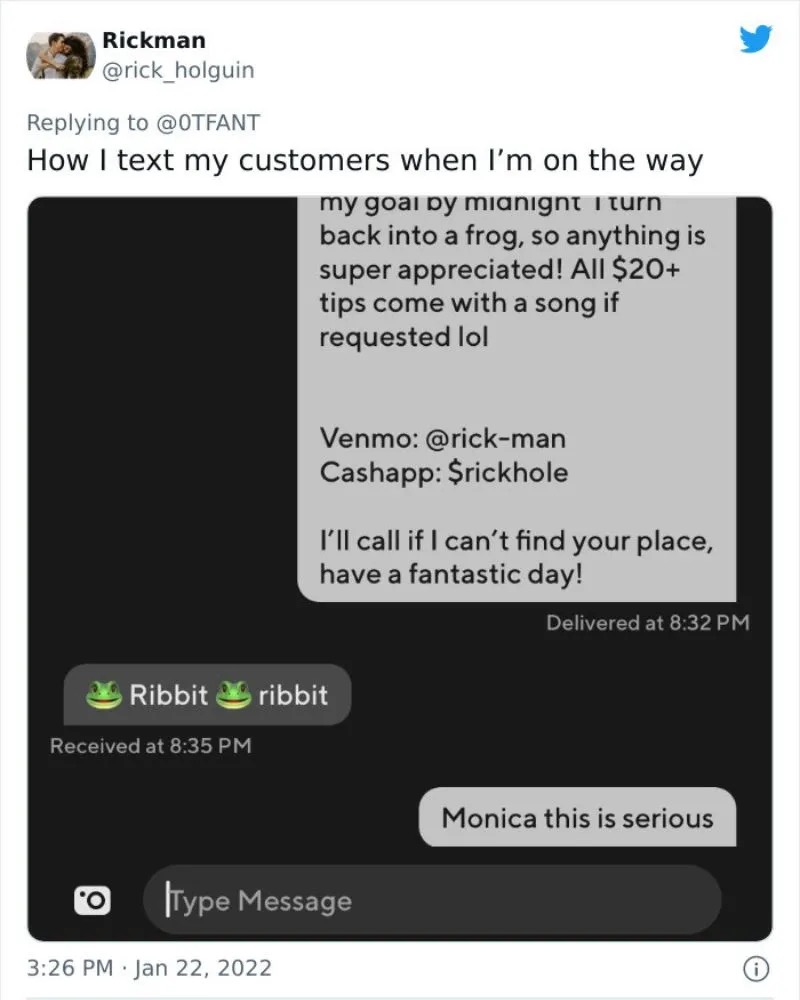 Although we believe this person should have been a little kinder about it, and we think that this person is as humorous as the driver is, for the food delivery guy, we know how inconvenient it can be to be asked for a tip.
Zero Cheese
One requirement of a delivery driver is that they must be able to speak with the person they are delivering meals to. It need not be flawless, but it must be something they can understand. Like this customer does not seem to get what the driver is trying to say.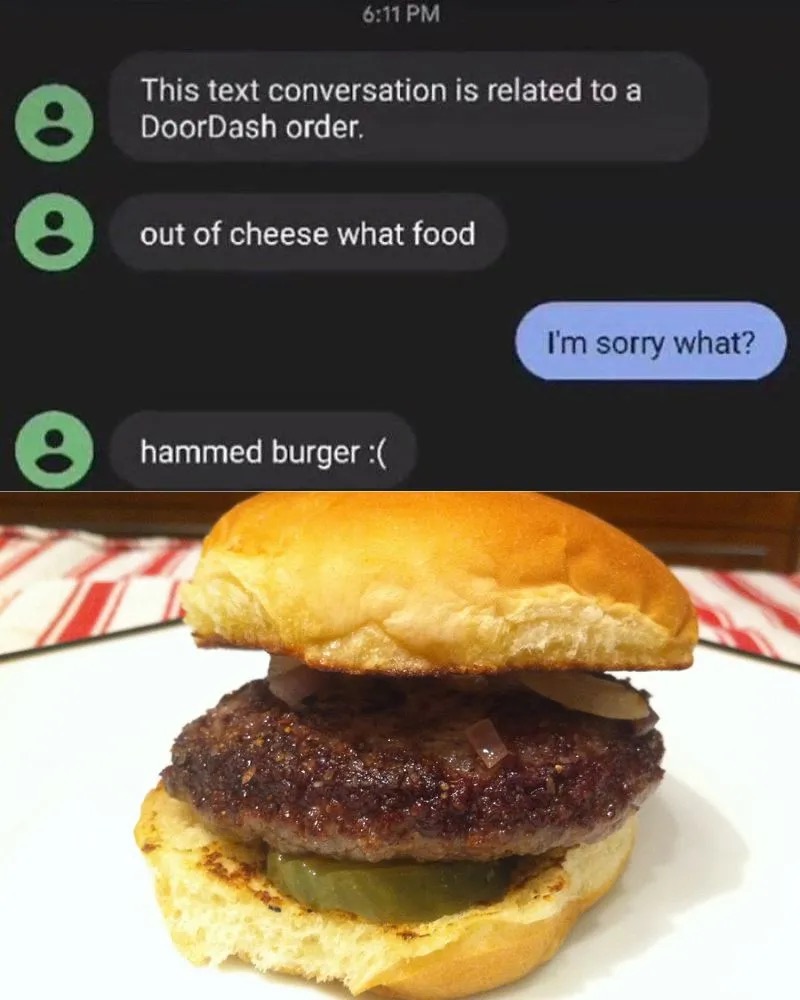 You can clearly see the communication gap here. The man couldn't understand what the driver was trying to say. As this person doesn't have a strong command of English or grammar, that could be a little difficult. We just hope that both persons mutually try to understand what the other is trying to say with patience. 
Who said that?
When speaking to friends, you can be frank and say whatever you want, but bringing that to work could result in severe consequences and be highly unprofessional. Similar to how it worked for the food delivery man.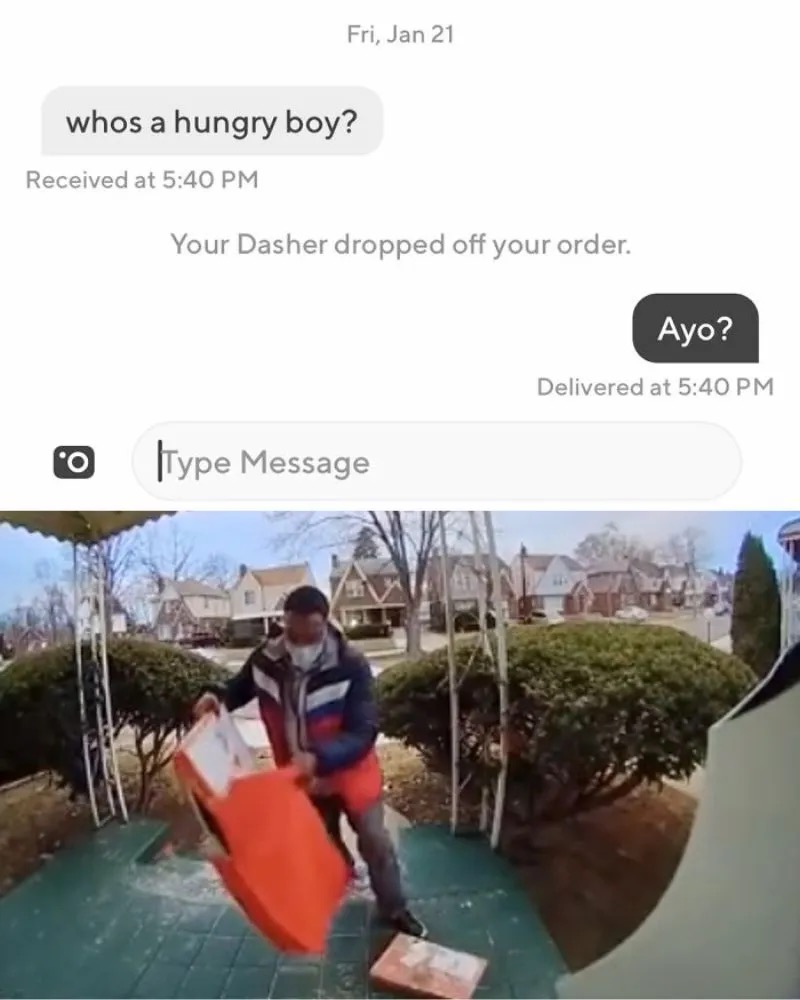 The final interaction would be the final straw since we would not like being treated like a dog. It is highly unprofessional to bring food like that. May this driver get some sense by the time or get any other job where manners are not required. 
Going on a Walk
Drivers have a variety of options for how to deliver food from one location to another. Some drives, some have bikes, and some people also walk. That seems like a poor form of transportation for a company trying to move food quickly. It is not a good idea though, as the food can also get cold.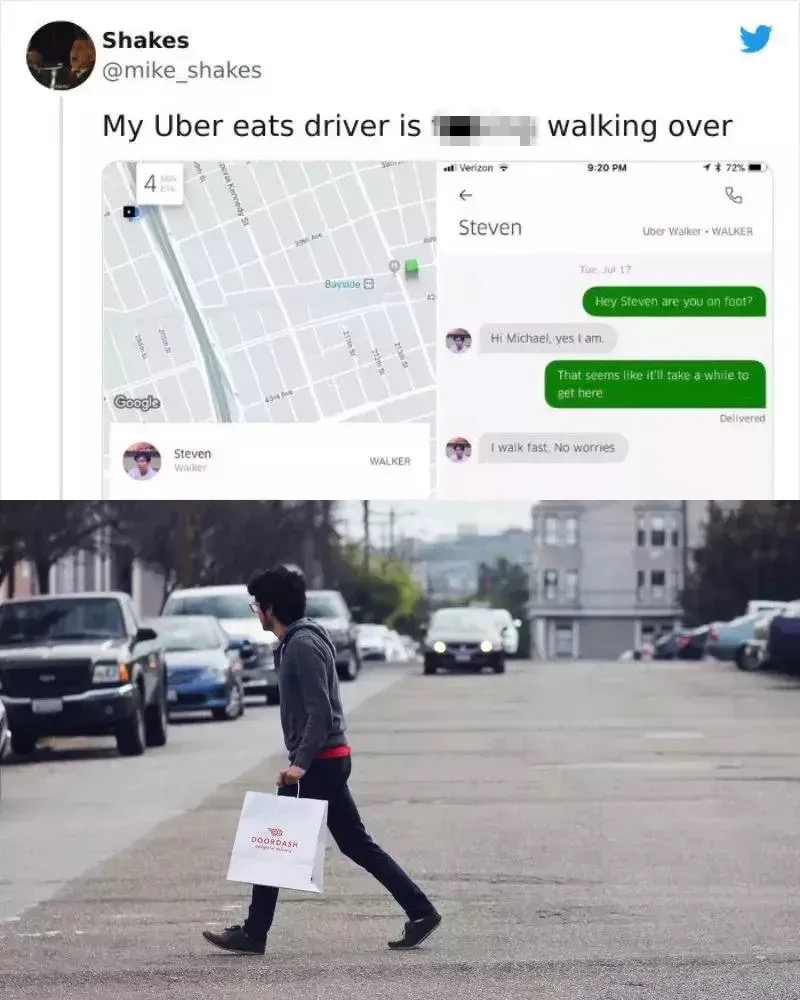 But what if we were mistaken? Perhaps this man is one of the speed walkers we frequently observe at shopping centres. The walk is also good but only when you do not have to deliver food. The tip, however, will undoubtedly be very minimal due to the really cold food. Anyways, Good Luck to you, Speedwalker! 
I'll let you know
It's always good when the delivery guy goes the extra mile to ensure you get what you want. Therefore, it's great to hear that this guy was ready to check out a restaurant to make sure it was open or not. This is impressive.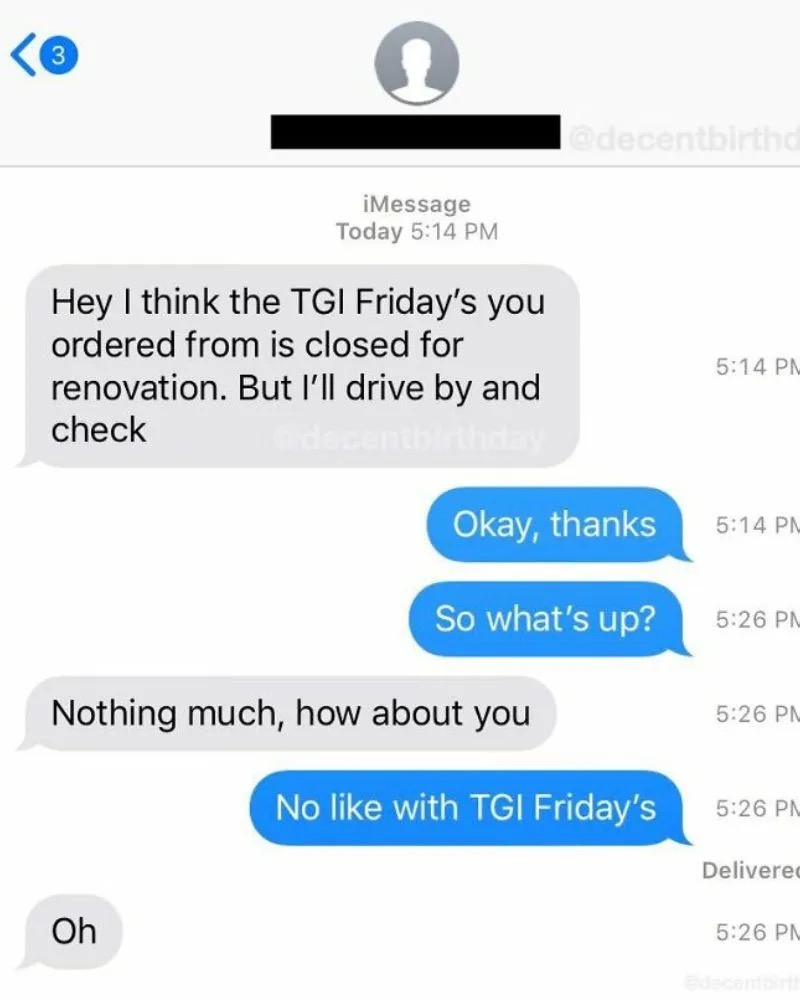 On the other hand, what do we do if he delays contacting and informing us of the situation? We become agitated, ignoring his good gesture toward us. We should be kinder to them as they are also human and sometimes make mistakes.
Meme and My Food
Using memes and GIFs with your friends and on social media is a great idea. However, we're not sure if it should be applied to your customer communications. But I think this couldn't be more specific, though. Check out the following picture. Maybe I am wrong!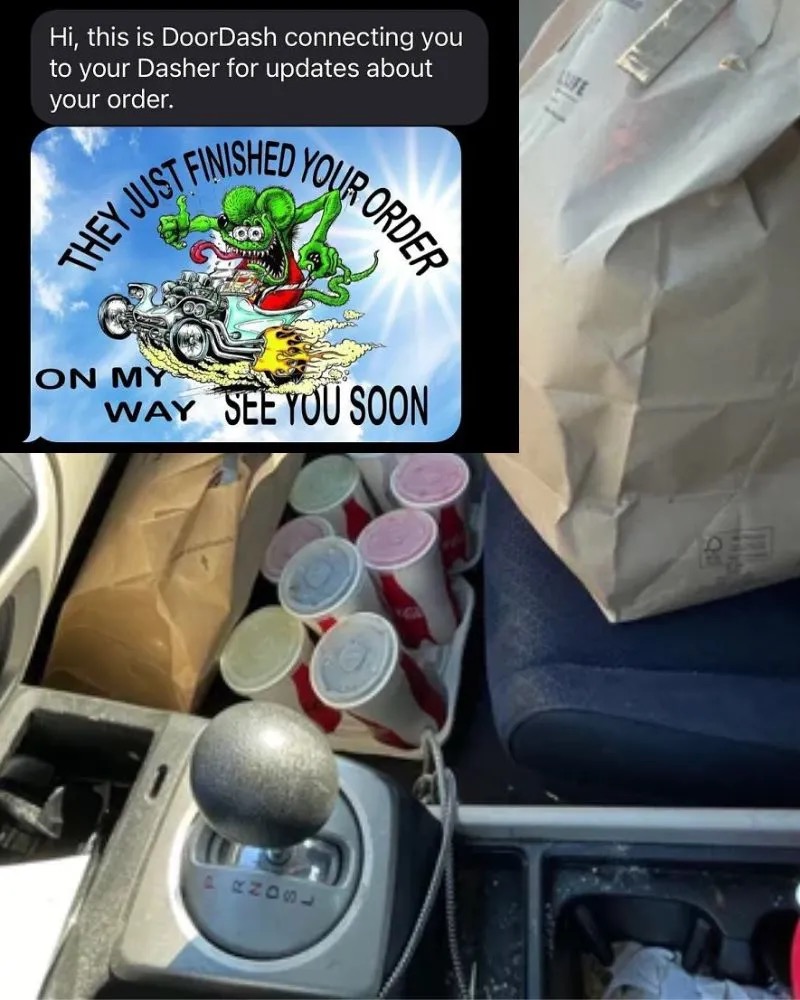 The fact is that this GIF is so on point and clearly demonstrates how passionately that order is supported. That may imply that it will arrive at the recipient more quickly. That would be a great idea to send GIF in a reply. The power of GIFs can be seen here clearly. 
Isn't it too much?
We're sure everyone knows at least one individual who pushes their wackiness and zaniness too far. It could be an old school friend or any relative. Sometimes doing that means that you are too much frank and speak without thinking, like this driver. But at times, it is pretty fun!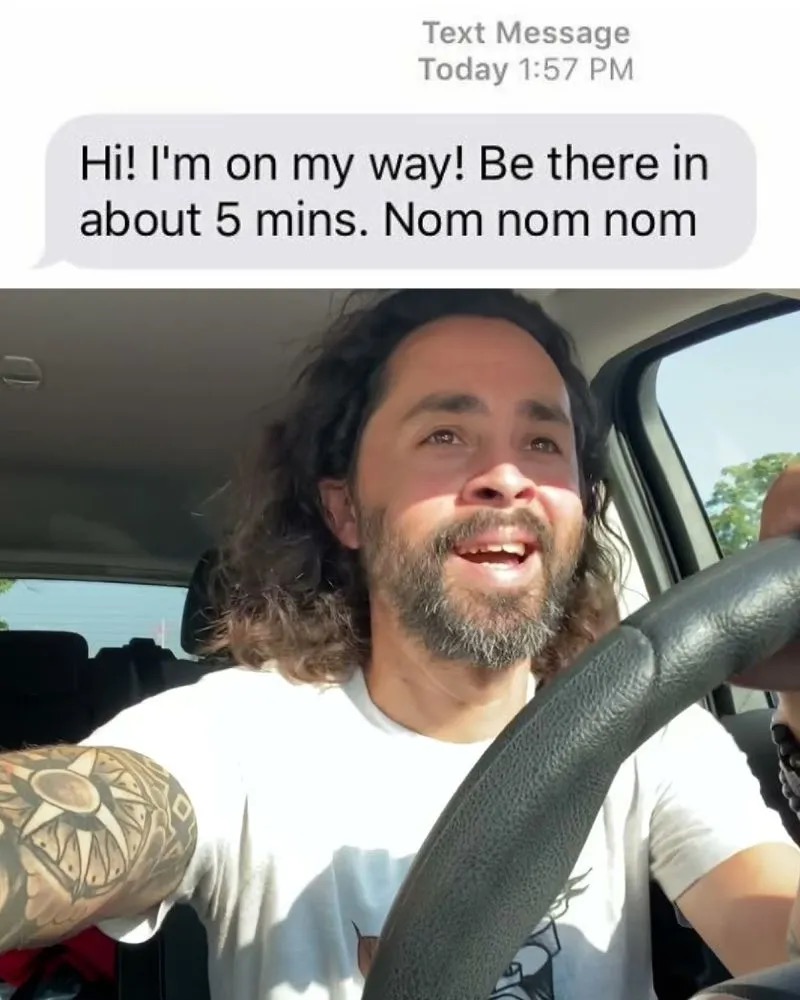 But at least he's communicating well and letting you know when he'll be there unlike the rude drivers who just send you dry texts. And don't worry about the food, it's evident that it tastes lovely because he appears rather hungry and did not consume your food. That's awesome.
Rules are Rules
Customer service representatives can feel a strong need to go against the grain when dealing with impolite or demanding customers. Since some customers are really annoying But you have to repress that urge if you want to provide good customer service as rules are rules. As this driver did.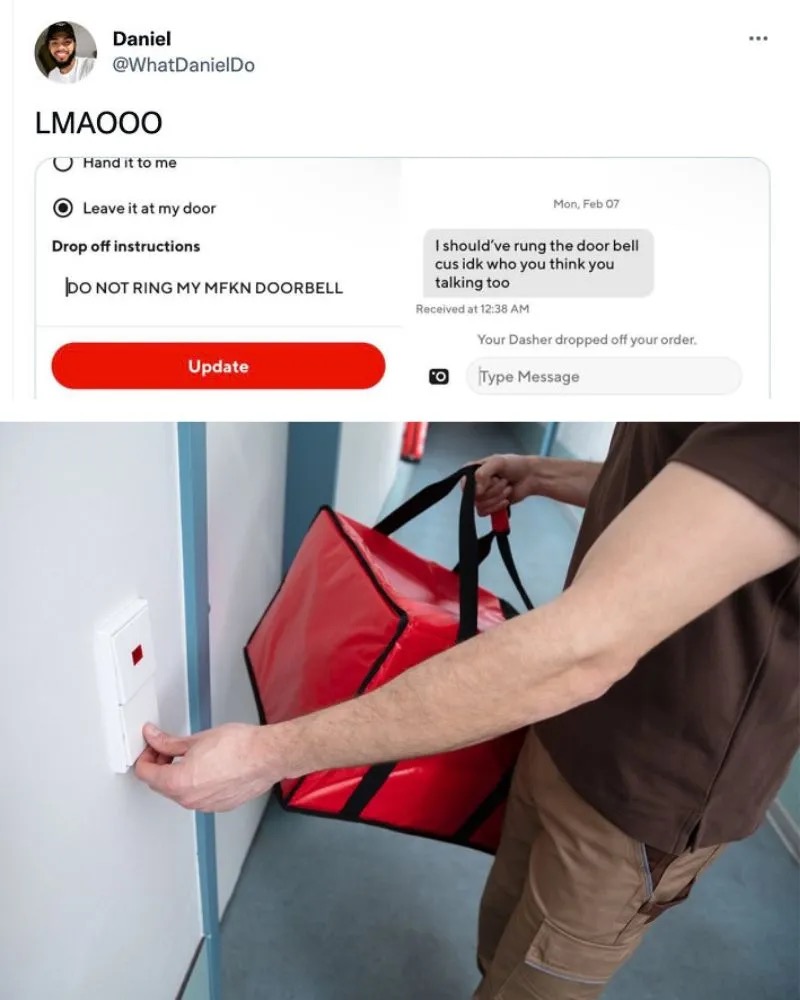 We are therefore really proud that this driver made the decision to follow the rule and comply with all requirements. Otherwise, it might have developed into a quite tense circumstance if he started to misbehave with that person, which would be bad for the reputation of his company. He should be appreciated. He did a great job. Good Job, Dude!
Falling in Love!
You never know where your soul partner may turn up. However, you are highly unlikely to discover such a person in the person who delivers food to your door. Strange huh? However, we guess anything is possible, and you never know when love hits you.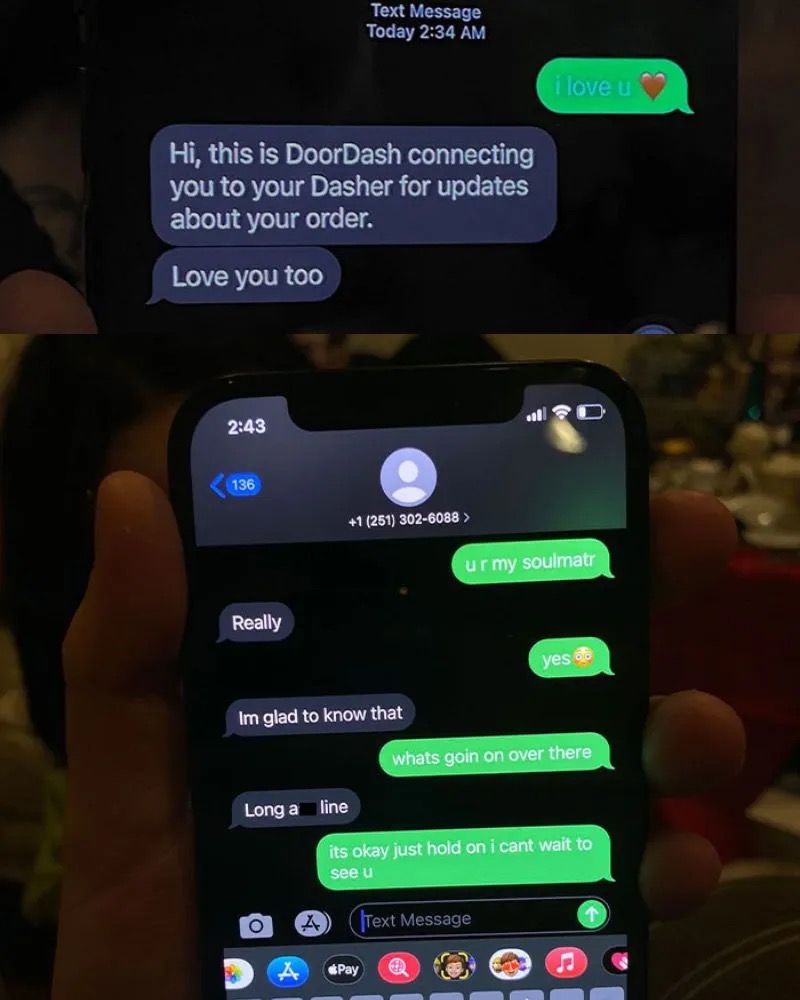 But before texts like this occur, you do need to at least have a good chat and then open your heart to him? Indeed, it is how we feel. Do you believe that ordering a whopper could lead you to your soul mate? Or are you going to try your luck in here? 
Out of Topic
We can only hope that this bizarre incident included someone sending a text to the wrong person while intending to send it to another. Otherwise, there might be more voices in the driver's head than we'd like to hear. This is funny, though, when you get the unexpected off-topic text. 
This guy's totally off-topic text made the customer shocked for a while. After all, how do you transition from speaking to Solomon about soy sauce? Well, this is the case of a severe psychological problem with the guy, or he is just providing some information. Maybe? 
Aggression 
Are you flirting with that creepy picture? No, please. This is not the way to discover your soul mate or get a good food tip. The driver also had the option of waiting until they had at least dropped off the food.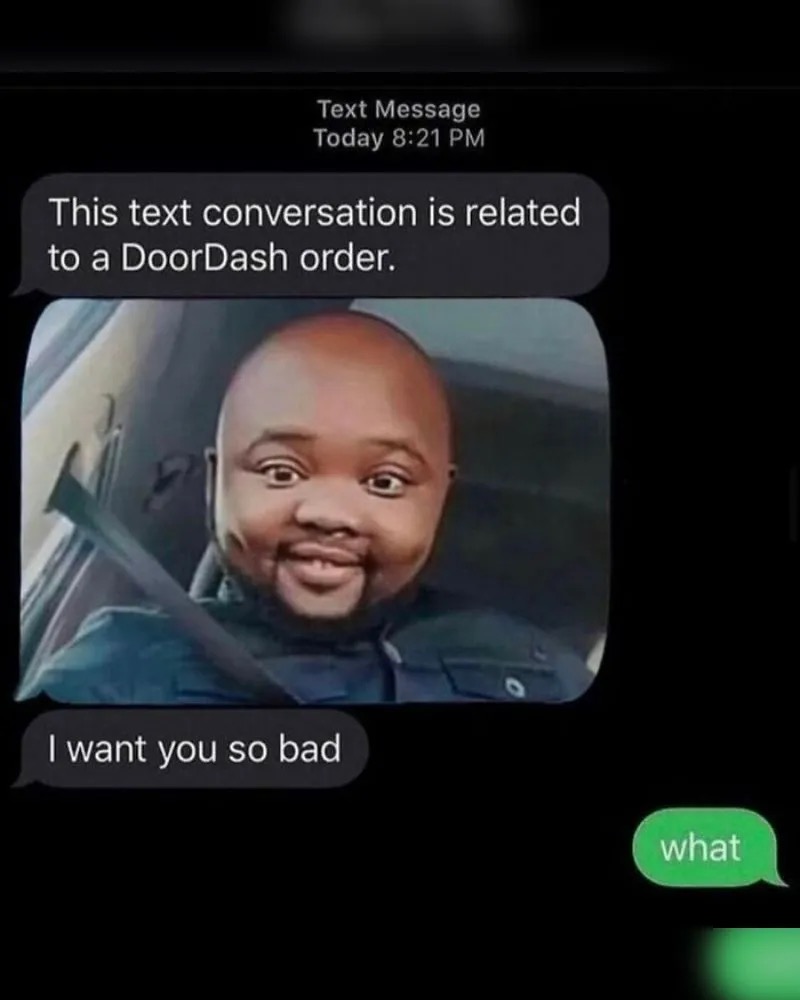 We would unquestionably have the same response as the individual waiting for food. It indeed makes someone uncomfortable. What do you think? Is the picture is creepy or the pickup line? 
Thank you, but no, Thank you!
This meal-delivery worker has forgotten his limits while texting; why being unprofessional has become the new trend? This person went too much with his language in their texts, and we're sure they'll face serious consequences.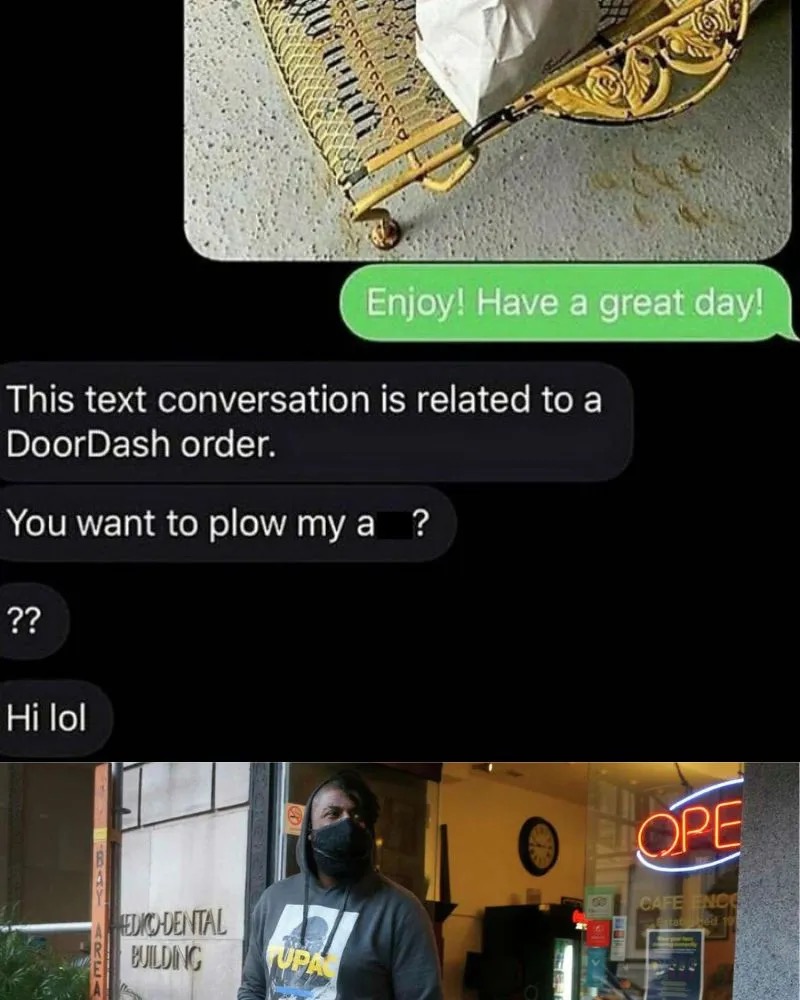 We don't know why this person felt so comfortable with his client. We wanted to hear what was being said at the door. Perhaps there was an event that triggered this? But still, this is not the way to text like that. 
Find yourself something else.
We've all experienced those moments when we can't take it anymore and give up. While standing in line, this driver appears to have had one. But what surprises me is their audacity in making suggestions to their clients! Remarkable!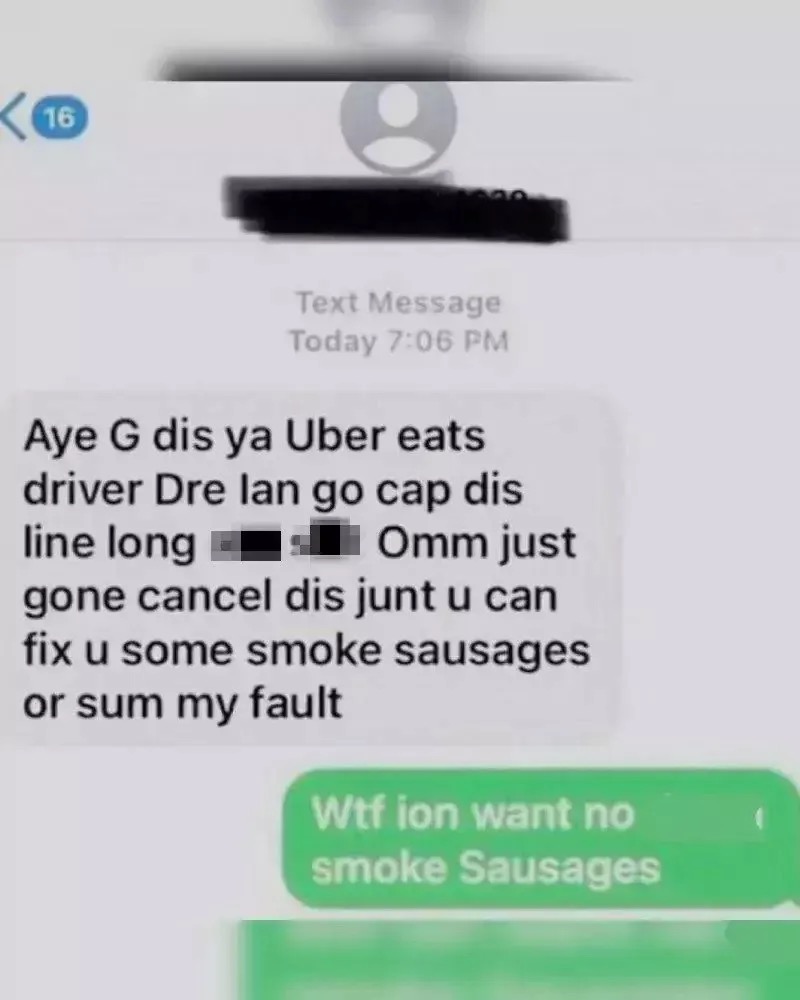 What this person did is wrong and can not be fixed, but we wouldn't have even reacted if we were this person, and even if we had, we wouldn't be pleading with you not to eat smoked sausages!
 you know? How? 
I don't know about you, but we appreciate funny customer service representatives. The encounters we have with them become so much more joyful as a result. One subject, though, you should never make fun of food. Or this could be dangerous for you.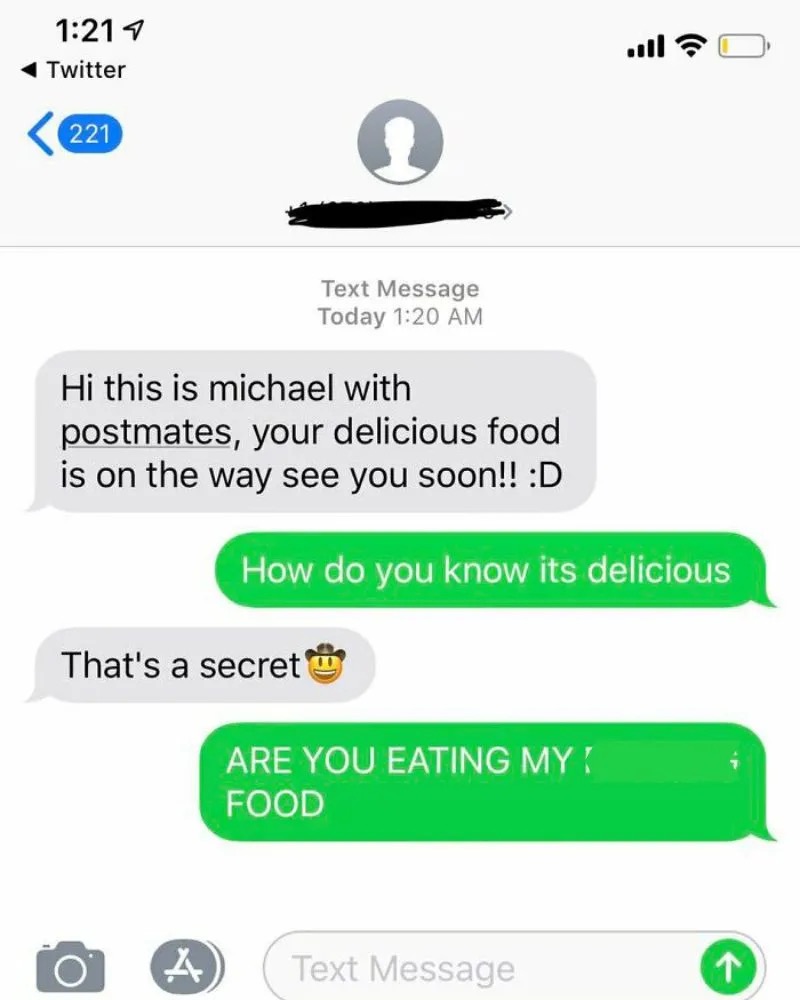 We would have loved to see the driver's expression as he arrived at the house. We hope there will be laughter, joy, and enough time to ask about his unknown secret. Well, this is something that you can enjoy and not bother about your food. 
Boss?
Some people feel a kinship with someone when they first encounter them. However, most conversations go beyond "here's your order" and "thank you." However, it seems like this individual is going above and above to cultivate that connection. But we don't think it is a bad thing. Maybe just for an extra tip, you know?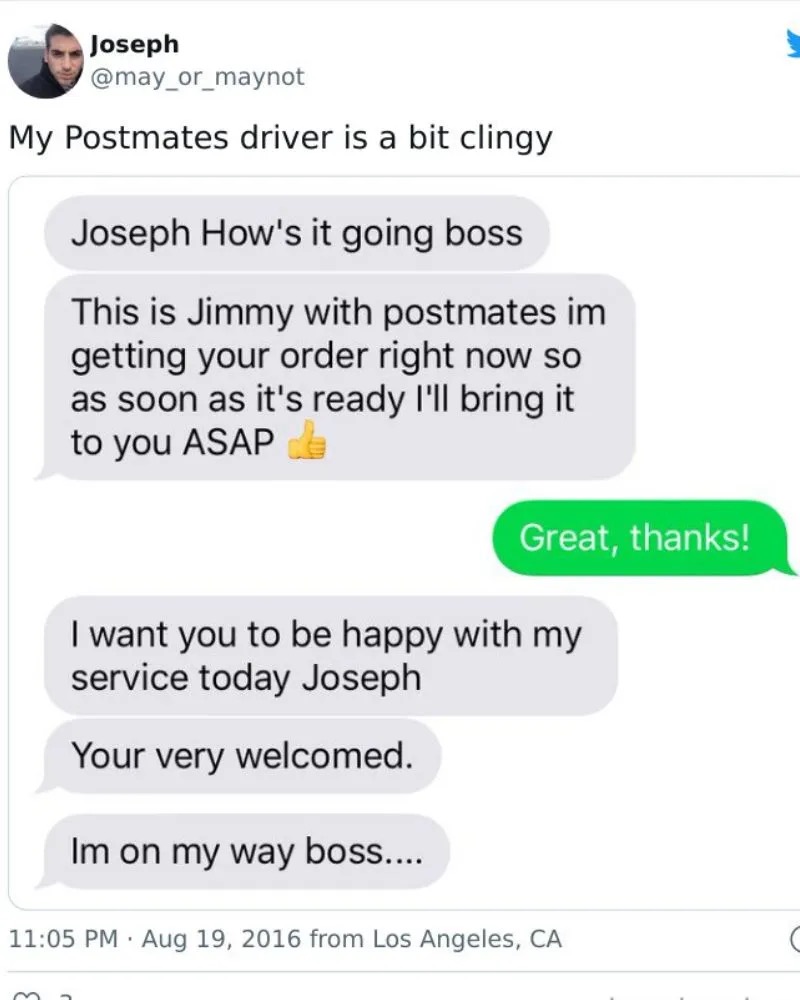 It's a little too much that the driver has already given his new customer a nickname. BOSS. Furthermore, we have a very odd sensation about the nickname or maybe he used to call everybody Boss as a sweet gesture. What do you think? 
Being Improved
Meeting someone who genuinely cares about their work is always pleasant. It feels great seeing hard-working employees doing their work passionately and improving. Regarding food delivery sevices, it seems uncommon, but this guy made this happen.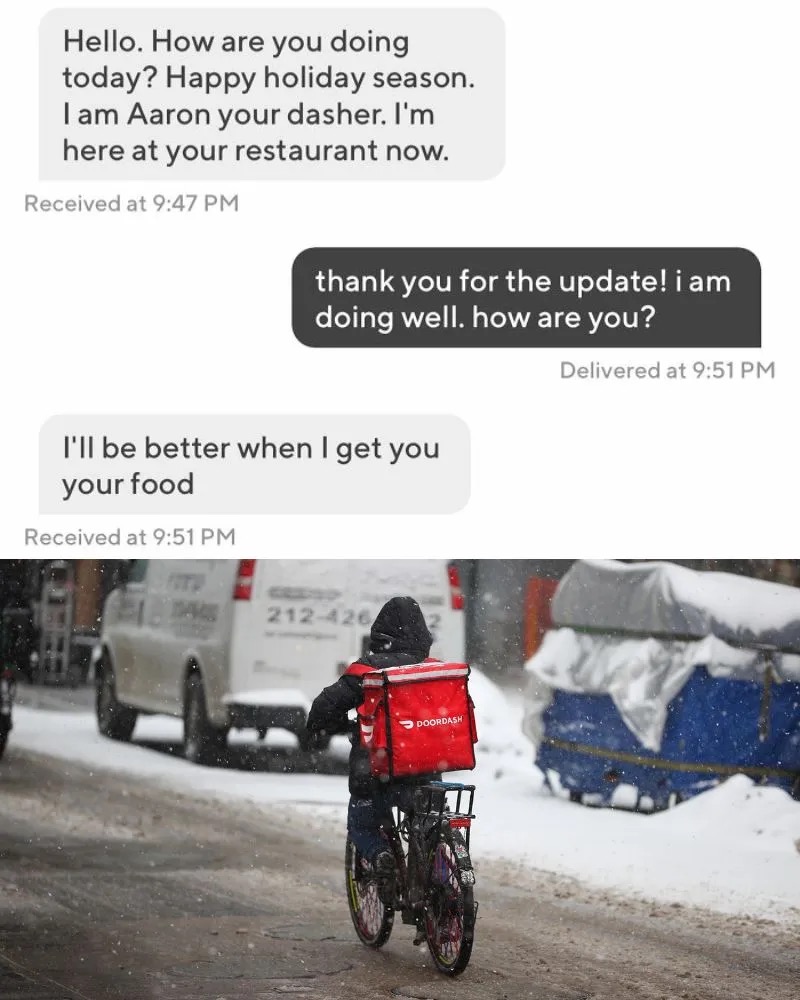 Given that, this man may be a little too committed to his work. And it is really impressive. If you catch our drift, it seems he may be a little too enthusiastic about his work. And that will make him successful one day.
Solve the Riddle
In different kinds of relationships, a little mystery can be brainstorming and good for your health. However, it doesn't go over well with the customer waiting for the delivery and the delivery guy. Since most of the time, you want food, nothing else.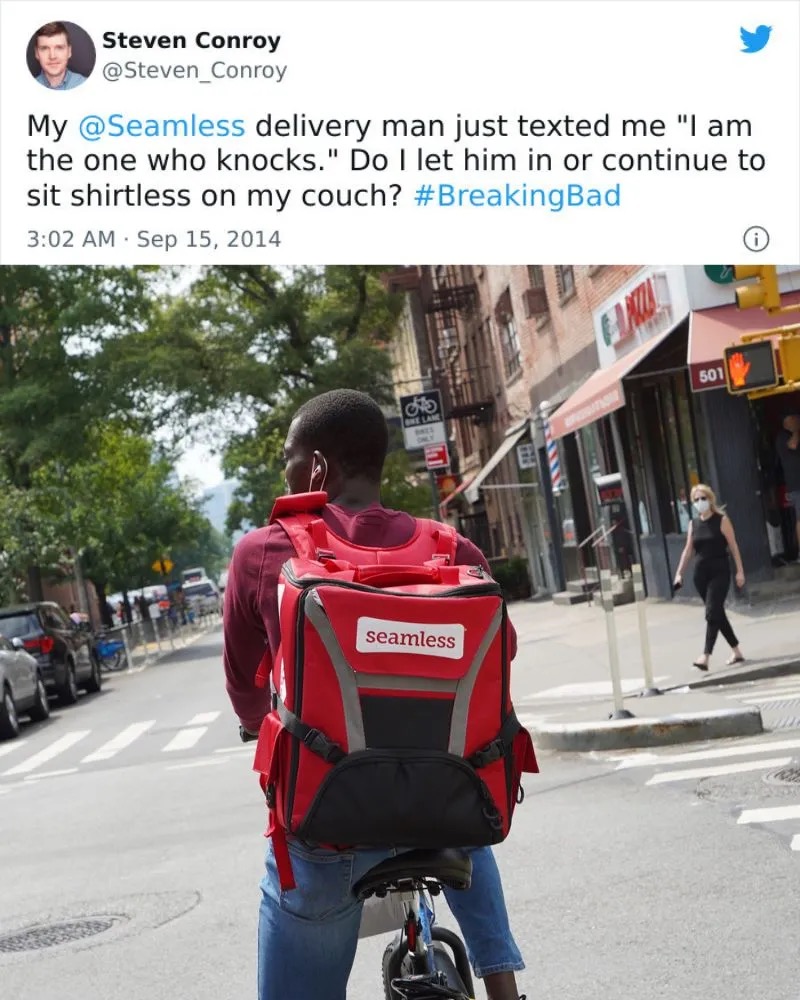 This is quite genius that perhaps this individual is merely attempting to reveal a little bit about his genuine nature? Who knows, maybe he'll make friends with at least one of his clients due to this little game! 
Earning Those Tips by Working
We know that anyone employed in the food industry tends to depend entirely on tips. So we can understand why they are constantly attempting to increase the tip. However, intimidating your customer is not an excellent approach to accomplish it. You cannot force anyone to give you a tip. Remember that!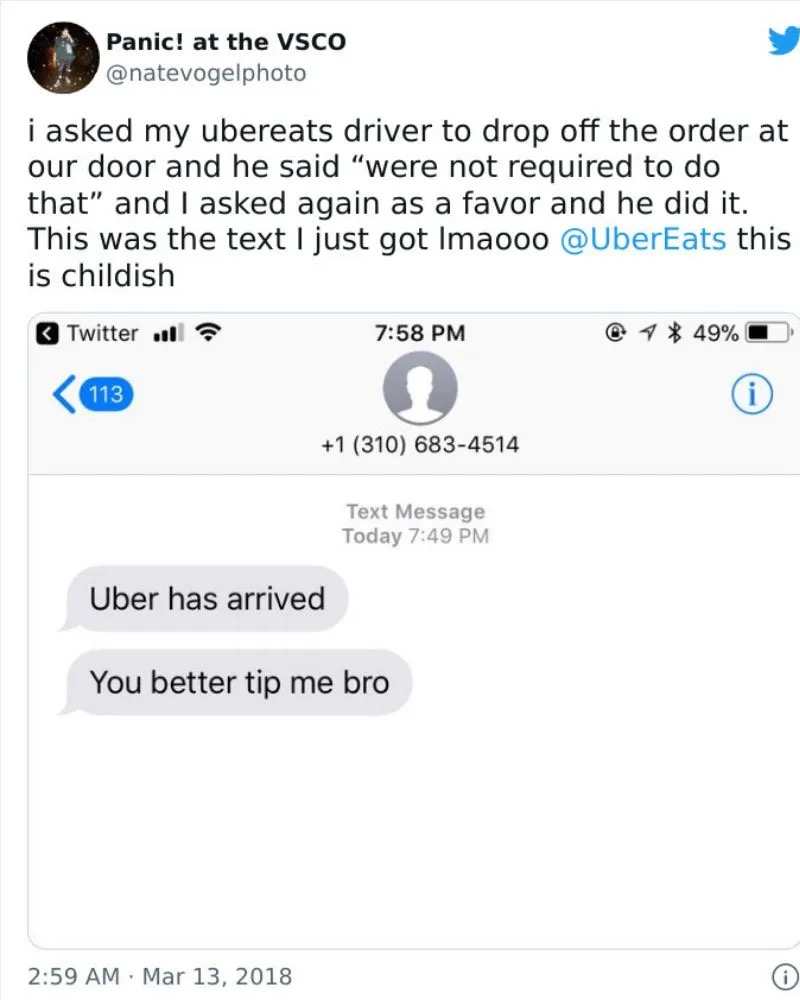 We do not know what this drive is going through, but going this low to get the tip is not good. The tip is basically a token of appreciation, so do something appreciate able and get your tip simple!
Want a Drink?
It is very kind of you when you realize that the delivery guy comes and you offer something to him. But unfortunately, very few drivers get the chance to be invited inside for a few drinks when they bring pizza. It is nice to show them you are really thankful to them.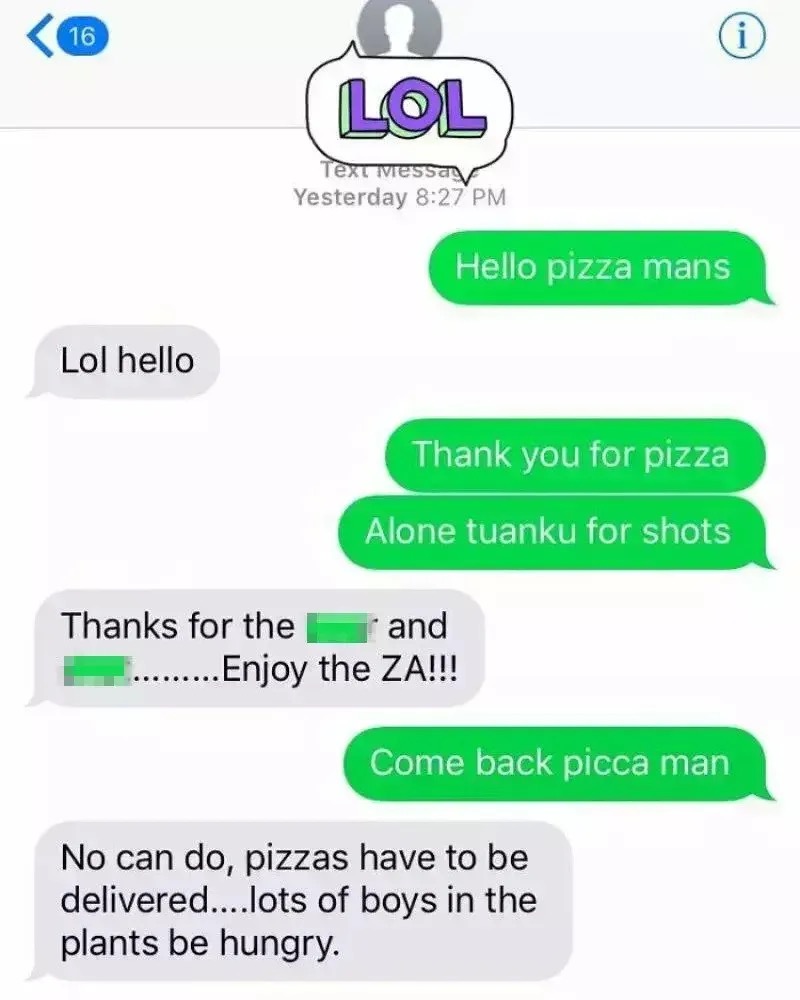 This is amazing; the two of them should exchange numbers because they appear like they could be close friends. We know how delivery guys felt when that guy says that; we think this man is quite amazing. But we want more like them. Do you also think like that?
Awesome Day Bro
Some people think it's fantastic to have a catchphrase, just like in movies and television shows. However, catchphrases aren't normally used to finish sentences, so someone needs to firmly remind this driver that he needs to scale back a little so that he cures this habit.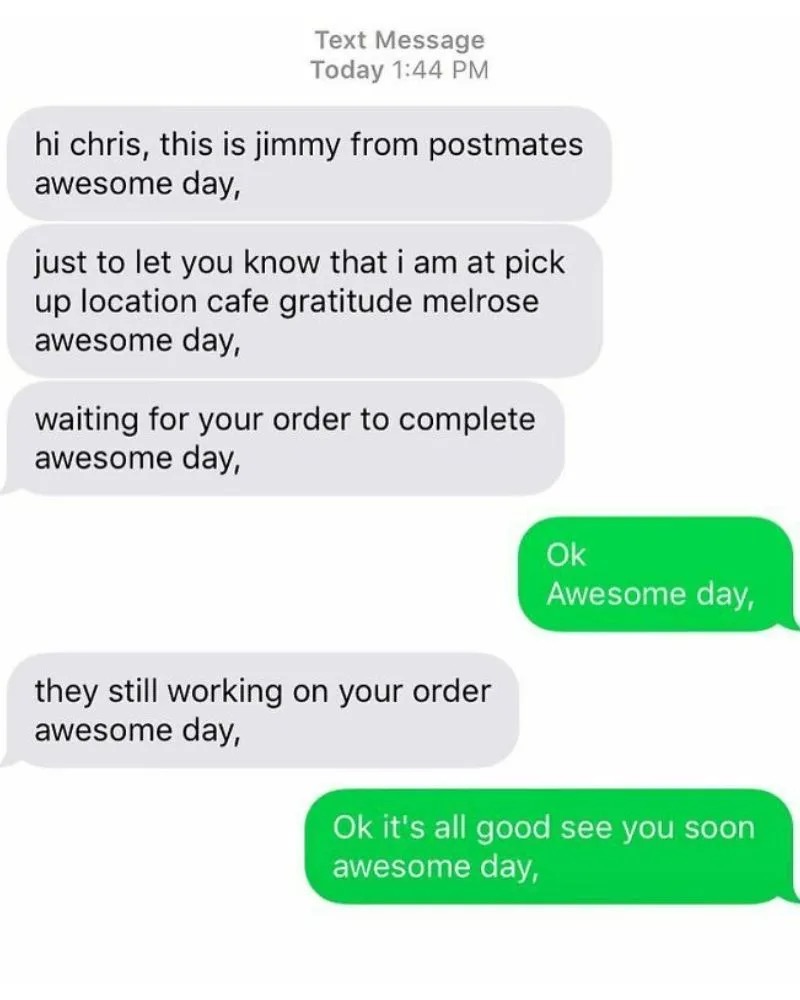 The catchphrase is funny here, and it is good to see people are enjoying it rather than taking it as a cliché. As you can see, the person on the other end appears to be enjoying it. And also, It seems contagious, and perhaps a new trend is developing. So how is your day today? 
Repetition is key!
In order to be heard in life, we all need to speak more than once occasionally. But this seems a tad over the top. It appears that the message is not crystal clear or he is emphasizing too much? But we think two times is more than enough what do you think?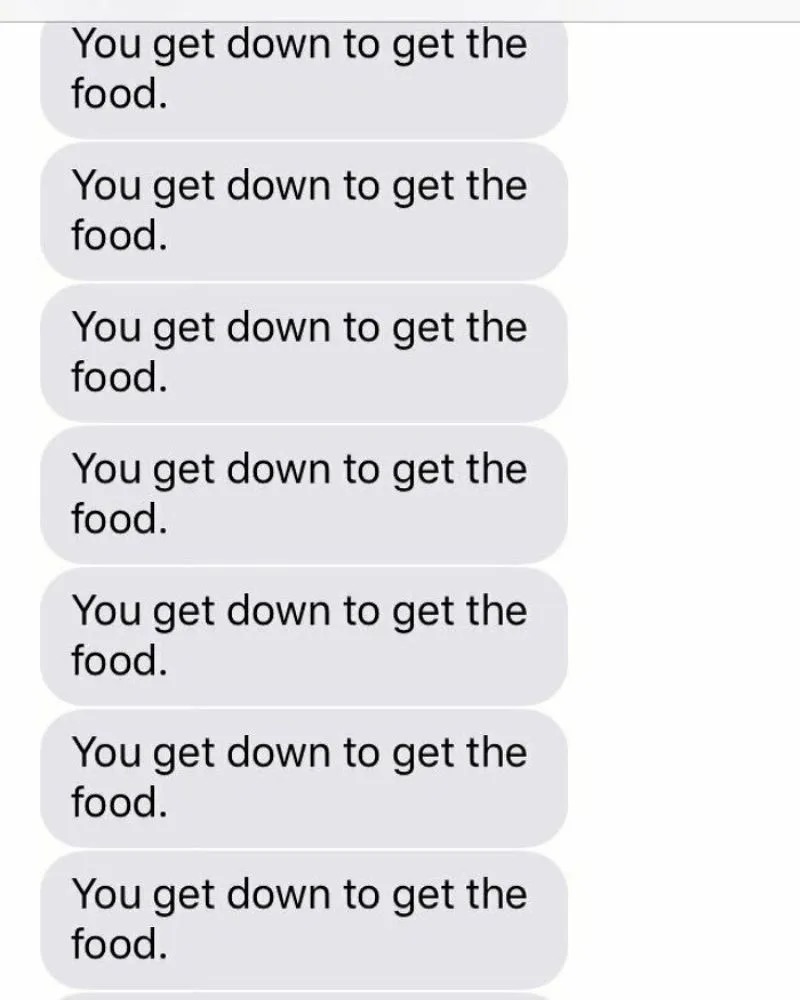 We don't think it was proper English, but whatever it was, it was something to be acted upon immediately. We hope they GOT DOWN TO GET THE FOOD and enjoying it. This sort of situation makes the delivery process complicated at times. 
A Few Inspiring Books
Some subjects simply shouldn't be discussed at work. Politics and religion have no place in texts given to clients, just like at the dinner table. That is, at least, what we believe! But what he believes is inspiration can hit anywhere, maybe? That is why he did this.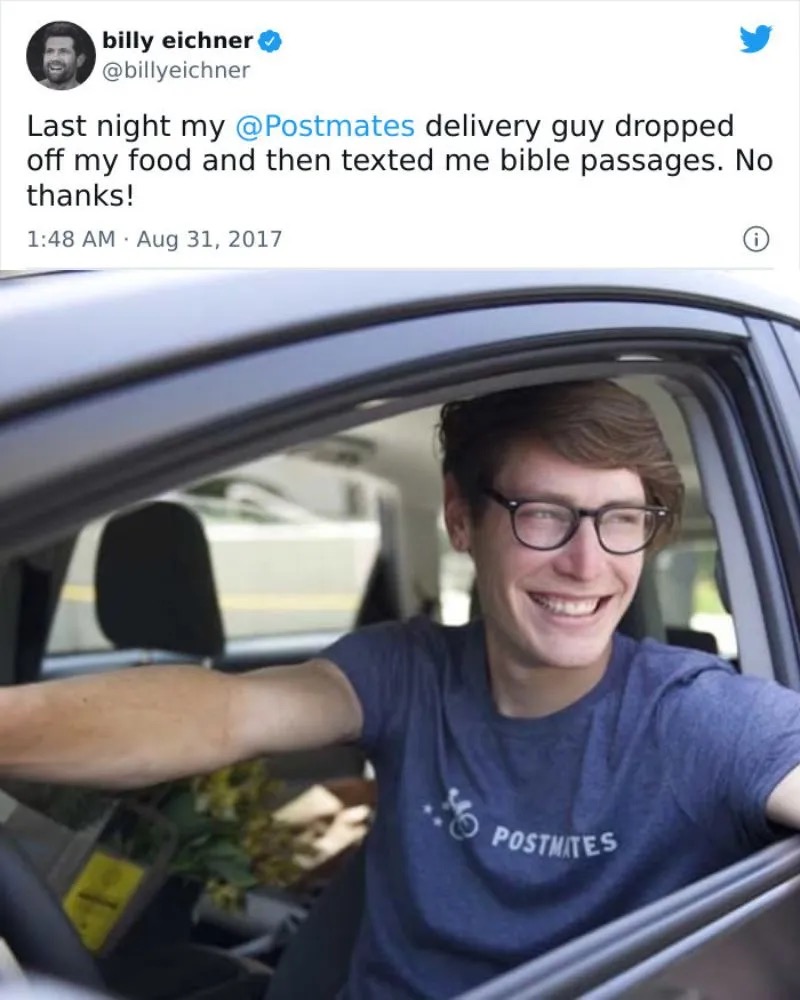 This person has a different notion. What did this person observe when he left the meal behind that gave him the impression that people needed the good word in their lives? Good thought though but in a wrong way. What do you suggest he do instead? 
Any problem?
It seems inappropriate to begin texting in this manner. What did this person do to deserve that kind of treatment? We sincerely hope that this driver is not anticipating a tip of any kind! If so, he isn't the crayon with the sharpest nib in the box.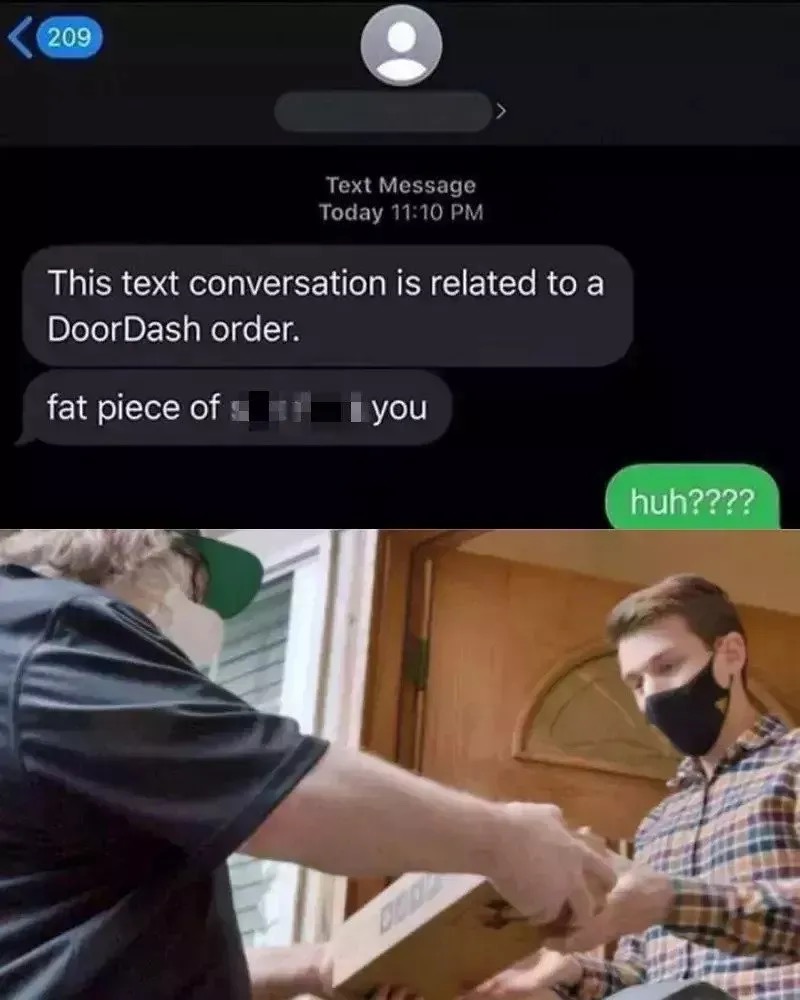 We would have been able to say a lot more than this individual did. After all, there were numerous foul words, but we should not say a thing. We just get the impression that someone is miserable right now! 
Wanted
Self-confidence is a good thing, especially when dealing with clients. Even to be able to stare into these strangers' eyes requires some level of confidence. And when you have it, you could win the world.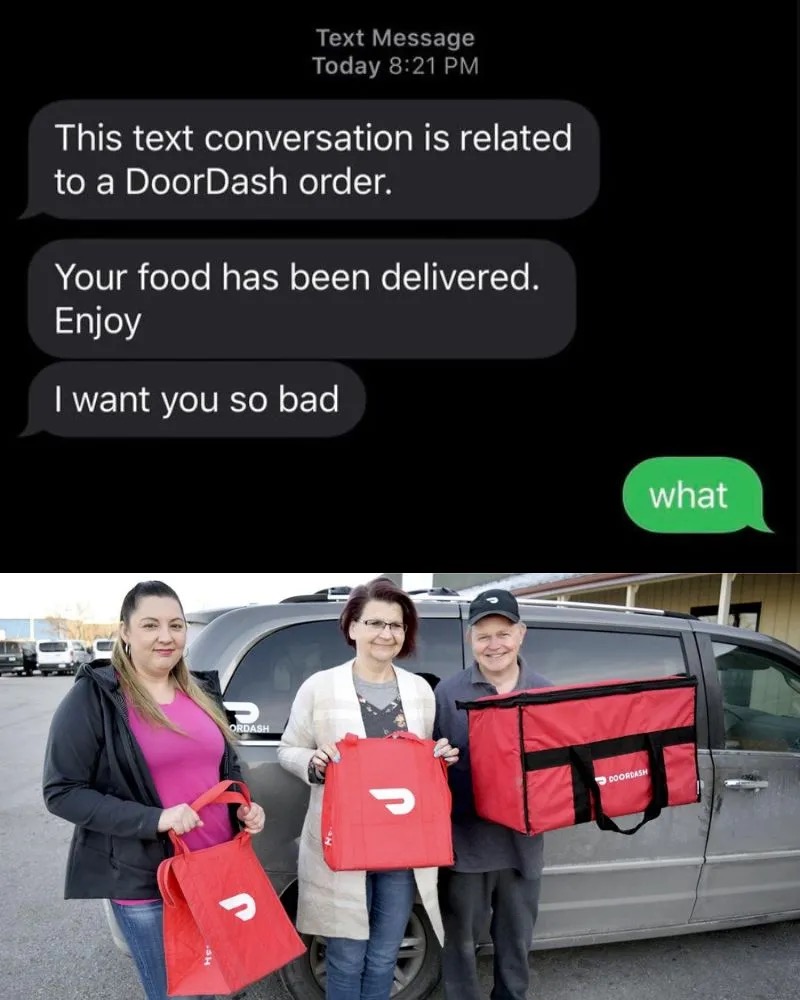 This, though, seems a little too confident. At least the driver didn't drive too quickly. He began with a simple message before veering off into an extremely strange area too rapidly. This is the example of confidence where you think whatever you will be accepted by heart. No, this is WRONG! Stop doing that! 
#What
On social media, hashtags are very significant and frequently used. But you shouldn't expect to receive a list like this in response to a text message concerning your diet. If we were them, we might be a little perplexed about what this all meant.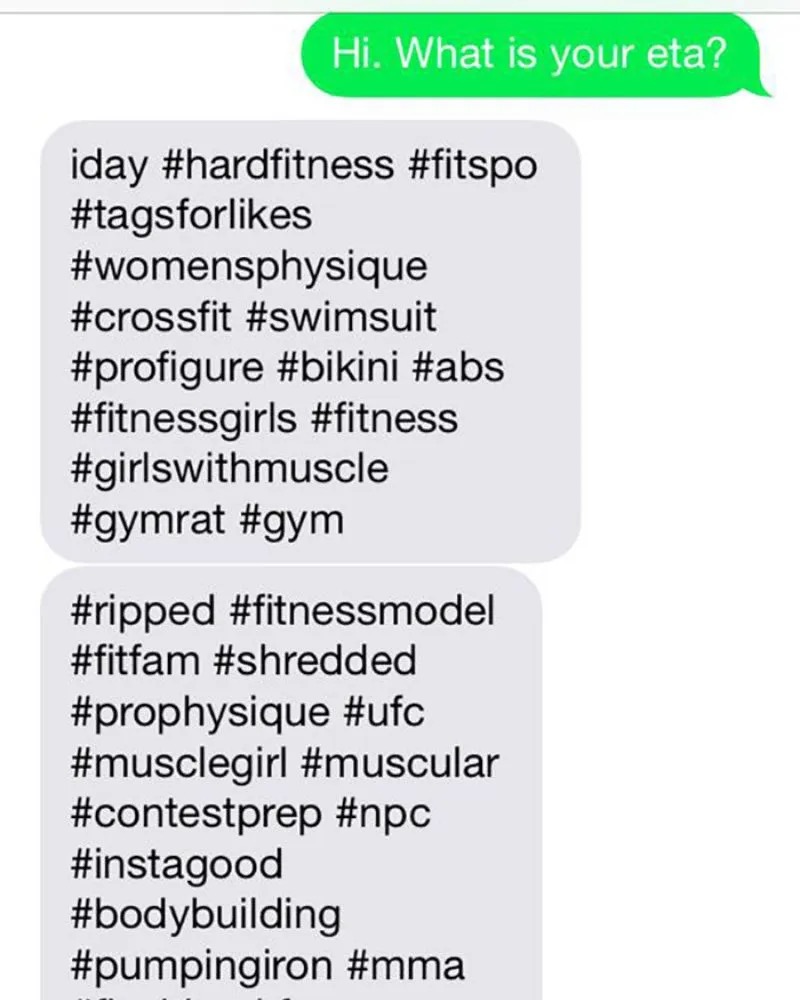 We could only assume that someone had copied and pasted their Instagram list without their knowledge. Either that or they're attempting to convey a message subliminally. After all, the hashtags here appear to be related to exercise. Someone is health conscious, it seems. But confusing others is not a good idea.